Tema og grafikk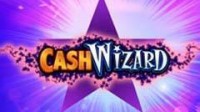 Dersom man har hatt gleden av å spille på noen av Bally sine slotmaskiner tidligere, så har man kanskje lagt merke til at det ikke er alle som er stappfulle med ekstra funksjoner. Vi kan jo røpe at når de har skapt denne herlige sloten, har derimot spilleutviklerne ikke spart på noe som helst. Cash Wizard har hele fem ulike bonusfunksjoner, og noen av disse kan faktisk gi spilleren gevinster på flere hunder ganger innsatsen. Denne slotmaskinen vinner nok ingen priser eller setter noen store spor i spilleautomatens historie når det gjelder grafikken, men symbolene i spillet er detaljerte og det er også en god del fin grafikk i bakgrunnen. Blant annet så kan man se en herlig drage som flyr over hjulene en gang iblant. Om man derimot er ute etter et slotspill som er spekket med rå 3D-grafikk og animasjoner, så bør man faktisk velge seg en annen variant av slotmaskin denne ganger. Dette spillet er ganske så enkelt og greit laget og dette er faktisk en fordel, da mange flere animasjoner og detaljer faktisk bare hadde gjort at fokuset hadde blitt løftet helt bort fra de mange flotte bonusfunksjonene som Cash Wizard har å by på – noe som hadde tatt bort en del av gleden ved å spille denne videosloten. Lyden i spillet er helt suverent laget, akkurat som på andre flotte spilleautomater fra denne spillutvikleren. Bakgrunnsmusikken og lydeffektene som man finner i denne sloten er variert, og kan faktisk nesten minnes om musikk og lyder fra Disney-filmer.
Innsats og alternativ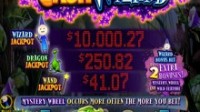 Cash Wizard er bygd opp av fem hjul og tre rader, og, noe som er ganske vanlig standard for de aller fleste slotmaskinene, den har da også 30 spillelinjer. Linjene i denne slotmaskinen er faste, og spillet har faktisk heller ingen innsatsnivåer som man kan velge mellom. Det man må gjøre før en setter i gang med å snurre hjulene, er kun å velge hvor mye man ønsker å satse per linje. Den laveste innsatsen per linje er nede i 0,01 euro mens den aller høyeste innsatsen er 8 euro. Bortsett fra denne linjeinnsatsen så inngår det faktisk også en slags "bonusinnsats" helt automatisk i totalinnsatsen. Ddenne går opp til 60% av spillelinjens innsats, noe som vil si at dersom en innsats er på for eksempel 1 euro per linje, så gir dette en total sum på 50 euro. Altså 30 euro for spillelinjene – og 20 euro som inngår som en bonusinnsats.
Spesialsymboler og effekter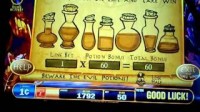 Som nevnt allerede inneholder denne videoslotten en mengde flotte bonusfunksjoner som: Wizard Wild, Magic Potion og Invisible Ink-bonus. Wildsymbolet i dette spillet fungerer som vanlig med tanke på at den erstatter alle symboler med unntak av de andre spesialsymbolene. Det kommer heller ikke noen multiplikatorer med disse wildsymbolene. Så har vi Trollmannens bonusrunde, denne kan dukke opp i et hvilket som helst tilfeldig spinn, og det som skjer er at trollmannen titter frem og forvandler mellom to og fem av symbolene på hjulene til wildsymboler. Det mystiske hjulets bonusrunde kan dukke opp etter et spinn som ikke gir gevinst, deretter kommer en spilleskjerm med et lykkehjul på til dukke opp. Spillerens oppgave blir da å klikke på trollmannen for å stoppe hjulet fra å snurre. Dette mystiske hjulet kan altså aktivere 5-20 spinn, eller så kan det gi en kontantgevinst på et bestemt antall ganger innsatsen per linje.
Gratisspinn-moduset i Cash Wizard kan også aktiveres ved å få tre gratisspinn-symboler som vises på hjul nummerne 2, 3 og 4. Antall gratisspinn man blir belønnet med er alltid 15, og når gratisspinnene starter multipliseres alle gevinstene med 3. I tillegg kan man også vinne enda flere gratis spinn ved å få flere av gratisspinn-symbolene på hjulene samtidig. Enda finnes det to bonusfunksjoner til: Den magiske trolldrikk-bonusen blir aktivert dersom man får tre av disse symbolene på hjul nummer 1, 2 og 3 på en aktiv spillelinje. Da får man nemlig spille et klikkspill hvor man får utdelt et visst antall flasker med trolldomsdrikk man skal klikke på. Bak hver av disse flaskene gjemmer det seg enten en kontant gevinst eller en forhekset trolldomsdrikk, og i denne bonusen kan man vinne opp til 760 ganger innsatsen. Den siste bonusfunksjonen er «usynlig blekk»-bonusen, og dersom et symbol i form av en penn og papir vises på det midterste hjulet får man automatisk en kontantgevinst som vil være på mellom 2 og 20 ganger innsatsen man har plassert.
Oppsummering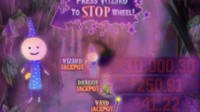 Dette er en spilleautomat som er spekket med fart og moro – og ikke minst gevinstmuligheter i fleng! Den ene bonusfunksjonen overgår den andre, og de triller frem som perler på en snor, slik at spillet alltid gir deg litt mer underholdning og "holder hjulene i gang", så å si. Cash Wizard er et flott spill med fin grafikk og symbolbruk, helt i takt med spillets tema. Denne spilleautomaten blir aldri gammel for den som spiller for både underholdning og en sjanse til å oppfylle drømmen om en storgevinst. Gi deg selv en herlig form for moro – med gevinstmuligheter som toppen av kransekaka – om du vil!