Om spillet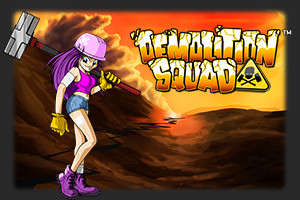 Demolition Squad er en 5-hjuls spilleautomat med tre rader og 40 innsatslinjer. Spilleautomaten er utviklet av Net Entertainment, en av de ledende leverandørene innen casinospill, og den har et høyt energinivå, spekket med action. Spillets tema er rivingsarbeid, der du følger et rivingsteams harde arbeidsdag. Automaten har et wildsymbol, et scattersymbol med gratisrunder som gevinst, og en Demolition Wild-funksjon. I tillegg har den en autospill-knapp, en knapp for utbetalingstabell, en myntverdi-knapp, en knapp for innsatsnivå og en knapp for maksimal innsats. Spilleautomaten har tegneserie-inspirerte figurer og flotte animasjoner.
Spillets detaljer
Demolition Squad har 40 faste innsatslinjer som er aktive til enhver tid. Du kan velge å satse mellom én og 10 mynter per linje, og velge verdien på myntene. Verdien på myntene kan være 0,01, 0,02, 0,05, 0,10, 0,20 eller 0,50 €. Da blir altså den høyeste innsatsen per spinn i Demolition Squad på 200 € per spinn. Dette tilsvarer omtrent 1600 NOK. Wildsymbolet i spillet kan dukke opp på rad to, tre eller fire, og kan inngå i symbolkombinasjoner. Det kan også fullføre kombinasjonene, hvis ett eller flere symboler mangler. Scattersymbolet, som ser ut som en rivingskule, kan ikke bli erstattet av wildsymbolet, og de to symbolene kan ikke lage vinnende kombinasjoner sammen. Siden spilleautomaten er basert på tegneserien med samme navn, vil du kunne kjenne igjen karakterer fra tegneserien, for eksempel den røde roboten, den lilla jenta med slegga, og den gale øksemannen. Grensesnittet er meget godt utformet, med utseende som en byggeplass, og med manga-inspirerte knapper. Spillets effekter og musikk gjør opplevelsen komplett.
Bonusfunksjoner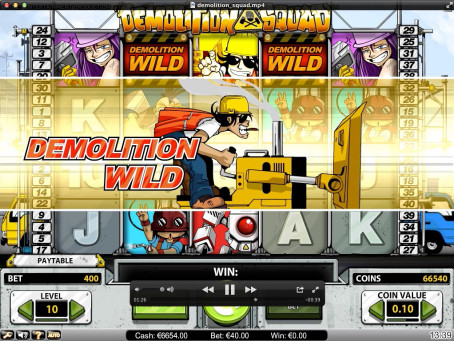 Spillet kan tilby tre bonusfunksjoner. Den første er Demolition Wild. Når to wildsymboler dukker opp både på hjul to og fire, vil disse to bli forvandlet til Demolition Wilds, og hvilket som helst symbol som dukker opp mellom dem, både vertikalt, horisontalt eller diagonalt, blir forandret til et wildsymbol. Dermed er spilleren garantert minst fire symboler i en vinnende kombinasjon, og en sjanse til å vinne store gevinster!
Den andre bonusfunksjonen Demolition Squad kan tilby er et scattersymbol, som er tydelig merket "scatter". Dette symbolet trenger derfor ikke å innfri kravet om å inngå i bestemte gevinstlinjer for å utløse en gevinst. Uansett hvor på hjulene dette symbolet havner, så vil det gi gevinst.
Som en tredje bonus vil tre eller flere scattersymboler i Demolition Squad gi gevinst i form av gratisrunder. Om du jobber deg frem til gratisspinn vil du oppleve at Demolition Wild-ene fortsetter å forandre andre symboler til wildsymboler. I tillegg vil alle gevinster i gratisrunder bli multiplisert tre ganger. Tre nye scattersymboler i gratisrundene vil gi nye gratisrunder. I Demolition Squad vil tre scattersymboler gi en gevinst på 10 gratisspinn, fire scattersymboler gir en gevinst på 20 gratisrunder og fem scattersymboler gir en gevinst på 50 gratisrunder. Dette er ganske sjenerøst, spesielt med tanke på at gevinstene multipliseres.
Spillets gang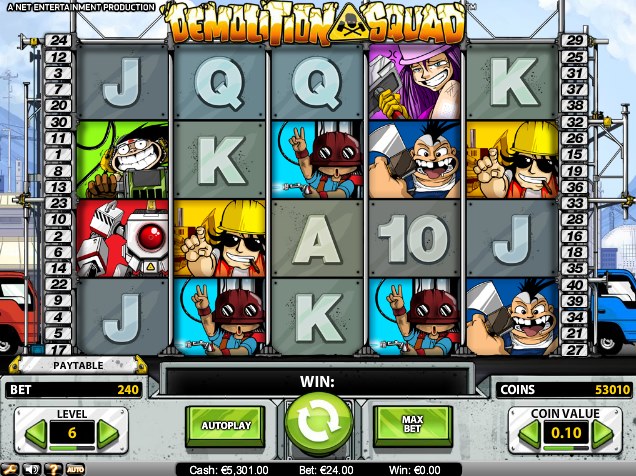 Det er veldig enkelt å spille Demolition Squad. Først må du avgjøre hvor mye penger som skal satses. Dette gjøres med myntverdi-knappen og innsatsnivå-knappen. Siden dette spillet har svært mange valgmuligheter her, vil det nok finnes et nivå som passer for de fleste. Når det er gjort trykker du på den store spinnknappen midt på skjermen for å få hjulene til å begynne å spinne. Deretter er det bare å krysse fingrene. Ved å trykke på den store spinnknappen midt på skjermen, mens hjulene spinner, vil hjulene stoppe raskere. Ved å trykke på knappen for utbetalingstabellen nede til venstre, vil du få opp oversikten over utbetalingene. Her får du oversikt over alle gevinstlinjene, i tillegg til verdien av symbolene. Du har også mulighet til å la spilleautomaten spille automatisk for deg ved å trykke på autospillknappen. Da velger du hvor mange runder du vil at automaten skal spille for deg, slik at du ikke trenger å trykke på spinnknappen hele tiden. Du kan også bruke maksimal innsats-knappen. Da vil du satse på høyeste nivå med ett trykk, og hjulene vil begynne å snurre med en gang. Det er viktig å stille inn myntverdien først, da dette ikke gjøres ved å trykke på maksimal innsats-knappen. I de tilfellene der du får flere vinnerkombinasjoner på samme linje, vil bare kombinasjonen med høyest gevinst bli kalkulert. I de tilfellene der du får flere vinnerkombinasjoner på flere linjer, vil disse bli lagt sammen.
Oppsummering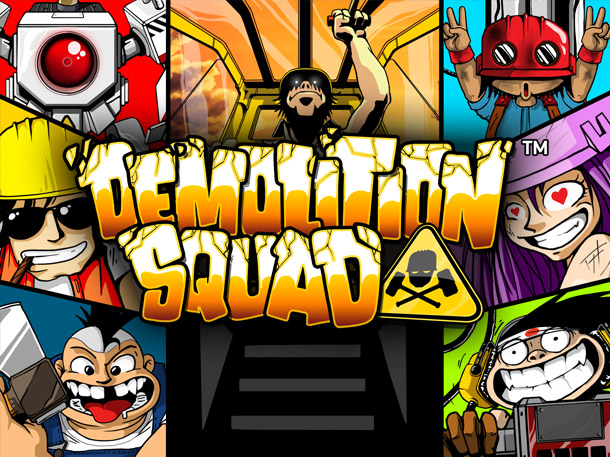 Til slutt kan det trygt sies at Demolition Squad er en morsom og spennende spilleautomat. Med flere morsomme karakterer og masse action kombinert med fargerike effekter, engasjerende musikk og gode animasjoner er dette er gøyalt spill som absolutt er verdt å prøve.