Om spillet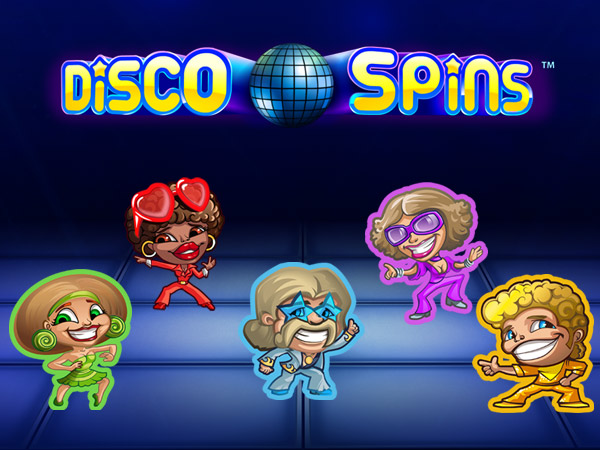 Disco Spins er en spilleautomat fra den populære leverandøren Net Entertainment. Temaet er disco og dansing, og spillet gjenskaper atmosfæren på et diskotek. Symbolene består av en rekke forskjellige danserfigurer med forskjellige fargede antrekk. Det finnes blå, gule, røde, grønne og lilla dansere. I tillegg finnes det et discokulesymbol, samt de vanlige symbolene mellom 10 og ess. Disco Spins består av fem hjul med tre rader, 20 innsatslinjer, og justerbare innsatsnivåer og myntverdier. Spillet har tre bonusfunksjoner, nemlig dynamiske wild-symboler og en bonusrunde med gratisspinn. I denne bonusrunden kan du velge mellom to typer gratisspinn.
Detaljer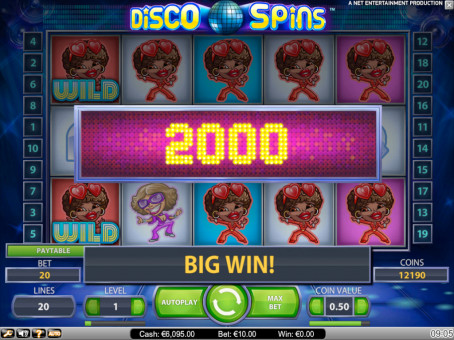 Disco Spins spilles automatisk med 20 faste innsatslinjer, og du kan velge mellom 10 forskjellige innsatsnivåer og sju forskjellige myntverdier. Innsatsnivået tilsvarer hvor mange mynter du vil satse på hver innsatslinje. Myntverdien tilsvarer hvor mye hver mynt er verdt i virkelige penger. Dette betyr at innsatsnivået blir ganget med myntverdien for å regne ut totalinnsatsen for hvert spinn. I Disco Spins kan du velge myntverdier mellom 1 cent og 1 euro. De tilgjengelige myntverdiene er 1, 2, 5, 10, 20, eller 50 cent, og 1 euro. Du kan velge å bruke mellom 1 og 10 mynter på hver innsatslinje. Dermed er den minimale innsatsen 0,20 euro, mens maks innsats er 200 euro. Akkurat som andre spilleautomater fra Net Entertainment har Disco Spins en rekke innstillinger som du kan justere etter eget ønske. Da er det snakk om de fire knappene på det nedre venstre hjørnet av skjermen. Her kan du velge å slå av lyden (eller på igjen), slå på autoplay-funksjonen slik at du slipper å trykke på spinn-knappen hver eneste gang, eller å åpne en meny med spillreglene.
Spesialfunksjoner
Trykker du på skiftenøkkelen får du en rekke ekstra innstillinger. Du kan slå på Quick play, som gjør at spinnene tar mindre tid. Du kan også velge å slå introduksjonsskjermen av eller på. Lydeffektene og bakgrunnsmusikken kan også slås av og på. Du kan også justere grafikkvaliteten, som kan være bra når du har en treg forbindelse med internettet. Mellomslagstasten kan også brukes for å starte spinnene. Til slutt kan du få sett en spillelogg som viser deg gevinstene du har fått siden du begynte å spille.
Bonusfunksjoner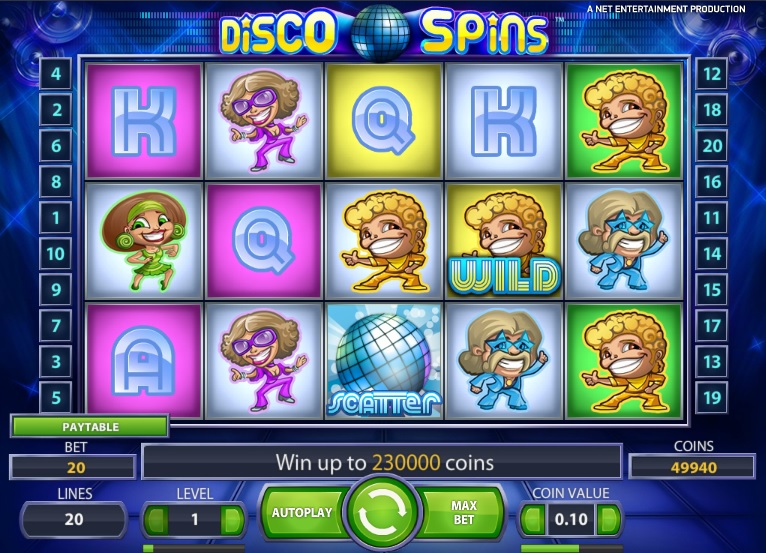 Wild-symboler er symboler som kan erstatte alle andre symboler, med unntak av scatter-symbolet, for å danne en vinnende kombinasjon. I Disco Spins er wild-symbolene dynamiske. Spillets bakgrunn, det vil si "dansegulvet", skifter farge nå og da. Hvert dansersymbol har en bakgrunnsfarge, og hvis denne fargen matcher dansegulvet, så fungerer den danseren som wild-symbol. På den måten er det mulig å få så mye som åtte wild-symboler på ett spinn, noe som betydelig øker dine vinnersjanser.
Scatter-symbolet er en diskokule med ordet scatter på symbolet. Scatter-symboler hvor som helst på hjulene har muligheten til å aktivere en bonusrunde med gratisspinn. Med tre scatter-symboler aktiverer du bonusrunden, der du får velge mellom to typer gratisspinn. Den første typen er Regular spins, som er vanlige gratisspinn. Den andre typen er Disco spins, som er en unik type gratisspinn. Begge typene er basert på den samme myntverdien og innsatsen som du brukte da du aktiverte bonusrunden.
Hvis du velger Regular spins får du 15 gratisspinn. Her blir de potensielle gevinstene multiplisert med tre. Du har også mulighet til å forlenge bonusrunden ved å få flere scatter-symboler. Får du to scatter-symboler så blir du belønnet med tre ekstra gratisspinn som blir lagt til dine eksisterende gratisspinn. Med fire scatter-symboler får du hele 10 ekstra gratisspinn.
Velger du Disco spins, så får du 10 gratisspinn. Forskjellen er at kun dansersymboler (og dermed wild-symboler) og scatter-symboler dukker opp på hjulene i denne bonusrunden. Dermed har du større sjanse til å få vinnende kombinasjoner, og i tillegg større sjanse til å få ekstra gratisspinn ved hjelp av scatter-symboler. Scatter-symbolene fungerer på samme vis som på Regular spins. To Scatter-symboler gir deg tre ekstra gratisspinn, mens fire scatter-symboler gir deg 10 ekstra gratisspinn.
Konklusjon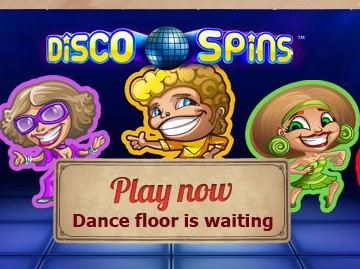 Disco Spins er en grei spilleautomat av god kvalitet fra Net Entertainment. Temaet er discomusikk og dans, noe som kan falle i smak hos de som liker å gå på diskotek eller har gjort det tidligere. Selv om du ikke er en diskotekgåer, så kommer du til å like denne fargerike spilleautomaten. Spillet har faste innsatslinjer som til enhver tid er aktive, og innsatsen kan justeres mellom 0,20 og 200 euro. Disco Spins har dynamiske wild-symboler som avhenger av bakgrunnsfargen, som forandrer seg nå og da. Tre Scattersymboler aktiverer bonusrunden, hvor du får valgt mellom vanlige gratisspinn eller spesielle Disco spins.