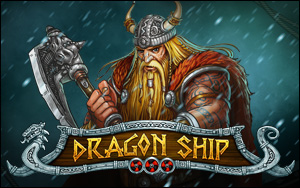 Dragon Ship er en 5-hjuls spilleautomat med 15 innsatslinjer, fra spillprodusenten Play'n Go, som er en av de mindre produsentene av casinospill. Play'n Go har ingen egen spillplattform, men leier i stedet ut spillene sine til casinoer som bruker andre plattformer. Spillet har et vikingtema, og symbolene som opptrer er vikinghorn, skjold, økser, skattekister, vikinghøvdingen selv og andre vikinginspirerte symboler. Dragon Ship har et wildsymbol, et scattersymbol, bonusrunder og mulighet for gratisspinn.
Innsatsdetaljer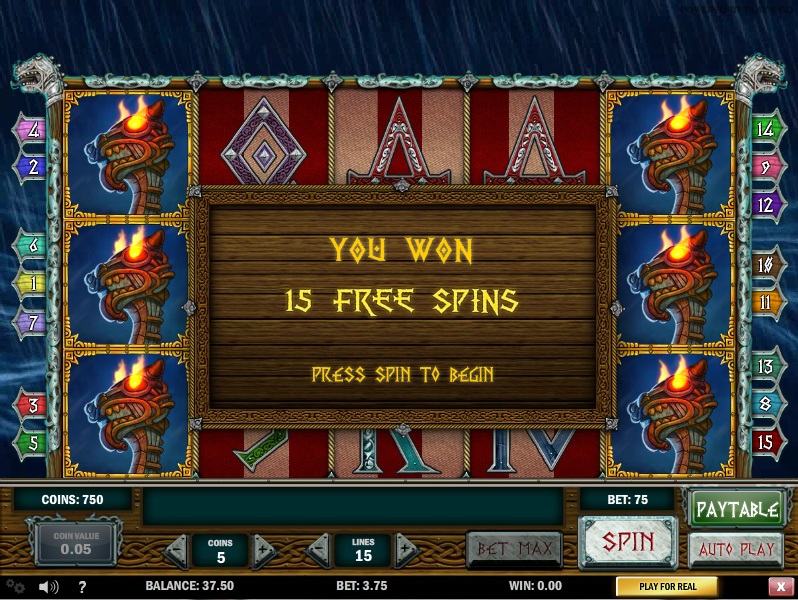 Du kan selv velge verdien på myntene, der minste verdi er 0,01 € og høyeste verdi er 0,25 €. Du kan også velge å satse mellom én og fem mynter per linje. Dette spillet har en "maksimal innsats"-knapp som du kan bruke for å satse det som maksimalt er mulig i en runde, altså fem mynter på alle 15 innsatslinjene. I dette tilfellet vil det tilsvare 75 €. Hjulene vil da begynne å snurre automatisk. Du kan også velge å bruke autospinn-knappen som vil spinne hjulene enten et fast antall runder, inntil 50 runder, eller til du får en vinnende kombinasjon av symboler. Wildsymbolet kan erstatte alle andre symboler på hjulene, bortsett fra scattersymbolet. Dragon Ship har et stablet wild-symbol representert av et rødøyd dragehode. Hvis dette symbolet dukker opp på hjulene, vil det doble en eventuell gevinst, men dette symbolet dukker bare opp på hjul én og fem.
Maksimal jackpot i Dragon Ship er på 2500 mynter. Du kan få utbetalt denne jackpotten hvis du klarer å skape en linje av fem vikingsymboler på én av de aktive innsatslinjene dine. Her kan du altså få utbetalt en stor gevinst, hvis du satser med høyeste verdi på fem mynter, og bruker alle innsatslinjene. Andre symboler som kan gi en god utbetaling er en øks, et skjold og et hornsymbol. Andre symboler som dukker opp på hjulene, og som er noe mindre lønnsomme, er de vanlige symbolene som en konge, en dronning, et ess og et titall.
Spille disse online casino
Bonusfunksjoner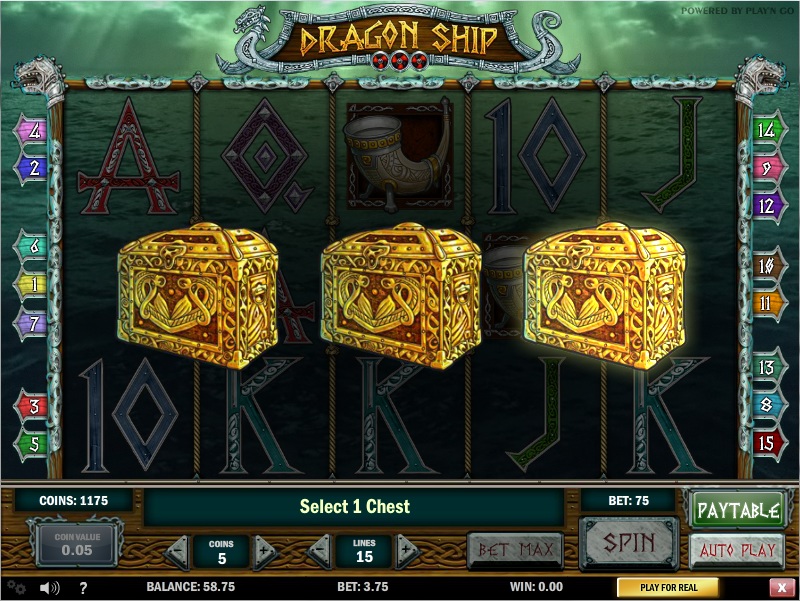 Dragon Ship har to bonusfunksjoner. Den ene gjennom de stablede wild-symbolene, og den andre gjennom scattersymbolet. Hvis du får en stabel med tre wildsymboler på det første og det femte hjulet så vil dette gi deg en belønning på 15 gratisspinn. Under gratisspinn-rundene vil hjul én og fem være låst med wildsymbolene, og dette vil hjelpe deg med å skape flere vinnende kombinasjoner. Scattersymbolet i Dragon Ship er representert av en skattekiste. Denne dukker bare opp på hjul én, tre og fem. Hvis du får et scattersymbol hvor som helst på hvert av disse hjulene samtidig, vil du bli belønnet med et enkelt "plukk og velg"-spill der du skal velge en av de tre skattekistene og sanke inn skatten din. Du vil da bli belønnet med en tilfeldig gevinst i form av en multiplikator, så dette er en sjanse til å vinne en stor gevinst.
Å spille
For å spille Dragon Ship velger du først hvor mye du vil satse ved å stille inn verdien på myntene slik at det passer ditt nivå, og så velger du hvor mange aktive innsatslinjer du vil ha. Du må også velge hvor mange mynter du vil satse per runde. Deretter trykker du på spinnknappen for å starte spillet og få hjulene til å snurre. Du kan trykke på knappen for utbetalingstabell for å se en oversikt over alle symbolene og deres verdi, samt dine gevinster. Dragon Ship har en gamblefunksjon som du kan aktivere ved å trykke på gambleknappen. Denne funksjonen går ut på at du velger et kort fra en kortstokk, så når du har vunnet en grei gevinst kan du trykke på gambleknappen for en sjanse til å fordoble, og til og med firedoble, gevinsten din. For å fordoble gevinsten din må du gjette riktig farge på kortet. For å firedoble gevinsten din må du gjette riktig sort på kortet.
Konklusjon

Dragon Ship har veldig pene detaljer og god grafikk. Den animerte bakgrunnen av et bølgende hav, og den generelle gjennomførelsen av vikinginspirerte symboler og effekter gjør at denne spilleautomaten stikker seg ut i mengden. Bakgrunnslyden og lydeffektene er behagelige og flyten i spillet er bra. Dragon Ship balanserer fint mellom enkelt og prangende. På den ene siden blir du ikke overveldet, da spillet har to bonusfunksjoner og bare 15 innsatslinjer. På den annen side tilbyr spillet mye for at du ikke skal ha det kjedelig. Siden innsatsnivået ikke er så veldig høyt på denne spilleautomaten, passer den godt for deg som vil ha det litt moro, og som setter pris på en god spillopplevelse. For storspillere blir nok denne spilleautomaten litt i minste laget.