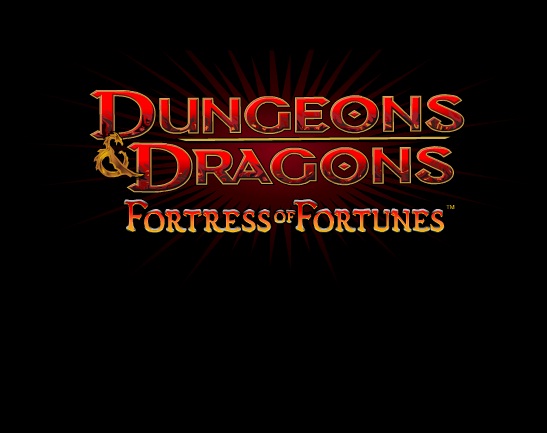 Dungeons and Dragons er en 5-hjuls spilleautomat med 20 innsatslinjer. Videospillet er utviklet av IGT, en av de ledende leverandørene av casinospill. IGT har produsert flere varianter av temaet, inkludert Fortress of Fortunes, Crystal Caverns og Treasures of Icewind Dale. Den første er regnet som originalen, med de andre to som oppfølgere, og her fokuserer vi på Dungeons and Dragons – Fortress of Fortunes. Temaet for spillet er fort og drager, og symboler som forekommer er et wildsymbol, et scattersymbol og de klassiske spillkortsymbolene. I tillegg finnes det tre bonusfunksjoner, med gratisspinn og bonusrunder.
Spillets innsatsdetaljer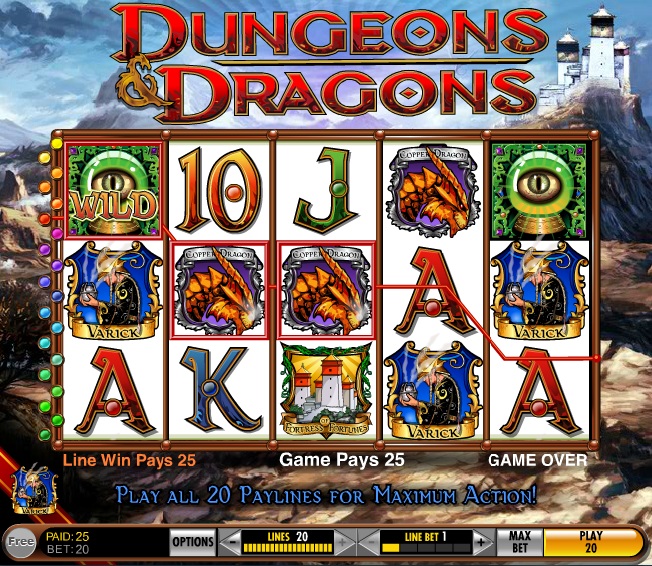 Dungeons and Dragons gir deg muligheten til å velge hvor mange innsatslinjer du vil bruke, fra 1, 5, 10 og 15 til et maksimalt antall på 20. Du kan velge hvor mange mynter du vil satse per linje, fra en til fem, og du kan selv bestemme verdien per mynt. Myntverdien kan ligge mellom 1 pence og £10, som omtrent tilsvarer fra 10 øre til 106 kroner. Den maksimale utbetalingen tilgjengelig i dette spillet er 50,000 mynter. Dette kan du oppnå ved å få fem krystallkule-symboler mens du har aktivert maksimal innsats. Hvis du ikke bruker maksimal innsats kan du allikevel klare å oppnå en utbetaling på 10,000 mynter med de samme symbolene. Symboler som opptrer er de klassiske spillkort-ikonene, som en konge, en dronning, en knekt og et ess. I tillegg kan du se symboler av spillogoen og en kobberdrage. I bakgrunnen kan du se et slott på en fjelltopp.
Bonusfunksjoner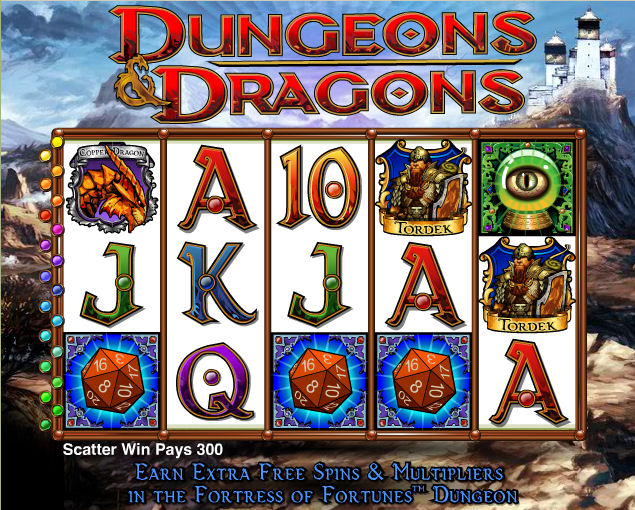 Dette spillet har totalt tre forskjellige bonusfunksjoner. Wildsymbolet er representert av en krystallkule, og dette symbolet kan erstatte alle andre symboler, bortsett fra scattersymbolet. Wildsymbolet kan dermed hjelpe deg med å oppnå vinnende kombinasjoner.
Scattersymbolet i Dungeons and Dragons er representert av en terning med 20 sider. Alle gevinster fra vinnende kombinasjoner som inkluderer et eller flere scattersymboler, vil bli multiplisert med antall terninger på hjulene. Scattersymbolene tar deg også videre til bonusrunden, hvis du får tre eller flere av disse symbolene på hjulene.
Bonusspill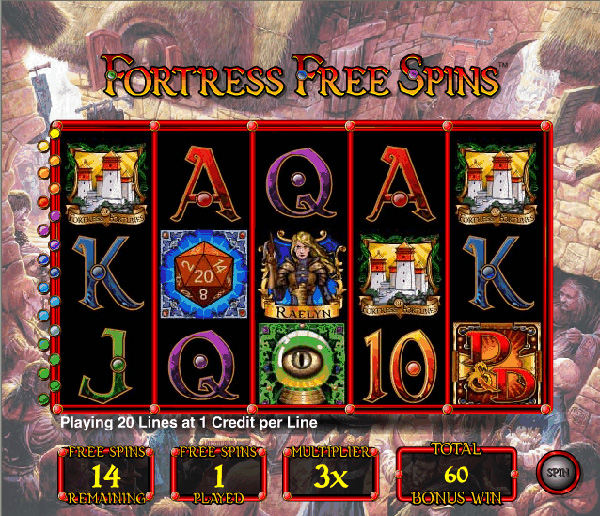 Bonusrunden i dette spillet er en Fortress of Fortune-funksjon. Her vil du motta et antall gratisspinn, og en multiplikator, basert på hvor mange terninger du fikk på hjulene som låste opp denne funksjonen. Dette antallet er også påvirket av utforsker-runden. I denne runden starter du i fangehullet i kjernen av et fort, og så velger du i hvilken retning du vil utforske. Du vil møte på alle mulige objekter, for eksempel et stort gullbeger som tilbyr deg ekstra spinn, en skattekiste som tilbyr deg ekstra multiplikatorer, et forhekset våpen som øker styrken din, en trapp som fører deg dypere inn i fortet, og monster som beskytter en skatt, og som må bekjempes i kamp. Det siste er den siste bonusfunksjonen i spillet, der du skal rulle terningen med 20 sider for å avgjøre kampen. Hvis du vinner kampen så vinner du også monsterets skatt, mens hvis du taper kampen vil runden være over og gratisspinnene begynner. Hvis du klarer å komme deg helt inn til dragens hule, og du klarer å bekjempe dragen, vil du bli belønnet med en 4x multiplikator, i tillegg til den du allerede har vunnet. Under gratisspinnene er hjulene beriket med enda flere stablede wild-symboler, og utbetalingstabellen for bonusrunden er tilført ekstra måter for deg å vinne på. Hvis du klarer å få en linje med stablede wild-symboler under denne runden, så vanker det store gevinster. Hvis du i tillegg har klart å samle inn noen av de 20 mulige multiplikatorene inne i fortet, så kan du oppnå veldig store utbetalinger.
Spillets gang
For å spille Dungeons and Dragons – Fortress of Fortune, må du først velge ditt innsatsnivå. Dette gjør du ved å velge hvor mange aktive innsatslinjer du vil ha, hvor mange mynter du vil satse per linje og hvor mye hver mynt skal være verd. Du må også velge hvilken helt du vil spille med, der du kan velge mellom Varick, Raelyn og Tordek. Deretter trykker du på spinnknappen for å starte spillet og spinne hjulene. Nummeret som står på spinnknappen er antallet mynter du satser. Dette spillet har en knapp for maksimal innsats som lar deg legge inn maksimal innsats med kun ett trykk på knappen, men denne funksjonen er bare tilgjengelig fra 100 mynter og oppover.
Konklusjon
Dungeons and Dragons – Fortress of Fortune er en tidløs klassiker som er svært populær og finnes i casinoer verden over. Den appellerer til både storspillere så vel som deg som bare er ute etter en morsom spillopplevelse. Spillet er pakket med funksjoner, og dette er uten tvil en av de mest oppslukende spilleautomatene som finnes. IGT fortjener skryt for å ha laget et så bra spill fra et så velbrukt konsept.