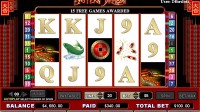 NextGen Gaming har en ferdig mal som de bruker til nesten alle sine nye videoslots. Nesten alle nye spillene fra NextGen har eksakt samme innsatsstruktur og også samme grafisk konsept når det gjelder hjulenes utforming. Eastern Dragon er en videoslot som følger NextGens klassiske og godt utprøvde konsept. Temaet i spillet er jo derimot helt nytt og ganske så unikt.
Eastern Dragon handler om drager og da spesielt de dragene som har en tydelig kobling til Japan og Kina. I disse landene så står dragen for symbolet yang, som er den maskuline delen av yin/yang. Yang står for styrke, harmoni, velvære og lykke. Et bedre tema for en videoslot skal du lete lenge etter!
Tema og grafikk
NextGen Gaming har gravd dypt og bredt i den asiatiske kulturen for å skape Eastern Dragon. Teamet er ganske generelt og symbolene i spillet inkluderer karper, rislamper, kirsebærblomster og andre typiske kinesiske og japanske symboler. Animasjonene er veldig bra, spesielt siden de er satt sammen med veldig effektfulle lydeffekter også. Lyden i spillet er virkelig helt utmerket. I hovedspillet hører man ingen bakgrunnsmusikk, men når man aktiverer gratis spinn rundene så får man høre en tradisjonell musikk med ulike strengeinstrumenter og lignende.
Innsatser og alternativ
Eastern Dragon har 20 innsatslinjer som er fordelt over 5 hjul og tre rader med symboler. Her kan enhver spiller selv velge hvor mange linjer som skal være aktive under spillingen. Det er derimot en fordel å spille med alle linjene aktive, for det er da man har høyest sjanse for å få gode vinnerkombinasjoner. Myntverdien og innsatsnivået kan man derimot ikke endre noe manuelt men det eneste man kan gjøre er å velge hvor mye man ønsker å plassere i innsats per innsatslinje. Innsatsnivået går mellom 0,10 og opp til 20 kr, som da vil si at man kan satse mellom 2 og opp til 400kr om man spiller med alle linjene aktivert. Med autospin funksjonen så kan man spille opp til 500 automatisk runder. Med max bet knappen så trenger man ikke gjøre noe i forhold til ønsket innsats per rundene, da blir det automatisk spilt med høyest mulig innsats. Med et klikk så spiller man da med 400kr i innsats.
Spesialsymboler og effekter
Eastern Dragon har to spesialsymboler og sammenlagt fire bonusfunksjoner.
Det er jo så klart en drage som er wild symbolet i Eastern Dragon. Denne kan dukke opp på alle hjul og kan erstatte alle symboler med unntak av spillets scatter symbol. Når det kommer til kombinasjoner med wild symbolene så vil alle vinnende kombinasjoner som inneholder minst et wild symbol automatisk doble gevinsten.
Scatter symbolet i spillet er i form av en gyllen gonggong. Hvis man får minst to av disse symbolene på hjulene så får man automatisk en gevinst, som da ganges med mellom 1 og opp til 200 ganger innsatsen man har lagt i spillet.
I motsetning til de fleste andre videoslot spill så er det ikke scatter symbolene i Eastern Dragon som aktiverer gratis spinn rundene. I stedet så er det wild symbolet som kan gjøre det. Hvis man får et dragesymbol på hjul 1 og opp til hjul 5 så vil man automatisk få 15 gratis spinn runder, hvor alle gevinstene man får i løpet av disse rundene vil bli tredoblet. Hvis man har et drage symbol i hjørne på spillet så vil alle vinnende kombinasjoner faktisk bli seksdoblet. Med en god mengde flaks i gratis spinn rundene så vil man faktisk kunne ta hjem en gevinst på opp til 360 000kr, og det kun på en innsatslinje.
I tillegg til alt dette så har også Eastern Dragon en kvitt eller dobbelt funksjon. Denne aktiveres så fort man tar hjem en gevinst, uansett hvor liten eller stor den skulle ha vært. Her kan man så velge om man ønsker å prøve å doble eller firedoble gevinsten man har fått, og så er det bare å holde fingrene krysset og håpe på det beste.
Sammendrag
Eastern Dragon er formmessig støpt i samme mal som alle andre nye videoslots fra NextGen Gaming. Temaet i spillet er vel gjennomført, både når det kommer til grafikk og til lyd. Bonusfunksjonene i spillet er delvis ganske nyskapende og de holder en høy klasse. En ting som er ganske spesielt når det kommer til Eastern Dragon er jo gratis spinn rundene, som blir aktivert ganske ofte, noe som igjen gir spillerne flere gode sjanser på å ta hjem de litt større gevinstene i spillet. Her er det mye å spille for og gode sjanser for å vinne.