Tema
NextGen Gaming er en ganske så kjent spillutvikler som har skapt flere kjente spilleautomater gjennom årene. De aller fleste kasinospillere med noen års erfaring har spilt ett eller flere spill fra NextGen, og de aller fleste av disse har prøvd lykken på den store hiten – Foxin Wins. Spilleautomaten med en lur rev i fokus, en rev som alltid er på utkikk etter rikdom og flere penger. Nå ble den eldre spilleautomaten noe utdatert, og dermed måtte NextGen Gaming slippe en oppfølger. Noe mindre kunne man ikke forvente. Foxin' Wins Again tar oss på nytt inn i livet til den evig smilende reven, denne gang får vi besøke hans yacht og bli med på nye eventyr. NextGen har sørget for å holde temaet i fokus fra topp til bunn – det første man legger merke til er de små hjelperne til den rike reven. De hopper rundt på skjermen og følger med på dine spinn. Bakgrunnen er en flott utsikt fra karmen på en yacht, med solskinn og blått hav langs hele horisonten. Den positive bakgrunnsmusikken og de kule lydeffektene passer ypperlig inn og setter stemningen fra start. Foxin' Wins Again handler om positivitet, rikdom og luksus – NextGen Gaming har skapt en ypperlig oppfølger til deres store hit.
Grafikk og detaljer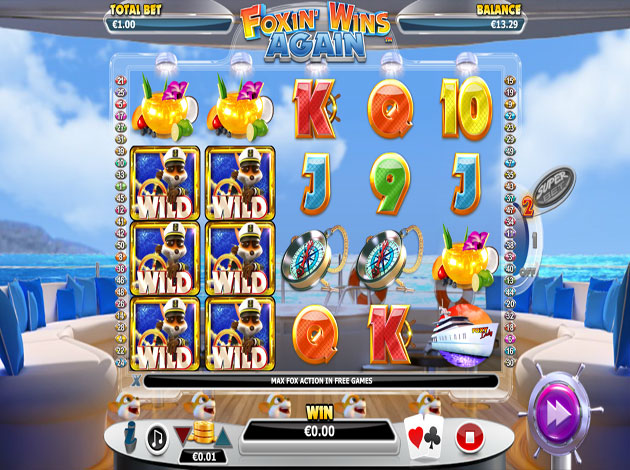 Som så mange andre ferske spillutviklere, måtte NextGen Gaming velge hva de satset på når de satte i gang. De valgte å sette grafikken som høyeste prioritet, noe som kommer frem klart og tydelig når man spiller Foxin' Wins Again. Spilleautomaten er bygd i nydelig 3D-grafikk og har massevis av fine detaljer. Fargene er klare og tydelige, ganske sterke men absolutt ikke irriterende – dette er en spilleautomat man kan spille lenge uten å bli trøtt. Foxin' Wins Again ser bra ut selv på storskjerm, noe NextGen Gaming skal ha to tomler opp for. Mange av symbolene er animerte, og man kan faktisk styre en hel del på spilleautomaten selv – for eksempel kan man satse ekstra høyt ved å dra på farts-spaken til høyre for spillskjermen. Hver gang man trykker på spinnknappen vil roret på yachten bevege på seg, en kul detalj som NextGen fortjener ros for. Denne spillutvikleren har virkelig satset på å skille seg fra konkurrentene på denne måten – grafikken er veldig godt lagd og animasjonene er både festlige og kule.
Utbetalinger og funksjoner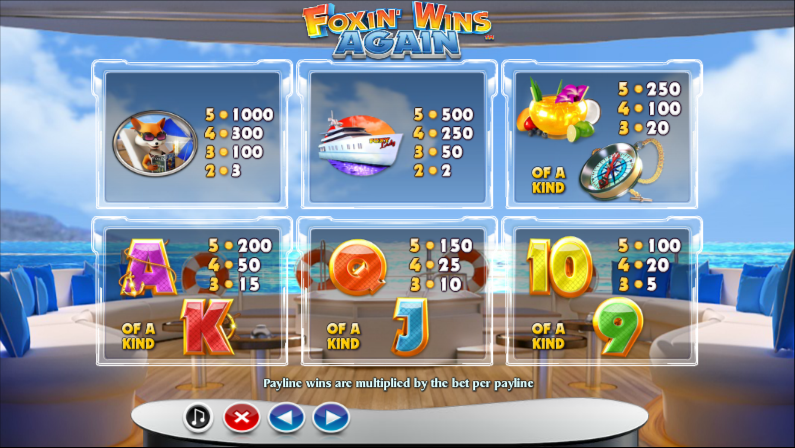 Foxin' Wins Again har 50 gevinstlinjer, altså er vinnersjansene ganske høye fra start. Det kan være vanskelig å følge med på de ulike kombinasjonene, men de fleste spillere foretrekker å bare spinne hjulene og se hvordan det går. Kortsymbolene fra 9 til A betaler ut småsummer regelmessig, nesten med hvert spinn. Foxin' Wins Again har faktisk en veldig høy utbetalingsrate som spytter ut små og store gevinster veldig hyppig. Kompasset og cocktailen gir litt høyere premier, men det er de resterende symbolene man virkelig skal kikke etter. Både yachten og den rike reven gir gode gevinster, og man behøver faktisk kun treffe på to av disse symbolene på rad for å få en liten utbetaling. Gullbjella er scattersymbolet – fem av disse spytter ut utrolige 5000 mynter i tillegg til å aktivere en runde gratisspinn. Rikmannsreven bak roret er wildsymbolet, fem av disse gir 2000 mynter i utbetaling. Foxin' Wins Again har veldig brede innsatsmuligheter, men fartspaken på høyre side gjør innsatsene veldig spesielle. Det meste man kan satse er 100 euro per spinn, men om du drar spaken oppover kan du komme helt opp i 200 euro per spinn, noe som ikke bare gir høyere utbetalinger men også høyere vinnersjanser. Med farts-spaken på topp vil du nemlig se en rekke små rever hoppe opp fra tid til annen og gjøre enkelte symboler om til wilds!
Spille disse online casino
Gratisspinn og jackpot
Foxin' Wins Again har dessverre ingen progressiv jackpot, men det gjør den ikke til noe mindre lukrativ spilleautomat av den grunn. Gratisspinn kommer opp med jevne mellomrom, og farts-spaken til høyre gjør utbetalingsraten veldig høy. Har du farts-spaken på topp, vil de små reveungene gjøre mange av symbolene om til wildsymboler, og når du treffer en runde gratisspinn vil dette bety ekstremt store utbetalinger. En spesiell funksjon på Foxin' Wins Again er det som skjer etter at runden med gratisspinn er over – da får du nemlig bestemme om du er fornøyd med utbetalingen eller ikke! Om du mener at du har vunnet for lite penger, kan du starte runden med gratisspinn på nytt. Forresten dobles alle gevinster når du vinner kostnadsfrie spinn, altså er Foxin' Wins Again en veldig lukrativ spilleautomat å bruke tiden sin på.