Om spillet

Ghost Pirates er et ganske nytt videospill fra Net Entertainment, og er en 5-hjuls spilleautomat med tre linjer. Spillet har sjørøvere og skattejakt som tema, og inneholder en gal ape, en papegøye, kapteinen og Jolly Roger. Om du har uflaks kan det være din tur til å gå planken. Den vakre Roger (Jolly Roger) opptrer som spillets wildsymbol, og erstatter alle andre symboler, unntatt scattersymbolet, som er skattekista. I tillegg til wildsymbolet finner du en gratisspinn-utløser i form av scattersymbolet, og så mange som 243 ulike måter å vinne på i stedet for de tradisjonelle satsingslinjene. Med sin fantastiske grafikk og animerte symboler, vil dette eventyrlige og spennende piratspillet kunne få spillere til å satse stort for å få skatten, med en maksimal gevinst på 45 750 euro etter en maksimumssatsing på 62.50 euro.
Spillets detaljer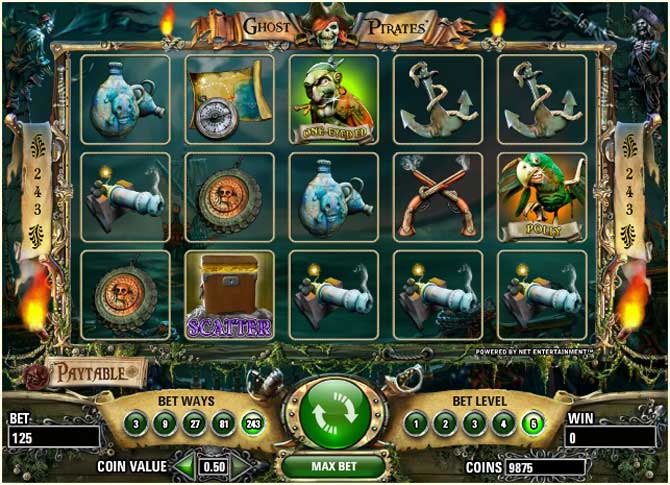 Ved første øyekast virker Ghost Pirates som en typisk spilleautomat med gode grafikk- og lydeffekter, men dette spillet er sofistikert og unikt på den måten at det ikke har definerte betalingslinjer; i stedet kan du betale for opp til 243 ulike satsingsmåter. Det fins et spillepanel, og du kan selv velge hvor mange vinnerkombinasjoner du vil ha aktive. Du kan velge mellom 3, 9, 27, 81 eller hele 243 måter å vinne på. Den mellomste raden kommer alltid å være aktiv, og når du velger å spille med tre vinnermuligheter kommer hjulet lengst til venstre å være det eneste vertikale hjulet som er aktivt. Når du velger 9 vinnermuligheter har du to vertikale hjul som er aktive og så videre. Med alle de 243 vinnermuligheter aktive spiller du med alle de fem hjulene og alle de tre rekkene.
Du har 1-5 satsingsnivåer, og dette tillater en maksimal gevinst på 45 750 euro om du spiller for ekte penger. Du kan velge mellom de fem ulike innsatsnivåene, og en myntverdi på mellom 0.01 euro og 0.50 euro. Du kan spille på stor skjerm, det finnes innstillinger for lydeffekter og du kan også snurre hjulene automatisk med autospinn-funksjonen. Spillet har de klassiske scatter- og wildsymbolene. Ghost Pirat-symbolet er ditt wildsymbol i spillet. Dette wildsymbolet vil erstatte alle symbolene inkludert scattersymbolet. Ditt scattersymbol er skattekista, dette symbolet behøver ikke forekomme på en betalingslinje, og du trenger å ha tre eller flere i samme spillerunde for å få mulighet til en utbetaling.
Spille disse online casino
Bonusprogrammet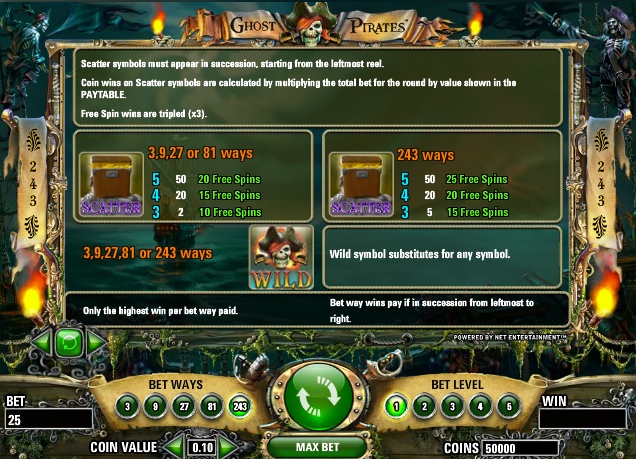 Antall gratisrunder du får er avhengig av hvor mange vinnerkombinasjoner du spiller med, og hvor mange scattersymboler du får i én rekke. Hvis tre eller flere av scattersymbolene kommer til syne hvor som helst på de fem hjulene, aktiviseres gratisspinn bonusprogrammet. Her kan du vinne opp til 25 gratis spinn. I løpet av gratisspinnene kan du bli belønnet med flere gratisspinn dersom du får tre eller flere skattekistesymboler. Kort sagt kan du vinne et ubegrenset antall av gratis runder.
Bonusprogrammet mer i detalj
Når du spiller med 243 vinnerkombinasjoner, kommer tre scattersymboler til å gi deg 15 gratisspinn, fire symboler gir deg 20 gratisspinnspinn og fem scattersymboler gir deg hele 25 gratisspinn. Når du spiller med 3, 9, 27 eller 81 vinnermuligheter får du 10, 15 og 15 gratisspinn i stedet for 15, 20 og 25. Alle gevinster i gratisspinn-funksjonen multipliseres med 3.
Spillets gang
Ghost Pirates video spilleautomat viser en rekke på 5 knapper som kontrollerer spillet. Bet Ways – press for å velge hvor mange satsingsmåter du vil aktivere. Bet Level – press for å forandre satsingsnivået, rangerer fra 1 til 5. Piler i en sirkel – får hjulene til å spinne. Max bet – får hjulene til å spinne med den høyeste satsingen og det høyeste satsingsnivået til den aktuelle myntverdien. Coin value – velg din myntverdi, denne varierer fra 0.01 til 0.50 euro.
Konklusjon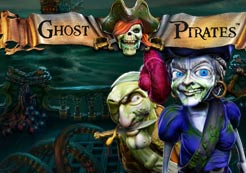 Fan av Pirates of the Caribbean og Johnny Depp vil elske temaet i spillet Ghost Pirates, så vel som fan av pirater i det hele tatt. Med sin fortellende stil og Net Entertainments øye for detaljer, du kan føle at du er i gode hender til og med før du har trykket på spinn-knappen. Vi kan også fremheve de 243 ulike vinnerkombinasjonene og Net Entertainments unike Stopp-funksjon, som gjør det mulig for deg å stoppe hjulene og avslutte spinnet når som helst. Ghost Pirates er spesielt med sin fantasifulle grafikk, naturtro lydeffekter og inspirerende ekstrafunksjoner, og vil med stor sannsynlighet engasjere og underholde deg. Ghost Pirates vil kaste deg ut i farvannet av pirater, du vil treffe på skattekister fulle av gullmynter, uoppdragne aper, skattekart, susende kanonkuler og papegøyer som er litt for glade i å snakke. Snurr på hjulene og prøv lykken din med Ghost Pirates.