Tema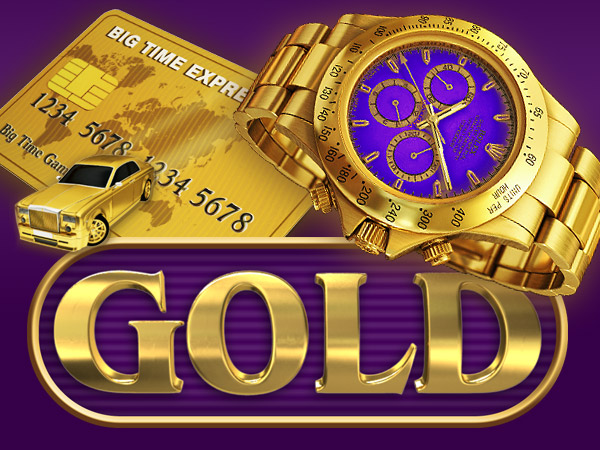 Når det kommer til tittelen på denne spilleautomaten, finnes det neppe et mer passende navn enn Gold. Det er egentlig litt merkelig at det ikke er noen andre spillutviklere som har tatt i bruk denne tittelen tidligere på en annen spilleautomat med lignende tema. Når man tenker på spilleautomater, popper som regel alltid ordet «Gold» opp i spillernes hjerne, da spillene går ut på å vinne (gull)mynter. Det er altså spillutviklerne fra Quickfire som står bak spilleautomaten Gold, og de har nylig lansert den rundt på nettet. Man skulle tro at spilleautomaten Gold har fått tittelen fra gullgjenstander som gullmynter, skattekister full av gull og andre skatter- og kanskje man til og med får piratassosiasjoner. Spilleautomaten har da altså fått tittelen fra en klassisk gammel låt fra det britiske popbandet Spandau Ballet. Quickfire har også lånt deler av den sangen for å bruke i spilleautomaten som bakgrunnsmusikk i hovedspillet. Bortsett fra det er det ikke noe tegn til Spandau Ballet ellers i denne spilleautomaten. Det er derimot den edle metallsorten gull som har fått fokuset her. Symbolene på hjulene består av gulldekkede ting og tang, som klokker og luksuriøse biler.
Grafikk og lyd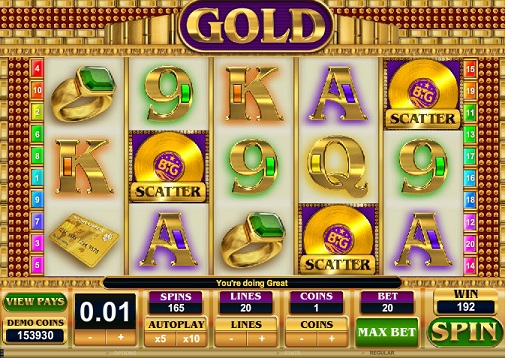 Gold er på ingen måte en spilleautomat som er av det moderne slaget, men med mengder av imponerende animasjoner og 3D-effekter, glemmer man dette ganske raskt. Spilleautomaten er veldig attraktiv å spille på for alle typer spillere. Man kan si at Gold tar spillere tilbake til en tid hvor det var mye mindre komplisert å spille på automater. Gold har mer en følelse av 1900-tallet, i stedet for 2000-tallet. Med den litt utdaterte grafikken tenker kanskje mange at spilleautomaten ikke er attraktiv. Dette har kun til hensikt å gjøre at temaet til spilleautomaten er mer gjennomført, så grafikken passer helt perfekt for dette temaet og spilleautomaten. Bakgrunnsmusikken har jo allerede blitt nevnt her, men ikke lydeffektene i spillet. Disse er det ikke mange av, men likevel passer de helt utmerket med spillets tema. Spillutviklerne fra Quickfire kunne nok ha jobbet litt mer med akkurat dette, men det kunne også har vært verre sammenlignet med andre spilleautomater.
Innsats og oppsett
Selve spilleautomaten er bygd opp på en klassisk måte, den er satt sammen av 5 hjul, 3 rader og har 20 spillelinjer man kan spille på. Disse spillelinjene kan man velge og vrake mellom, og velge helt selv hvor mange man ønsker å spille med. Man kan også justere på selve myntverdien og antall mynter som er per linje. Den laveste mulig innsatsen er på 0,20 euro. For de spillerne der ute som vil satse litt mer enn dette så vil dette nok gjøre dem utrolig glade, for den maksimale innsatsen på spilleautomaten Gold er nemlig på hele 100 euro.
Spill på disse online casinoene
Gratisspinn og jackpot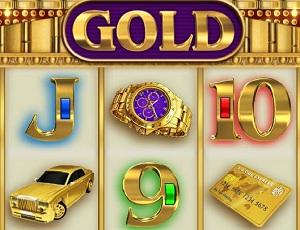 Så har vi jo de ulike spesialeffektene og funksjonene i spilleautomaten. Gold har to ulike spesialfunksjoner å by på. Her er det snakk om wildsymboler og scattere som gir spillere gratisspinn. For mange vil nok dette kanskje høres litt lite ut, men det er absolutt ikke tilfellet denne gangen. Man har nemlig muligheten til å vinne opp til 180 gratisspinn rett etter hverandre, og man har også sjansen til å stikke av med hele 100 000 mynter på én omgang. Det er det vel absolutt ingen som klager over. Wildsymbolene som er i Gold har fått formen av gyldne kofferter, og dette symbolet kan erstatte alle de andre symbolene i spillet, med unntak av scattersymbolene, selvfølgelig. Som en ekstra liten bonus dobles også alle gevinster hvor det er et wildsymbol med i den vinnende spillelinjen. Scattersymbolet i Gold består da av gullplater, altså de som musikere og band får når de har klart å selge et visst antall plater. Disse symbolene gir heller ikke bare kontantgevinster, man får også gratisspinn. Gratisspinn får en spiller så lenge det er minimum tre symboler, og kontantgevinst får man så lenge det er minimum to symboler. I tillegg til dette, når gratisspinnene blir satt i gang, tredobles også absolutt alle gevinster. Ikke nok med det, man kan nemlig også gjenutløse gratisspinnmodusen opptil flere ganger, til og med mens man holder på å spille sine allerede aktiverte gratisspinn.
Oppsummering
Så her har man altså spilleautomaten fra Quickfire, som har et av de beste navnene på en spilleautomat. Man kan vinne opp til 100 000 i mynter og få spille opp til 180 gratisspinn. Mer enn det trenger man rett og slett ikke å vite.