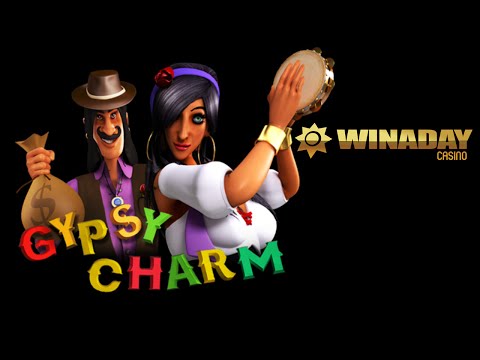 Win-A-Day er et nettbasert kasino og er søsterkasinoet til Slotland Casino. Det disse to kasinoene har til felles er det at de begge utvikler sine egne spill til sitt kasino. Det vil si at spillene som er tilgjengelig på Win-A-Day Casino er utviklet av kasinoet selv og spillene vil kun være tilgjengelig for å spilles der. Gypsy Charm er den nyeste spilleautomaten som har blitt lagt til i Win-A-Day Casino og det er et spill som virkelig imponerer. Det er tydelig at Win-A-Day jobber med å utvikle gode spilleautomater for sine spillere og spillene er naturligvis eksklusive siden de kun kan spilles hos ett nettkasino. Gypsy Charm er en spilleautomat som virkelig fanger øyet til den som spiller og som gir en hyggelig gledesfølelse med en gang man setter i gang spillet. Det er et utrolig fargerikt og flott spill, i tillegg til at man har en mengde 3D-grafikk som er lagt på spilleskjermen. Gypsy Charm har også en progressiv jackpot som er tilgjengelig og flere gode spesialfunksjoner som gjør det enda mer morsomt å spille. Gypsy Charm har helt klart sin sjarm og mange spillere kommer til å ha glede av å prøve ut spillet.
Spillets gang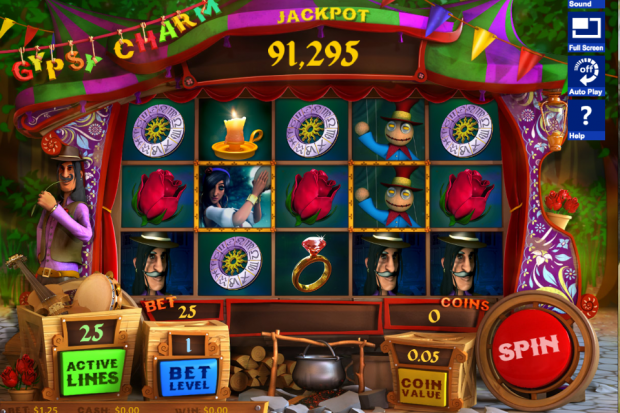 Slik det er på de aller fleste spilleautomater så skal det noen justeringer til før man kan sette i gang å spille. Det er ikke noe annerledes i Gypsy Charm. Man har et innsatsnivå man må velge før man setter i gang spillet. Det gjøres utrolig enkelt, for det er satt opp en knapp for hver justering i spillet og knappene finner man nederst på spilleskjermen. I Gypsy Charm så har man et oppsett på fem hjul, tre rader med symboler og til sammen 25 innsatslinjer. Det første man skal justere er innsatslinjene. Man kan selv velge om man ønsker å spille med alle 25 aktivert eller om man vil spille med et lavere antall. Når man har bestemt seg for antall innsatslinjer så kan man se på myntverdien man ønsker å spille med. Myntverdien er ikke slik at man kan velge den helt selv. Man har fem verdier man kan velge mellom og de er fastsatt i spillet. Hver mynt kan ha en verdi på 0,05, 0,10, 0,25, 0,50 og 1 i kreditt. Når man har bestemt det så kan man sette antall mynter per aktive innsatslinje. Det kan være mellom en og opp til fem mynter per innsatslinje. En flott funksjon i Gypsy Charm er at hvis man er usikker på noe så kan man benytte seg av help-knappen som man finner til høyre på spilleskjermen. Der finner man svar på det aller meste. Når alt er klart i forhold til innsatsen så er det bare å trykke på spinnknappen og spillet er i gang.
Spilleskjermen og grafikken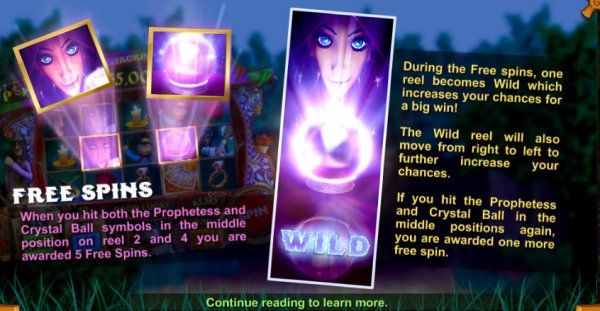 Spilleskjermen som møter en når man spiller Gypsy Charm imponerer virkelig. Det er en helt spesiell stemning som spillet er satt inn i og grafikken som har blitt brukt er med på å løfte dette enda mer. Det er tilsatt masse farger og det er tydelig inspirasjon av det som forbindes med sigøynerlivet, som er spillets tema. Spilleskjermen er satt opp slik at man kan skimte en grønn og frodig bakgrunn med noen flotte trær, men det man legger mest merke til er den flotte sigøynervognen som er plassert midt på spilleskjermen. Denne fungerer både som en bakgrunn i spillet og også som en ramme rundt spillets hjul. På toppen av sigøynervognen så har man to slags telt og over det ene teltet så finner man spillets logo. Midt på dette teltet, altså rett over spillets hjul, så har man en oversikt over verdien på den progressive jackpotten. Spillets knapper er satt nederst på spilleskjermen, men de er også bygget inn som en del av sigøynervognen og de tingene som står rundt. Spillets hjul er da plassert midt i vognen og på hjulene så finner man spillets flotte symboler.
Spesialfunksjoner i spillet
Det er flere spesialfunksjoner i spillet, men det som de fleste er interessert i er hvilket symbol som kan aktivere den progressive jackpotten i spillet. Det er faktisk to symboler som kan gjøre dette og det er symbolet av sigøyneren selv eller symbolet av danseren. Får man fem slike i en kombinasjon og man spiller med høyest mulig innsats så har man altså vunnet den progressive jackpotten. I tillegg til dette så har man to bonusfunksjoner i spillet. Den ene er et eget bonusspill mens den andre er det som henger sammen med gratisspinnrundene i spillet.