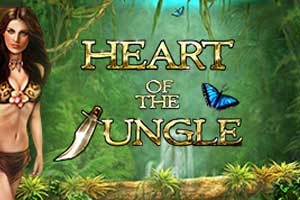 Noen ganger så er det nesten så man får følelsen av at spillutviklere bare spytter ut nye spill, rett og slett for å ha flest mulig ute på markedet. Man kommer ofte over spill som virkelig viser hvor enkelt det kan gjøres og hvor varierende spilleopplevelsen kan være. Det er noen videoslots som virkelig imponerer, om det enten er med grafikken, tema eller spesialfunksjonene. En sjelden gang i blant så kommer man over en videoslot som har et helt unikt tema og en så bra utforming, at man nesten ikke kan forstå hvorfor ikke alle spill er laget sånn. Playtech har bestemt seg for å vise hva en bra videoslot er og det har de gjort med spilleautomaten Heart of the Jungle. Det er et virkelig kreativt tema som er satt i spillet og det er presentert på en utrolig bra måte. Spilleskjermen taler virkelig for seg og gir et utrolig godt første inntrykk til spillerne. Så, vil man se hva som tilsier å være en bra videoslot, så bør man prøve ut Heart of the Jungle fra Playtech.
Spillets spesialfunksjoner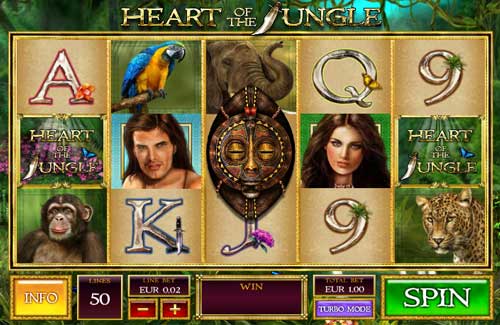 Det er to spesialsymboler i spillet, og det er wildsymbolet og scattersymbolet. Under spesialfunksjonene så vil man i tillegg finne gratisspinn som man kan aktivere, og en helt spesiell funksjon som har blitt kalt Payment Booster. Wildsymbolet er spillets joker og fungerer på den måten at den kan erstatte alle andre symboler på hjulene, bortsett fra scattersymbolet. Wildsymbolet kan dukke opp som stablet på hjulene, noe som tilsier at wildsymbolet ikke dukker opp alene på et hjul. Wildsymbolene vil tydelig dukke opp oftere når man har fått aktivert gratisspinnrundene. gratisspinnene i spillet blir aktivert ved hjelp av scattersymbolet. Scattersymbolet kan kun dukke opp på hjul en, tre og fem og man trenger en scatter på hvert av disse hjulene for å aktivere gratisspinnrundene. Når man først har fått aktivert gratisspinnene så vil man begynne å få tildelt flere små bonuser. Jo flere ganger man aktiverer gratisspinnrundene, jo flere gratisspinn vil man få, i tillegg til at man kan få lagt på en multiplikatorfunksjon på gevinsten sin. Aktiverer man gratisspinnene for en femte gang så vil man få aktivert den funksjonen som heter Payment Booster. Payment Booster fungerer slik at den vil gi ut enda høyere og bedre gevinster til spilleren. Det er med andre ord gode muligheter for gevinster underveis i spillet.
Spillets oppsett
Oppsettet i spillet er på fem hjul, tre rader med symboler og til sammen har man 50 innsatslinjer. Oppsettet er med andre ord ganske klassisk når det kommer til videoslots. Før man kan sette i gang spillet så må man gjøre noen tilpasninger med innsatsen sin. Nederst på spilleskjermen, under spillets hjul, så har man et oppsett med knapper. Det er disse knappene man skal bruke for å tilpasse innsatsen. Man har for det første en oversikt over antall innsatslinjer, og så har man knappen som tilpasser innsatsen man ønsker å ha per innsatslinje. Innsatsen per linje kan ligge på mellom 0,01 og opp til 5, noe som vil tilsi at man på det meste kan ha en innsats på 250 i kreditt i en spillerunde. Er man litt utålmodig når man spiller så kan man velge å benytte seg av turbo mode knappen i spillet. Den gjør at hjulene vil spinne enda raskere, slik at man kommer seg gjennom en runde enda fortere enn vanlig.
Spille disse online casino
Grafikken i spillet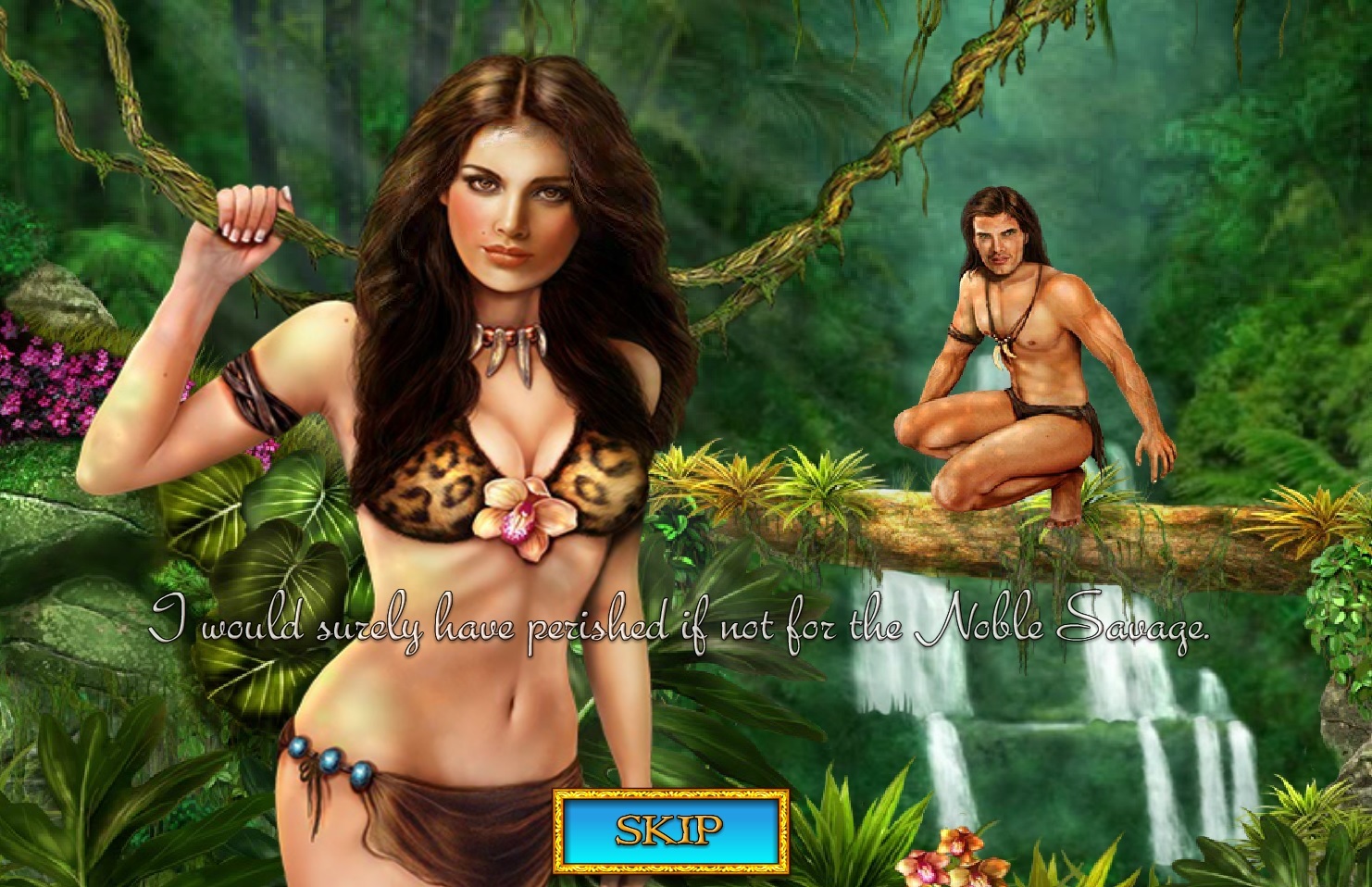 Det er noen ting som imponerer mer enn andre når det kommer til videoslots, og de aller fleste spillere tenker litt over grafikken på spillet de velger å prøve ut. Playtech har nok helt klart satt seg som mål å imponere med denne grafikken, for den er virkelig av høy kvalitet. Bakgrunnsbildet på spilleskjermen viser en virkelig flott jungel som er grønn og frodig. Det er noen flotte blomster som har vokst opp innimellom de flotte grønne plantene. På toppen av spilleskjermen så har man spillets logo, som er formet i noen enkle gullbokstaver. Rammen rundt spillets hjul er i samme gullfarge og er laget veldig enkel. Det er rett og slett bakgrunnsbildet og symbolene som virkelig står frem i Heart of the Jungle. Bildene som man ser som symboler er i form av en kjekk mann og en vakker kvinne, i tillegg til en papegøye og en løve. De resterende symbolene på hjulene er hentet fra en vanlig kortstokk og de går fra tallet ni opp til kongen. De er da i form av enten tall eller bokstaver og godt tilpasset tema.