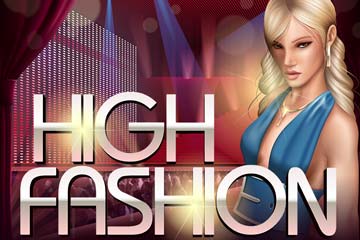 High Fashion er en spilleautomat som virkelig har fått et helt originalt tema. Det er spillutviklerselskapet RealTime Gaming som står bak spilleautomaten og de har virkelig klart å levere en original spilleautomat, i alle fall når det kommer til tema. Det er fort gjort å tenke at nye temaer er oppbrukt innen spilleautomater, men RealTime Gaming viser at det kun skal litt kreativ tenking til for å finne på noe som ikke har blitt sett tidligere. High Fashion er en spilleautomat som har mote og moteshow som tema. Det er helt klart et tema som tiltrekker flere kvinner enn menn, men det trengs jo det også. Det kan jo ikke bare være tøffe og kule temaer som blir brukt. High Fashion har helt klart et kvinnelig preg over seg. Det er sminke, klær og sko som er i fokus og det er virkelig tid for å sette opp et bra moteshow. Uformingen på spilleautomaten er utrolig bra og temaet er presentert på en utrolig god måte. I tillegg til et originalt tema så har RealTime Gaming klart å få inn noen bra spesialfunksjoner, som er med på øke den positive spilleopplevelsen for spilleren. Det er bare å ta på seg sine flotteste klær og prøve ut spilleautomaten High Fashion.
Spillets gang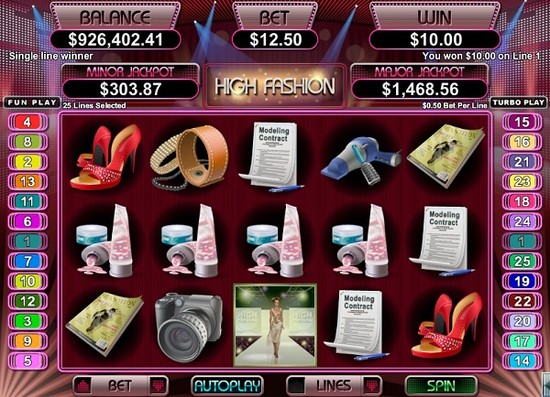 High Fashion har helt klart et originalt tema, men når det kommer til oppsettet i spillet og gangen i spillet, så har RealTime Gaming valgt å kjøre på med det mest tradisjonelle. Det er jo slik i alle spilleautomater at man må få justert innsatsen man ønsker å spille med før man kan sette i gang og faktisk spille. Slik er det også i High Fashion. Midt på spilleskjermen så har man spillets fem hjul, tre rader med symboler og totalt så har man 25 innsatslinjer. Innsatsen skal legges på dette oppsettet og justeringen skjer veldig enkelt. Man har noen knapper nederst på spilleskjermen og det er disse man må bruke for å gjøre de ulike justeringene. I High Fashion så er det slik at spilleren kan både justere innsatslinjene og innsatsen man ønsker å spille med. Innsatslinjene er det man bør justere først. Man kan totalt ha 25 aktive innsatslinjer, men man kan såklart også velge å ha mindre. Når man er fornøyd med antall innsatslinjer så er det innsatsen man skal se på. Innsatsen per spillerunde har en minimumsgrense på 0,25 i kreditt og en maksimumsgrense på 125 i kreditt. Når man har valgt et nivå et eller annet sted mellom der så er man klar til å begynne å spille. Ønsker man en lettvint spilleopplevelse så kan man benytte seg av auto play-funksjonen, som gjør at spillet går av seg selv et bestemt antall runder.
Spilleskjermen og grafikken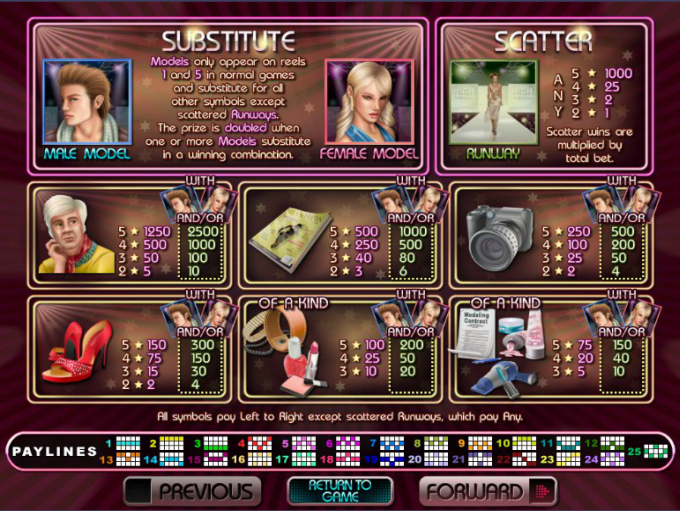 Spilleskjermen som møter en når man begynner å spille High Fashion er akkurat det man forventer når man spiller et spill som har fokus på mote. Det er klær, sko, sminke og lys som kommer frem på spilleskjermen og det viser jo klart og tydelig hva spillet handler om. Bakgrunnen som man kan skimte på toppen av spilleskjermen viser et lokale som er satt opp for et moteshow: lysene er satt på og det er trolig rett før modellene kommer ut på catwalken. Over dette bakgrunnsbildet så har man en oversikt over de to jackpottene som man har i spillet, i tillegg til en oversikt over innsatsen man spiller med og hvor mye man eventuelt har vunnet. Midt i mellom disse oversiktene så har man spillets logo. Under bakgrunnsbildet og spillets logo så har man spillets hjul. Bakgrunnen på hjulene går i samme fargenyanser som resten av spilleskjermen og på hjulene så har man de flotte symbolene, som blant annet er i form av kamera, sko, sminke, hårprodukter og en modellkontrakt.
Spille disse online casino
Spillets spesialfunksjoner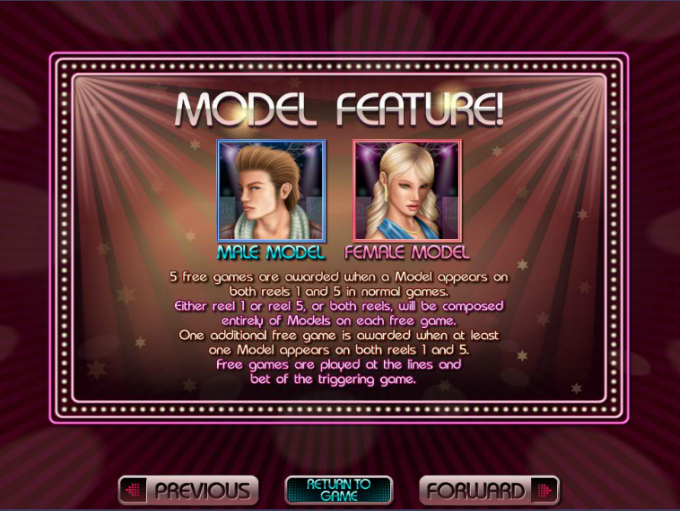 Det er flere spesialsymboler i spillet. Det symbolet som har høyest verdi i spillet er det symbolet som er i form av designeren selv. Får man en kombinasjon på fem slike symboler så får man 1250 i kreditt. Symbolene av den mannlige og kvinnelige modellen dukker kun opp på første og siste hjul i spillet men de dobler alle gevinstene man får. Det er også disse to symbolene som kan aktivere gratisspinnrundene i spillet. For tre slike symboler så får man tildelt fem gratisspinnrunder. Underveis i gratisspinnrundene så kan hjul en, tre eller fem bli omgjort til jokerhjul. Det vil si at det vil bli dekket kun med wildsymboler, som så klart er med på å øke sjansen for å få vinnende kombinasjoner mens man spiller.