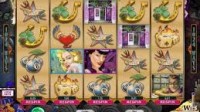 Hot Ink er en videoslot spill fra Microgaming. Spillet er virkelig et must for alle de som følger eller har fulgt med på tv seriene som Miami Ink og LA Ink. Denne videosloten handler rett og slett om tatoveringer, tatoveringsstudioer og om de personene som jobber der. Et tatoveringsstudio er en unik plass, der rock and roll og ulike skjebner skaper en spennende atmosfære. Hot Ink, med sin grafikk, sin lyd og sine funksjoner, er omtrent slik det er å være i et ekte tatoveringsstudio, bare det er i form av en videoslot.
Det er ikke bare temaet som er unikt når det kommer til Hot Ink. Spillet har en lang rekke med egenskaper som virkelig gjør at spillet skiller seg ut fra mengden, også når det kommer til spillets mekanikk. Her finner man for eksempel en funksjon som lar deg snurre på et eller flere av hjulene for å få en ekstra sjanse, og innsatsfunksjonen gir deg 1024 ulike måter å vinne på.
Tema og grafikk
Spilleutviklerne hos Microgaming må ha vært og besøkt et godt antall tatoveringsstudioer for å få inspirasjon til Hot Ink, for her har de virkelig lykkes med å skape en atmosfære som kjennes ekte ut. Symbolene er i form av klassiske tatoveringsmotiv slik som biljardkuler, brennende terninger og lykkesymboler. Rundt hjulene så ser man enda flere klassiske motiv. Og så klart så finnes det jo også noen tatoverere som befinner seg i symbolene.
Lydeffektene og bakgrunnsmusikken er imponerende i Hot Ink. Hvis man noen gang har vært inne i et tatoveringsstudio så vet man hvilke lyder man hører, nåler, klirrende flasker og mye mer, og Microgaming har virkelig klart å fange alt dette og satt det inn i lydatmosfæren. I bakgrunnen kan man høre en litt nedtonet rockemusikk som høres ut som det spilles av fra noen høytalere som befinner seg helt innerst i lokalet. 5 tomler opp for lyden i Hot Ink.
Innsatser og alternativ
Hot Ink har 5 hjul og 4 rader men noen tradisjonelle innsatslinjer finner du faktisk ikke her. Istedenfor de så har man 1024 ulike måter å vinne på. Hva dette egentlig innebærer er det at for hver kombinasjon man får på minst tre symboler, hvor første symbolet er på hjulet lengst til venstre, så får man utbetalt en gevinst. Man kan satse mellom 0,01 og opp til 0,25 i myntverdi, da med ti ulike innsatsnivåer. Laveste innsats ligger på 0,50 euro og høyeste innsatsen ligger på 125 euro.
Spesialsymboler og effekter
Hot Ink har tre spesialsymboler, nemlig wild symbolet, scatter symbolet og bonus symbolet. Logoen for selve spillet er det som er wild symbolet. Denne erstatter som vanlig alle andre symboler, bortsett fra scatter symbolet. Man får ingen multiplikasjon på gevinster med joker, men det gjør egentlig ikke så mye når man kan få gevinster på enkle wild symboler.
Scatter symboler er i form av to japanske karper. Hvis man får tre slike symboler spredt utover hjulene i spillet så vil man automatisk få aktivert 20 gratis spinn runder, hvor alle gevinstene man får blir doblet. En ytterligere bonus er faktisk den at gratis rundene kan reaktiveres. Angivelig så kan man ha en sjanse til å ta hjem gevinster på opp mot 100 000 mynter i gratis spinn rundene.
Bonus symbolet i Hot Ink er i form av et gullkort med teksten Tattoo Bonus. Hvis man får tre eller flere slike symboler på spillet så vil man automatisk få aktivert bonusspillet. I bonusspillet så får man bla gjennom tatoveringsalbum. Albumene man ser i kan enten gi deg en kontantgevinst eller 10 gratis spinn runder hvor alle gevinstene man får blir doblet.
I tillegg til bonusfunksjonen så har Hot Ink en innovativ re-spin funksjon. Den fungerer slik at etter hver rundt så har man mulighet til å spinne et eller flere av hjulene en ekstra gang, for å få en ekstra vinnersjanse. Kostnaden for å snurre et hjul om igjen beregnes ut i fra hvor mye man kan vinne hvis det ekstra snurret blir vellykket.
Sammendrag
Hot Ink fra Microgaming har kanskje ikke fått den oppmerksomheten den skulle ha. Dette er en videoslot med en mengde lekre bonusfunksjoner og et tema som er virkelig gjennomført. Microgaming har helt enkelt skapt et videoslot spill med en helt utmerket spillefølelse. Det at det også finnes flere funksjoner i spillet som kan gi ut gevinster på opp mot 100 000 mynter er jo heller ikke å forakte. Dette er et spill som har alt man ønsker skal være i et videoslot spill.