Tema og historie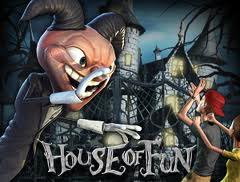 Her har spillutviklerne på Betsoft kommet med en virkelig unik videoslot – med et enda mer unikt tema,om mulig. Denne slotmaskinen, med navnet House of Fun, handler om et par som heter Paul og Jane, som sammen med sin hund er på en reise, på vei for å tilbringe en ferie sammen. Men som i et ordentlig skrekkfilmscenario stopper bilen deres helt opp og er helt tydelig totalhavarert. Dette skjer midt på natten, og de må selvfølgelig ut for å se etter hjelp. Når de er ute og leter etter noen for å hjelpe dem kommer de frem til et spøkelsesaktig hus og bestemmer seg for å gå inn. Der inne møter de noe ikke helt forventet, nemlig et rom i huset som er fullt av gale mennesker som ønsker Paul og Jane velkommen inn til House of Fun. Dette paret skjønner raskt at det ikke akkurat er snakk om noe ekte "fun house", av det morsomme slaget,det blir nok heller litt mer skremmende enn det.
Spesialfunksjoner og symboler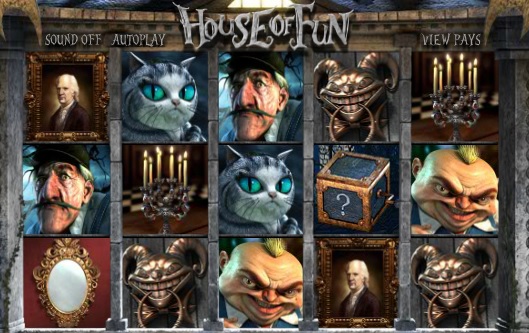 Denne videosloten har mye å friste sine spillere med, blant annet har den tre virkelig bra spesialfunksjoner å by på. Man kan altså aktivere et virkelig luksuriøst gratisspinn-modus, og dette kommer i tillegg til to bonusspill å prøve ut i løpet av spillets gang. I det ene av de to bonusspillene har man faktisk også muligheten til å forsøke å hjelpe Paul og Jane til å klare å stikke av fra skrekkhuset. House of Fun er virkelig en ganske så uhyggelig og skummel historie, og flere av de ulike karakterene er faktisk nesten kopier av andre karakterer som kommer fra ekte skrekkfilmer. Symbolene som er blitt valgt ut til hjulene består av blant annet flere ulike rare og merkelige karakterer og ting, som mystiske speil, tavler, ondskapsfulle katter og mye, mye mer.
Grafikk og lyd
Da House of Fun er en videoslot som Betsoft står bak, kan man jo også bare regne med at ulike symboler som inngår i en vinnende kombinasjon blir animert på en veldig underholdende og effektfull måte. Bakgrunnsmusikken som er blitt valgt ut til denne sloten passer og ekstremt bra inn i hele temaet og lydeffektene er også som om de er blitt hentet rett ut i fra en hvilken som helst underholdende skrekkfilm.
Spill på disse online casinoene
Oppsett og innsats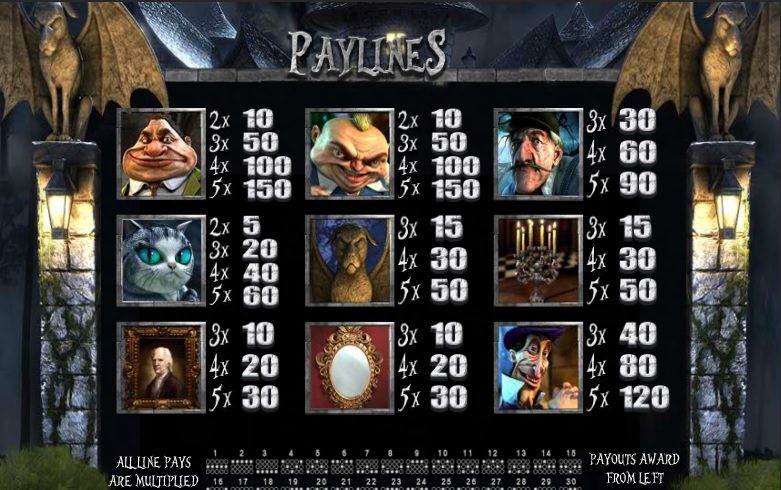 Selve oppsettet til denne sloten består av tre hjul, men i stedet for de vanlig tre radene har sloten fått fem rader med symboler – noe som altså vil tilsi at det blir totalt 15 ulike posisjoner for symbolene å innta på hjulene. Og så har spillet fått til sammen 30 spillelinjer, og selvfølgelig kan man også velge fullstendig selv hvor mange av disse som man ønsker å spille med. Når det kommer til myntverdien i spillet så går dette fra 0,02 mynter og opp til 1 mynt, og man kan velge å spille mellom 1 og 5 mynter per linje. Den aller laveste mulige innsatsen dersom man har alle spillelinjene aktiverte er på 0,60 euro, og den aller høyeste mulig innsatsen er på hele 150 euro.
Bonusspill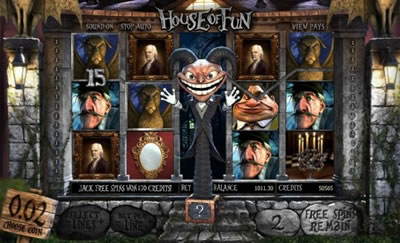 Noe som er ganske overraskende med denne videosloten er at House of Fun faktisk ikke har noen wildsymboler, og det er heller ingen scattersymboler som kan utbetale kontantgevinster. De to bonusspillene som sloten derimot har i tillegg til gratisspinn-moduset er alle utrolig underholdende og spennende ekstrafunksjoner som enkelt veier opp for mangelen på scattere og wilds. Det ene av de to bonusspillene er et «click me»-spill, der man må klikke på ulike symboler for å ta med seg sine gevinster. Her fortsetter man å klikke frem til man får frem teksten «collect». På toppen av dette er det jo også verdt å vite at gevinstene i dette bonusspillet i tillegg er ganske så høye. I det andre bonusspillet blir man flyttet til en annen spilleskjerm, der kan man se fem dører foran seg – og målet her er å åpne den riktige døren så Paul og Jane kan rømme fra dette skumle huset. Dersom man klarer å gjette riktig kan man se frem til et flott tilskudd til spillekontoen. Så har man gratisspinn-moduset, som også kan være en ganske så lukrativ historie. Det er nemlig sånn at hele det midterste hjulet da fungerer som et wildsymbol. Dette gjør at det blir ganske så enkelt å få kombinasjoner av minimum tre gevinstgivende symboler på hjulene.
Konklusjon
Alt i alt så er dette en utrolig underholdende slot, selv uten de vanlige «ekstrafunksjonene» som wilds og scattere. Et spennende tema med flott grafikk og spennende lydeffekter igjennom hele sloten.