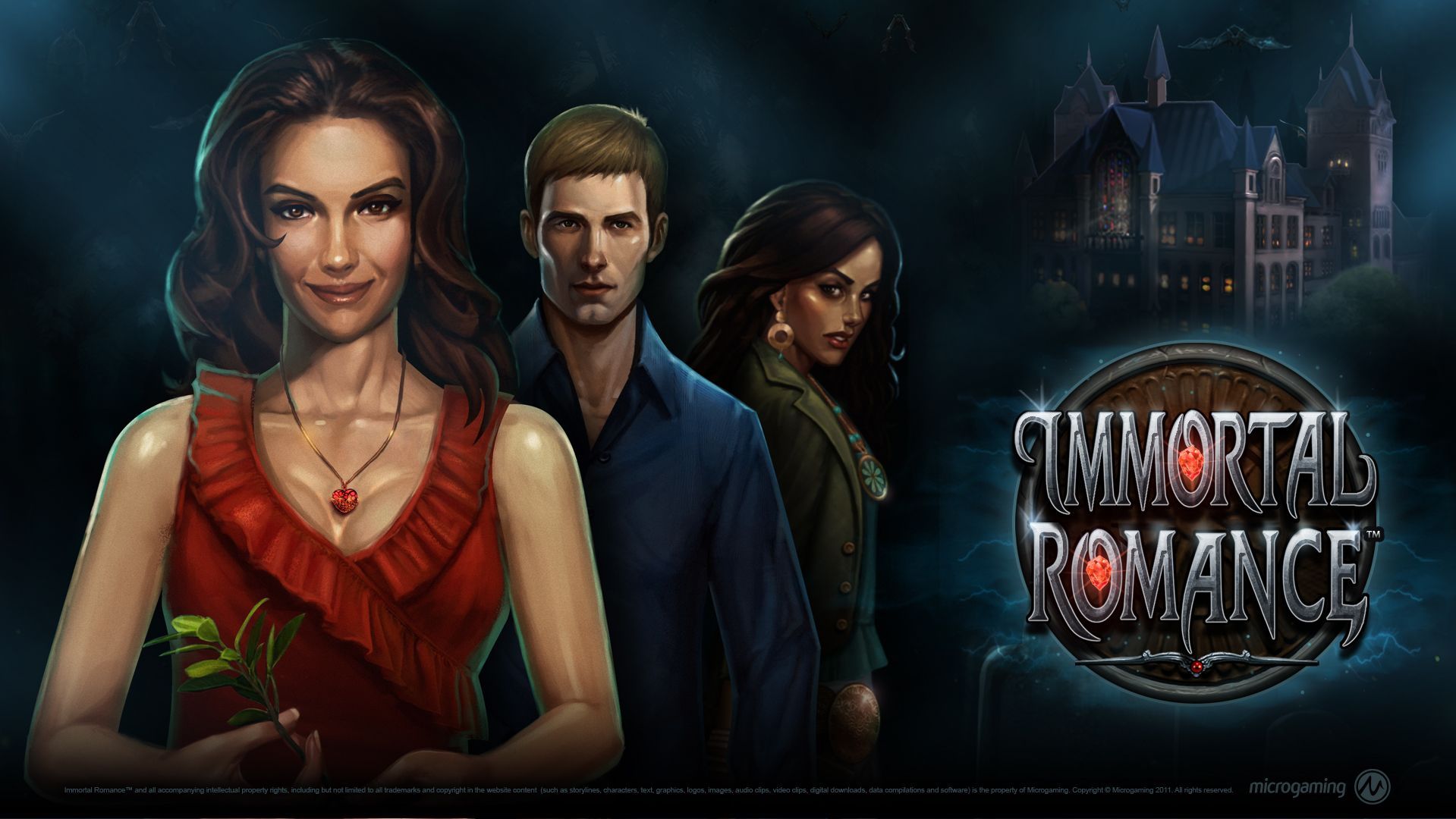 Denne gangen har Microgaming kommet med en helt spesiell videoslot. Her er det altså snakk om Immortal Romance, som ble lansert rett etter Thunderstruck 2 i desember 2011. Dette var, som en god del spillere der ute vet, ingen bra lanseringsplan for denne spilleautomaten. Immortal Romance endte nemlig opp med å komme litt mer i bakgrunnen av Thunderstruck 2 – som faktisk endte opp med å bli etterhvert et av Microgamings aller største suksesser, og et flaggskip for Microgaming. Dette er faktisk utrolig synd, da Immortal Romance faktisk er en av de aller mest vellagde og gjennomførte videoslots innen alle ulike spillkategorier. Denne idéen til tema for spilleautomaten er virkelig godt gjennomtenkt, og man både ser og føler at det er lagt mye arbeid, både i planene før oppstart av utviklingen og selvfølgelig under utførelsen av slotmaskinen. Dersom man tar en kikk på spillets grafikk og lyd så finnes det nemlig absolutt ingen konkurrenter som kan måle seg med dette spillet. Dersom man er en spiller som liker at spilleautomatene man spiller har litt dybde å by på, bør man virkelig bare prøve seg på Immortal Romance – i hvert fall én gang – man vil mest sannsynlig bli overbevist ganske så raskt om spillets høye underholdningsverdi.
Temaet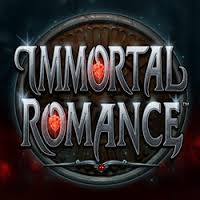 For å utvikle temaet i Immortal Romance, har spillutviklerne hos Microgaming hentet sin inspirasjon fra de mange romantiske TV-seriene og filmene som handler om stormfulle, flotte og gripende kjærlighets-historier. Utviklerne bak denne slotmaskinen har nok sett gjennom både alle filmene som inngår i Twilight s-serien, i tillegg til alle seriene som man finner i den populære serien Vampire Diaries før de satte i gang med å skissere opp idéer til Immortal Romance.
Grafikk og lyd
Man behøver derimot absolutt ikke å være noen stor romantiker – eller i det hele tatt være noe særlig til en fan av mystiske kjærlighetshistorier – for å ende opp med å sette pris på Immortal Romance. Man kan bare gjenta at dette spillet rett og slett er et mesterverk, både når det kommer til lyd og grafikk. Lyden hele spillet igjennom er rett ut sagt helt utmerket, og bakgrunnsmusikken, som ikke bare består av en kort sang som spilles om og om igjen, er altså et helt musikkstykke, og dette er virkelig med på å gi denne videosloten den perfekte stemningen som den fortjener.
Spill på disse online casinoene
Karakterer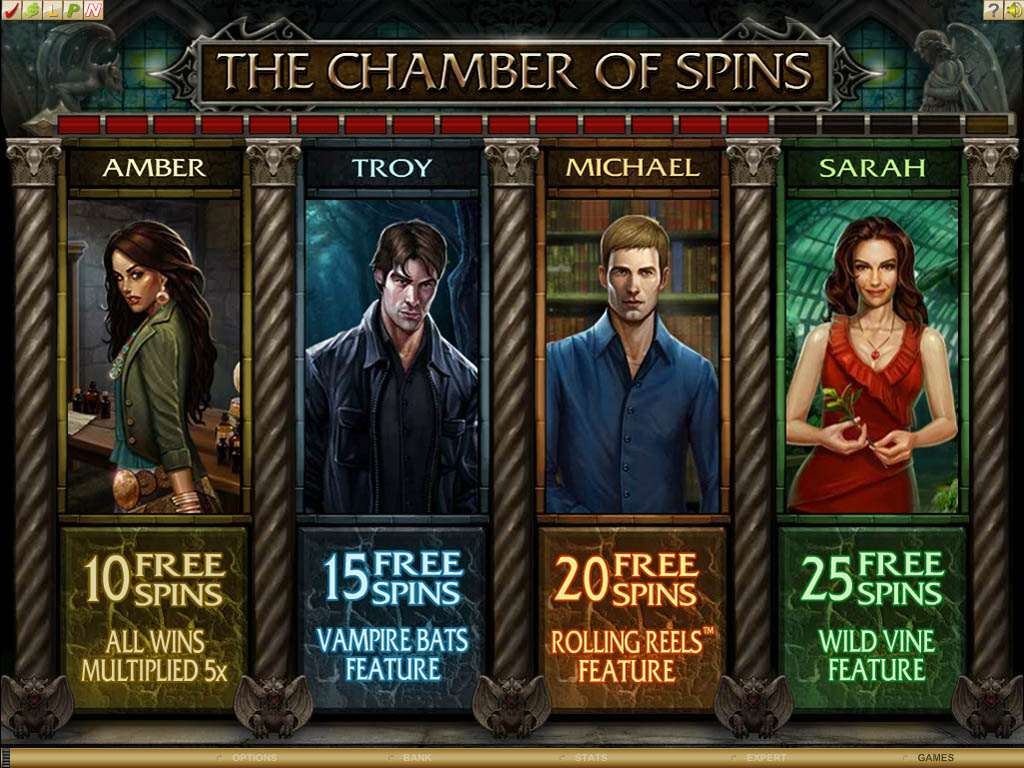 I denne sloten så vil man møte på fire hovedpersoner i spillet, nemlig en heks som har navnet Amber og en vampyr som vel og merke er snill som har navnet Michael, i tillegg så er det også en «slem» vampyr med navnet Troy og en vakker kvinne med navnet Sarah. Hver eneste av disse fire hovedpersonene har altså sin egen historie, og ved å klikke seg inn på hver enkel karakter så kan man også få lese i gjennom alle deres ulike, unike historier – og også om deres rolle i spillet. Dette kommer i tillegg til at man får noe informasjon som faktisk blir lest opp av en forteller. Dette er en av de virkelig unike funksjoenen som er med på å gi denne sloten noe utenom det vanlige som vil tiltrekke utrolig mange spillere.
Spesielle funksjoner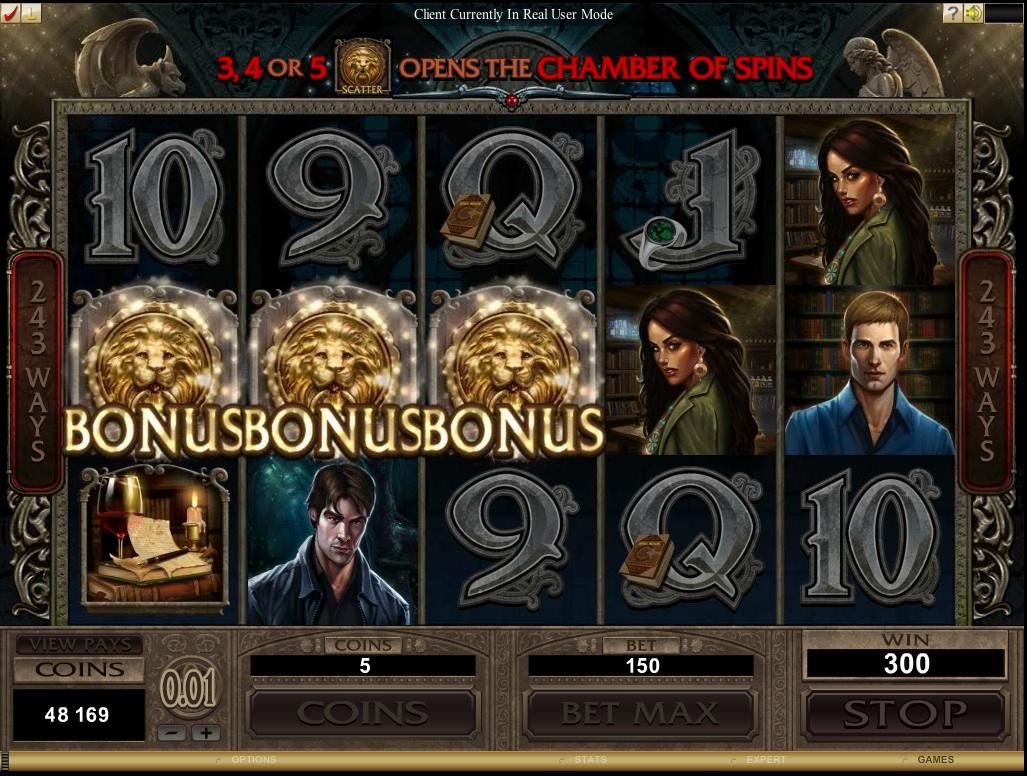 Denne spilleautomaten har, i tillegg til en grafikk som virkelig går langt utover det vanlige, også mange flotte spesialfunksjoner som kan gi spilleren svært så generøse gevinster. Immortal Romance har også en rekke ulike spesialeffekter å by på; den kan blant annet friste med to ulike wildfunksjoner, og også et bonusmodi som gir gratisspinn med ulike ekstrafunksjoner. I tillegg til dette finner man faktisk heller ikke noen fastsatte spillelinjer – i stedet har spillere hele 243 ulike måter å vinne på i hver eneste spillerunde!
Logoen for spillet er det som brukes som wildsymbolet i spillet, og dette symbolet erstatter alle andre symboler med unntak av "wild desire"-symbolet. I tillegg dobler også dette symbolet alle gevinster i spillet. "Wild desire" er altså en funksjon som blir aktivert helt tilfeldig, og innebærer at opp til fem av hjulene blir gjort om til wild-hjul; alle symbolene på hjulene blir med andre ord gjort om til jokersymboler – og det er gjennom denne funksjonen at man har muligheten til å stikke av med maksgevinsten som ligger på saftige 364 5000 mynter.
Scattersymbolet består av et bilde som viser en løve, og det er dette symbolet som gir spillere tilgang til bonusfunksjonen i spillet, et ekstraspill som heter The Chamber of Spins. Den første gangen som man aktiverer gratisspinns moduset er det Ambers gratisspinn-modus man spiller, da vinner man 10 gratisspinns med en multiplikator på 5x. Dette bonusspillet akkumulerer hver gang man aktiverer det, slik at man etterhvert kan oppnå andre bonusfeatures i tillegg til de som allerede er nevnt her.