Tema
Mange har hørt om den meget spesielle historien rundt Dr. Henry Jekyll. Dette er en bok fra 1800-tallet, skrevet av Robert Stevenson – historien handler om doktor Jekyll, som lider av en splittet personlighet. Fra tid til annen tar Edward Hyde over kroppen til Jekyll og gjør fæle ting som politiet prøver å oppklare. Jekyll and Hyde var en bestselger allerede over hundre år siden, og den dagen i dag er dette en populær historie man ofte hører om i ulike sammenheng. Spilleautomaten Jekyll and Hyde fra Quickfire er et nytt tillegg til de utallige typene underholdning som har den spennende boken i fokus. Spillutvikleren Quickfire har kommet sterkt inn på markedet og produsert en rekke kule spilleautomater med ulike temaer. Jekyll and Hyde er et godt eksempel på en tematisk spilleautomat – temaet følges godt fra topp til tå, selv om vi savner en del detaljer. Den skumle bakgrunnsmusikken setter stemningen fra start, og det er nesten så man blir redd for å spinne hjulene. Symbolene kunne dog blitt gjort litt bedre – det er ikke mye her som peker mot historien fra det 19. århundret. Halloween-aktige kortsymboler, noen fargerike trylledrikker, en vakker kvinne og selveste Dr. Jekyll – det er alt man får servert. Jekyll and Hide er en ganske mørk spilleautomat med dyster stemning, noe som gjenspeiler atmosfæren i boken.
Grafikk og detaljer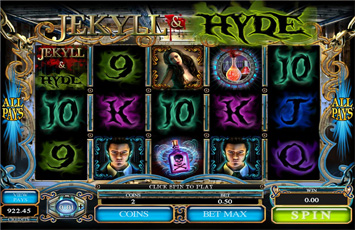 Spilleautomaten Jekyll and Hyde er lagd i god grafikk, selv om den mangler 3D-detaljerog passende animasjoner som vi har sett på så mange andre maskiner. Om man spiller på storskjerm vil man også legge merke til noe uklare symboler som ikke ser fullt så gode ut. Bakgrunnen er fin og god, med mørke detaljer og en blodflekk som passer godt inn. Symbolene derimot kunne blitt lagd mye bedre. Quickfire er en profesjonell spillutviklet som har lagd mange gode spilleautomater, men det virker som at de har slurvet litt med Jekyll and Hyde. Hvorfor ikke inkludere noen kule animasjoner der Dr. Jekyll forandrer seg til den onde Mr. Hyde? Eller utelukke de underlige kortsymbolene helt og holdent? Ikke har de valgt å få med et ordentlig bonusspill heller – det hadde gjort automaten så mye bedre og latt temaet gjennomsyre den.
Utbetalinger og funksjoner
Når det kommer til utbetalinger, er Jekyll and Hyde virkelig en lukrativ spilleautomat. Kanskje ville Quickfire heller lokke folk med skyhøye utbetalingsrater enn fullkommen grafikk og animasjoner? Det første du vil legge merke til når det kommer til utbetalinger, er at det ikke finnes noen gevinstlinjer – det står bare «All Pays». Det betyr at tre symboler eller fler vil utbetale uansett hvor på skjermen de befinner seg, så lenge de er på sideliggende hjul. Dette betyr hyppige utbetalinger, nesten med hvert spinn. Nå er de fleste utbetalingene ganske små, men det er fortsatt deilig å få tilbake noe av innsatsen når man ikke treffer på de virkelig store kombinasjonene. Som sagt finnes det ikke noe bonusspill på Jekyll and Hyde, noe vi virkelig savner. Det finnes dog gratisspinn, noe de aller fleste spilleautomater sørger for å lokke med i det siste. Under vanlige spinn er det Dr. Jekyll som betaler mest – fem på rad gir her 1500 mynter. Innsatsmulighetene på Jekyll and Hyde er i tillegg brede nok for at de fleste kasinospillere der ute skal kunne prøve ut den nye maskinen fra Quickfire.
Spille disse online casino
Gratisspinn og jackpot
Selv om spilleautomaten Jekyll and Hyde kan virke noe kjedelig etter en stund på grunn av de manglende animasjonene og 3D-detaljene, har den en høy utbetalingsrate og brede innsatsmuligheter som gjør den verdt å spille. Det er ingen jackpot på det vanlige spillet, altså kan man ikke bli millionær på ett spinn – derimot er gratisspinnene veldig gode og spytter regelmessig ut store gevinster. Treffer du tre eller flere Jekyll and Hyde-symboler, vil 10 spinn settes i gang samtidig som Dr. Jekyll symbolet forvandler seg til Mr. Hyde. Det er den onde Edward Hyde som kan gi de aller største utbetalingene i spillet, med 7500 mynter som spyttes ut når man treffer fem av disse symbolene. Fylles skjermen med Mr. Hyde, vinner man flere hundre tusen kroner på en gang. Ellers har Quickfire også inkludert et wildsymbol som forvandler seg til alle andre symboler og skaper kombinasjoner der du minst aner det. Dette hjelper utrolig når man har en runde gratisspinn på gang. Hadde en progressiv jackpot vært inkludert i denne spilleautomaten, hadde Jekyll and Hyde virkelig vært en god spilleautomat. Mangelen på denne gjør dette til en kul maskin å prøve ut, men kanskje ikke den man vil tilbringe en hel kveld med.