Tema og Grafikk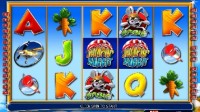 I denne sloten som kommer ifra Microgaming finner denne hoppende kaninen som er bygd opp av leken grafikk og er fargelagt i alle regnbuens farger. Hovedpersonen i denne sloten, altså kaninen er selv med på en god del av symbolene som er i spillet, blant annet så er kaninen med i begge de to spesialsymbolene. I tillegg til disse så har en også noen andre høytbetalende symboler hvor en finner blant annet gulerøtter og pilotbriller. Som de mer lavt betalende symboler i dette spillet så finner en høye pokerkort som er blitt benyttet som symboler. Denne videosloten Jumpin Rabbit har nok ikke den mest lekfulle og imponerende grafikken som en har sett på ulike slots men det BBI Interactive har jobbet litt ekstra med for å gjøre bra er animasjonene i sloten. Alle symbolene, også de som utbetaler ganske lavt er animerte på ulike måter og kaninen er selvfølgelig alltid med i et hjørne et sted.
Når det kommer til musikken som er blitt valgt i denne videosloten i tillegg til lydeffektene så er dette et område som BBI Interactive gjerne kunne ha brukt litt lenger tid på og lagt i mer energi for å få opp kvaliteten her. Spillet har ingen bakgrunnsmusikk i det store og hele og lydeffektene i spillet kunne ha vært benyttet mye oftere.
Innsatser og Alternativ
På Jumpin Rabbit så finner en hele 30 ulike spillelinjer å velge mellom som er blitt fordelt over de fem hjulene som sloten består av, der er de fordelt på tre rader. Innsatslinjene er faste men en kan istedet selvfølgelig justere på både myntverdien i spillet og også antall mynter som en ønsker å satse per linje. Selve myntverdien kan en da justere mellom 0, 01 – 0, 25 euro og med hele 20 innsatsnivåer så kan en da justere innsatsen ganske så nøyaktig som en ønsker ved hjelp av innsatsalternativene, det kan da gå helt ned ifra 0, 30 og opp til 150 euro. Med spillets autoplay funksjon så kan en istedet lene seg tilbake å la spillet gjøre all jobben for deg, der kan en nemlig stille inn at spille skal snurre automatisk mellom 5 til 50 ganger.
Spesialsymboler og Effekter
Jumping Rabbit inneholder både Wild symboler, Scatter symboler og også free spins. Det er kanskje noen som tenker at det ikke er så altfor mye ekstrafunksjoner og symboler med det holder faktisk lenge og holder spillerne underholdt i lang tid. Dette er altså en ganske så actionfylt videoslot som BBI Interactive og Microgaming står bak, likevel så har de klart å gjøre dette til en veldig ukomplisert spilleopplevelse som faller i smak hos de aller fleste spillere. Kaninen som er hovedpersonen i spillet er en våghals og tenker seg ikke om to ganger før han hopper ut fra et fly uten å tenke seg så mye om sin egen sikkerhet.
Kaninen dukker da selvfølgelig også opp i spillets to spesialsymboler som er Wild symboler og free spins symbolet. Wild symbolet i spillet viser kaninen akkurat i det han har hoppet ut ifra et fly, dersom en får dette symbolet så erstatter den alle de andre symbolene i spillet med unntak av free spins symbolet. Det som er litt spesielt er at Wild symbolet faktisk kan dukke opp stablet på hjulene, dette skjer for det mest på hjulene 4 og 5. Free spins symbolet i spillet viser da kaninen sammen med teksten «spins», dersom en får tre slike symboler på hjul 2, 3 og 4 så aktiveres det 10 free spins som da spilles på et annet hjuloppsett. I free spins moduset så vil en se at Wild symbolene dukker opp oftere enn når en spiller i hovedspillet. I tillegg til dette så kan en også re- aktivere 10 free spins med enda tre spins symboler som vil være på de tre midterste hjulene.
Enkelt forklart så er altså Jumpin Rabbit et ganske så enkelt og rett frem spill, men som enhver spiller vet så er det jo faktisk disse som er de aller enkleste spillene som er de aller beste. Spillet har som sagt kun helt vanlige bonusfunksjoner med det vil en se at holder i massevis. Tvert imot så hadde faktisk dette spillet mest sannsynelig mistet en god del av sin enkle sjarm dersom spillet var fylt opp med bonusfunksjon etter bonusfunksjon, så for alle de som er glad i de enkle men likevel underholdende spillene så passer Jumpin Rabbit helt perfekt.