Tema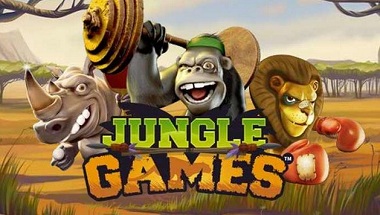 Ulike dyr som befinner seg inne i jungelen er virkelig klare for å konkurrere innen ulike sporter i denne nye videosloten – som har fått det passende navnet Jungle Games. Symbolene som har blitt valgt ut til å pryde denne slotmaskinens hjul ser ut som om de kunne vært tatt fra en animert barnefilm – med blant annet aper som er vektløftere og løver som er profesjonelle boksere. Det er nok en god del spillere der ute som i starten vil tenke at grafikken i spillet kan virke litt barnslig, men det finnes virkelig utrolig mye spennende her, som også lokker de voksne til spillet. Om det ikk er nok overbevisning, så hjelper det kanskje å vite at den høyeste gevinsten man kan vinne i Jungle Games er på én million kroner.
Grafikk, lyd og symboler
Alt dette utspiller seg på Afrikas savanner, hvor det er blitt laget en løpebane i sanden som man kan se i spillets bakgrunn. Hjulene i spillet har blitt rammet inn av greinene fra trær – hvor man også kan se en fugl som sitter på en gren og følger med. Til og med knappene som spillerne skal klikke på i spillmenyen har et utseende som passer temaet utrolig bra – med tanke på at de er formet som afrikanske bongotrommer. De symbolene på hjulene som man kan se snurre frem består selvfølgelig av savannens dyr som gjør seg klare til å utføre ulike typer sport. Blant annet kan man se aper som er vektløftere, giraffer som spiller basketball, neshorn som konkurrerer i bordtennis, løver som bokser og flodhester som svømmer. Som i alle andre spilleautomater har denne slotmaskinen noen symboler som betaler ut høyere gevinster enn andre. Her er det de ulike dyresymbolene som betaler høyest gevinster i hele spillet. Det finnes andre symboler i spillet som også passer godt inn i det sportslige temaet i sloten, nemlig ulikt sportstilbehør som passer til dyrenes ulike sportsgrener. For eksempel så kan man se en basketball, badetøy, bordtennisracket og boksehansker.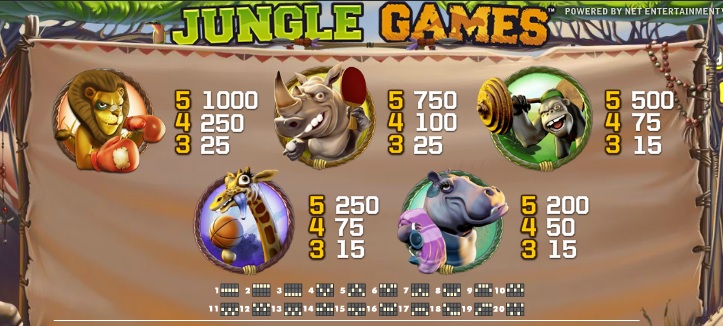 Og når det kommer til grafikken i spillet er denne gjennomgående utrolig flott lagd, og den kan nok minne ganske mange om den animerte filmen Madagascar, uten at det er noe videre kobling mellom de to elementene i underholdningens verden. I spillets bakgrunn kan spilleren selvfølgelig høre noen lydeffekter og lignende, slik som fuglen i treet synge, og en og en annen gresshoppe som spiller. Alt dette passer jo utrolig bra inn i spillets afrikanske tema, derimot savnes ulike lydeffekter som ville vært med på å løfte opp det sportslige temaet i slotmaskinen, da spillet også er bygd rundt dette, og ikke kun dyr fra afrikas savanner. Eksempler på lydeffekter som virkelig hadde passet godt inn i Jungle Games hadde vært applaus, vill jubel fra publikum eller lyden av løping langs veien – alle kunne ha vært med på å løfte frem spillets sportslige tema.
Spille disse online casino
Spesielle funksjoner og bonuser
Denne videosloten har ikke så mange ulike spesialfunksjoner å by på, men likevel har Net Entertainment klart å gjøre dette spillet så gjennomført at det egentlig ikke virker som det mangler noenting. Det som er spillets wildsymbol er en stor gullpokal, og denne erstatter på vanlig måte alle andre symboler med unntak av scattersymbolene – og absolutt alle gevinster som man måtte vinne med wildsymboler blir i tillegg fordoblet.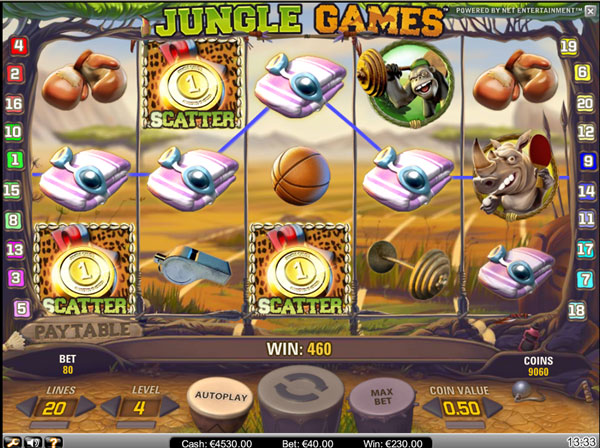 Spillets scattersymbol er den lekre gullmedaljen som alle dyrene konkurrerer om å vinne i sine sportsgrener, og dersom en spiller klarer å få minimum tre gullmedaljer på rad og rekke på en aktiv spillelinje, aktiveres deretter Pick Win-funksjonen. I denne funksjonen får nemlig spilleren velge fritt mellom et gratisspinn eller en bonusgevinst. Dersom gratisspinn blir valgt får man også en multiplikator som vil multiplisere gevinstene man eventuelt får i løpet av et gratisspinn med den gjeldende multiplikatoren. På det aller meste kan gevinster som man får i løpet av en gratisspinnrunde bli multiplisert med fem, mens gratisspinn som blir vunnet under gratisspinnrunder derimot beholder den samme multiplikatoren. Dersom det dukker opp minimum to scattersymboler får spilleren også en gevinst som multipliseres med innsatsen, og på det aller meste, som vil si fem scattersymboler, så vil altså spilleren vinne hele 400 x innsatsen sin.
Konklusjon
Jungle Games er som nevnt allerede et ganske så enkelt og greit spill, og har ganske få spesialfunksjoner eller bonuser; den har wilds og scattere, noe som man uansett finner i de fleste slots. Men det at spilleren blant annet kan velge mellom bonusgevinst eller gratisspinn er utrolig morsomt, og en fin liten detalj som spillere vanligvis setter pris på. God grafikk og et annerledes tema hjelper til med å øke spillets underholdningsverdi. Et greit valg, men ikke spesielt passende for high-rollers, grunnet en relativt lav maksinnsats.