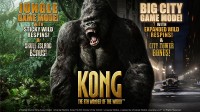 Det finnes vanlige videoslots også finnes det videoslots av den litt mer "cinematiske" karakteren. Kong fra spillutvikleren Playtech er et lysende eksempel på den sistnevnte. Spillet er fullstappet med animasjoner og filmsekvenser og så klart så er alt av filmsnutter i spillet hentet fra den populære filmen King Kong.
Stakkars King Kong er en gorilla, da av et gigantisk format, som lever i ro og fred på en øy. En dag så kommer det plutselig en gjeng med skuespillere som skal spille inn en film på denne øyen. De som bor på øyen blir ikke særlig imponert av besøket og tar da den vakre skuespilleren Ann Darow til fange, for å ofre henne til King Kong. Kjempegorillaen blir litt betatt av Darrow og skuespilleren forsøker da å gjøre alt hun kan for at filmteamet ikke skal fange gorillaen og ta han med seg til New York. Dette mislykkes hun dessverre i og King Kong blir tatt med til New York hvor han blir vist frem på scenen til alles forundring. Lengselen etter Darrow blir for mye for gorillaen og han rømmer da fra fangenskapen. Gorillaen blir da forfulgt og til sist ser han ingen annen utvei enn å klatre opp Empire State Building. Der blir han skutt og faller ned. Det er en sørgelig historie på mange måter, men heldigvis så er ikke videoslot spillet Kong like sørgelig.
Grafikk og lyd
Kong er en visuelt avansert videoslot med en grafikk som er i topp klasse. Dette gjelder kanskje spesielt de ulike bonusspillene som virkelig har satt en ny standard for hvor grafisk avansert videoslots kan være. Symbolene i spillet er i form av hovedpersonene fra filmen, hvor symbolet av Kong er den som betaler mest og Ann Darrow symbolet som betaler nest mest.
Når det kommer til lyden så virker det kanskje som om Playtech ikke har utnyttet sin lisens fullt ut med tanke på å bruke lyd fra filmen. Bakgrunnsmusikken er en tett historie som kjennes ut som den er hentet fra en eventyrfilm, men det er ikke motivet fra filmen. Lydeffektene er helt klart godkjent men de kan oppleves som litt gjentagende i lengden.
Innsatser
Kong har fem hjul, tre rader av symboler og totalt 20 innsatslinjer. Her kan enhver spiller selv regulere hvor mange innsatslinjer som skal være aktive og også hvor mye man ønsker å satse per linje. Myntverdien ligger på mellom 0,01 og opp til 2 euro og laveste innsatsen blir på 0,20 euro mens høyeste innsatsen blir på 40 euro. Dette gjelder når alle innsatslinjene er aktive. For å gjøre ting så ukomplisert som mulig så kan man velge Bet Max funksjonen.
Kong har også et autospinn funksjon hvor man kan velge 10, 20, 30, 50 eller 99 automatiske spinn. Her har man da ingen stoppvilkår som man kan aktivere.
Effekter og spesialsymboler
Kong har to ulike spille modus man kan velge mellom. Det er enten Jungle Mode eller Big City Mode. Hver av modusene har sine egne spesialfunksjoner.
I Jungle mode så finnes det både wild symboler og scatter symboler. Begge symbolene gir først og fremst kontant gevinster men de aktiverer også bonusfunksjoner. Med tre wild symboler så vinner man tre gratis spinn hvor alle wild symbolene blir stående på hjulene.
Hvis man får tre scatter symboler så får man aktivert bonusspillet Skull Island Bonus. Her dukker det opp et spill i en annen skjerm, hvor man er på øyen Kong kommer fra. Her skal man trykke på et antall gule prikker og prøve å få frem tre like symboler. Når man har tatt imot sin pris så blir man flyttet til Big City Mode.
Big City Mode har et gratis spinn spill og et bonusspill og disse blir aktivert på samme måte som i Jungle Mode. Gratis spinn spillet er litt mer lukrativt i Big City mode da to eller tre av hjulene blir dekket av wild symboler. Ved første gratis spinn så er hjul 1 og 5 dekket av wild symboler, i andre spinn så er hjulene 2 og 4 dekket av wild symboler. På den siste spinnen så er hjul 1, 3 og 5 dekket av wild symboler. Her er det gode sjanser for å vinne store gevinster.
I bonusspillet så har man rollen som King Kong når han befinner seg på toppen av Empire State Building. Et antall fighter fly nærmer seg og oppgaven man har her er å prøve å skyte dem ned. Når bonusspillet er slutt så blir man automatisk tatt med tilbake til Jungle Mode.