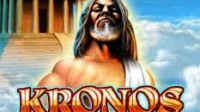 Videoautomaten Kronos er basert på en legende fra gresk mytologi. Kronos var navnet på en titan. Han var, i følge mytene, en av de første skapningene i universet, født av Gaia. Kronos er ikke blant de mest kjente greske gudene, men sønnene hans er kjente, spesielt Zeus, Hades og Poseidon.
Kronos videoautomat er laget av Williams Interactive, og byr på mange spesialfunksjoner og en morsom historie. Den nærmeste sammenligningen er Zeus spilleautomat. Begge disse automatene er veldig populære i landbaserte kasinoer. Nå har det kommet en internettversjon av Kronos, slik at man ikke lenger trenger å dra til et kasino for å spille den.
Grafikk og effekter
Kronos er en såkalt Vegas-slot. Denne typen automater er laget for å etterligne klassiske automater i landbaserte kasinoer. Derfor ligner den ikke på de nye videoautomatene som er spesialutviklet for internettet. Målet med disse spillene er at de skal ligne mest mulig på originalen. De blir ikke forbedret eller forandret, men er rene kopier. Det betyr at grafikken ikke er like god som den er i mange spesialutviklede nettspill. Den har heller ikke like mange lydeffekter som de mer moderne spillene. Men her handler det om å gjenskape følelsen av originalautomaten.
Automaten har fem hjul og 20 innsatslinjer. Flere av symbolene i spillet er hentet fra gresk mytologi, som bildet at Kronos, en forgylt trone, en vingehest, et armbånd og et gresk tempel. I tillegg dukker symbolene for de fire kortfargene opp (spar, hjerter, kløver og ruter).
Bildet av Kronos er mest verdt. Fem av disse symbolene gir en utbetaling på 2250 mynter, fire Kronos-symboler gir 600 mynter, og tre gir 120 mynter. Det spesielle med disse symbolene, er at de gir gevinst enten rekken starter til venstre eller til høyre på hjulene. Tre eller fire Kronos-symboler fra høyre mot venstre, gir altså også gevinst. Dette gjelder bare for Kronos-symbolene, ikke de andre symbolene i spillet, og symbolene må være i rekkefølge, uten andre symboler mellom.
Innsatser og utbetalinger
Første gang man prøver dette spillet, virker det som man ikke kan velge antall innsatslinjer. Men det er mulig å velge hurtigvalg for å endre innsatsbeløpet, og du kan foreta andre justeringer ved å trykke på en knapp. Minste innsats med 20 aktive innsatslinjer er 0,20 euro. Maksimumsinnsatsen er 60 euro.
Nest etter Kronos, er den forgylte tronen mest verdt. Fem av disse gir 1200 mynter, fire troner gir 225 mynter, og tre troner gir 60 mynter. Fem armbånd gir deg også 1200 mynter, fire armbånd er verdt 150 mynter, og tre armbånd er verdt 60 mynter.
Av kortsymbolene, er det spar som er mest verdt. Fem slike symboler gir 1200 mynter, fire gir 120 mynter, og tre gir 60 mynter. Fem hjertersymbol gir deg 600 mynter, fire gir 60 og tre gir 30 mynter. Kløver og ruter har lik verdi. Fem like av disse symbolene gir 300 mynter, fire like gir 60 mynter, og tre like gir 15 mynter.
Spesialinnslag
Antallet spesialfunksjoner er bra. Som nevnt, gir Kronos-symbolene også utbetaling fra høyre mot venstre. I tillegg dukker det opp et Kronos wildsymbolet. Kronos wilds dukker ofte opp som stablet symbol. Et stablet symbol er et symbol som dekker flere plasseringer på hjulene, og dermed gjør det lettere å få vinnerrekker. Det er dessuten ganske mange av disse wildsymbolene i Kronos videoautomat, og det er ikke uvanlig å få to stablede wilds samtidig.
Du kan også vinne gratisspinn. Når du spiller med gratisspinn, blir alle verdifulle symboler stablet. Wild-symbolene blir også stablet. Dermed er det forholdsvis enkelt å vinne fine gevinster med gratisspinn. Automaten har faktisk to gratisspinnfunksjoner, i tillegg til to bonusspill og en progressiv jackpot.
Gratisspinnrunden aktiveres av tre eller flere spredere (gullmynter). Du vinner 10 gratisspinn for tre spredere, 25 gratisspinn hvis du får fire spredere, og 100 gratisspinn dersom du får fem spredere på skjermen samtidig. Under gratisspinn er alle wilds stablet, og det er flere wilds på hjulene. Dette øker vinnermulighetene.
Denne automaten har kanskje ikke like avansert grafikk og like mange effekter som nyere spill, men den har stablede symboler, mulighet til å vinne begge veier, wilds og gratisspinn. Det er ikke lett å vinne 100 gratisspinn. Det skjer nok ganske sjelden. Men 10 eller 25 gratisspinn er jo også en morsom bonus, ettersom du kan spille ekstra lenge uten å betale noe mer, og i tillegg får økte vinnermuligheter.
Kronos videoautomat gir en fin Vegas-stemning, og bringer følelsen av klassiske spilleautomater til dataskjermen din. Enten du har prøvd originalen eller ikke, kommer du sikkert til å like spillet.