Om spillet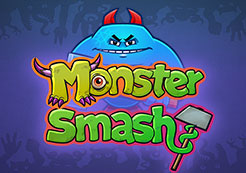 Hvis man ønsker å finne en automat som både har et morsomt tema og kan gi spilleren gode vinnersjanser kan man virkelig stole på spillutvikleren Play'n Go. De har gang på gang vist at de virkelig klarer å sette humor og litt barnslighet inn i en automat uten at det virker for dumt. Tvert imot har spillutviklerselskapet hatt stor suksess med sine spill flere ganger og det ser ut til at det blir nok en seier når det kommer til Monster Smash. Temaet de har valgt å bruke i Monster Smash kan se ut til å være hentet fra en veldig populær tegnefilm, nemlig Monsters Inc. Karakterene fra filmen har blitt veldig populære og man kan se figurer som ligner veldig på disse i automaten. Man kan se ulike morsomme monstre i spillet og det er tydelig de som har fått hovedrollen. Temaet i seg selv er noe som gjør spillet fristende for flere forskjellige spillere, men det er flere andre deler med spillet som kommer til å trekke til seg spillere. Blant annet har man en progressiv jackpot i spillet. En progressiv jackpot er en jackpot som er koblet til et eller flere spill og som vokser i verdi etter hvert som spillet blir spilt. Jackpoten kan med andre ord ende opp med å ha en ganske høy verdi og den spilleren som får jackpoten kommer nok til å bli en veldig fornøyd spiller.
Spillets grafikk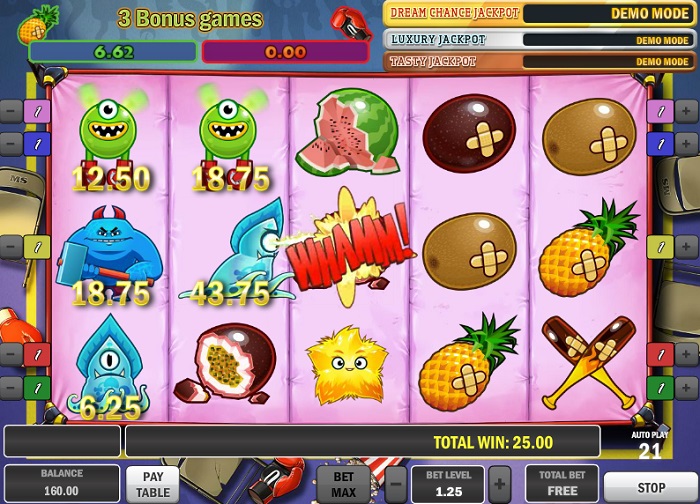 Som nevnt er det en ting Play'n Go er spesielt kjent for, og det er deres morsomme og lekne temaer. Det er tydelig at de har valgt samme løp i Monster Smash, for det er en utrolig fargerik grafikk som møter spillerne. De viser at de klarer å ha et gjennomgående godt tema som blir representert utrolig bra, og dette er blant annet gjennom den gode grafikken som understreker det hele. Bakgrunnen i spillet har et enkelt bilde som kun er der for å skape litt farge på spilleskjermen. Øverst på spilleskjermen finner man spillets logo og logoen er virkelig utformet på en morsom måte. Man har spreke farger som går gjennom teksten og o-en kan man blant annet se et øye. Nederst på spilleskjermen finner man spillets knapper og det er vel den eneste delen av spillet som ikke er tilsatt masse farge. Rammen rundt hjulene er i en knall rosa farge og er med på å sette mer farge til spillet. Det som løfter spillet mest er helt klart symbolene som er plassert på hjulene. De er fulle av farger og har et lekent tema over seg, uansett om det er symbolene som er spesialtilpasset spillets tema eller om det er symbolene som er hentet fra en klassisk spilleautomat. Symbolene er formet som ulike monstre, i tillegg til vannmeloner, plommer, og ananaser. Bakgrunnen på hjulene er i en søt rosafarge.
Innsatser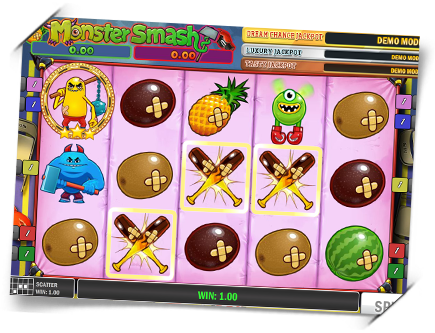 Innsatsene i spillet er enkle å tilpasse, da man har knappene oppstilt nederst på spilleskjermen. Man har totalt fem innsatslinjer i spillet, så man vil uansett ende opp med en ganske lav totalinnsats per spillerunde. Innsatsen i spillet legger man ved å bestemme innsats per innsatslinje og innsatsen kan ligge på mellom 0,01 og opp til 2. Hvis man ønsker at spillet skal gå enda enklere kan man benytte seg av autospinnfunksjonen. Den gjør at spillet går av seg selv et visst antall runder, etter man har stilt inn innsatsen.
Spille disse online casino
Spesialfunksjoner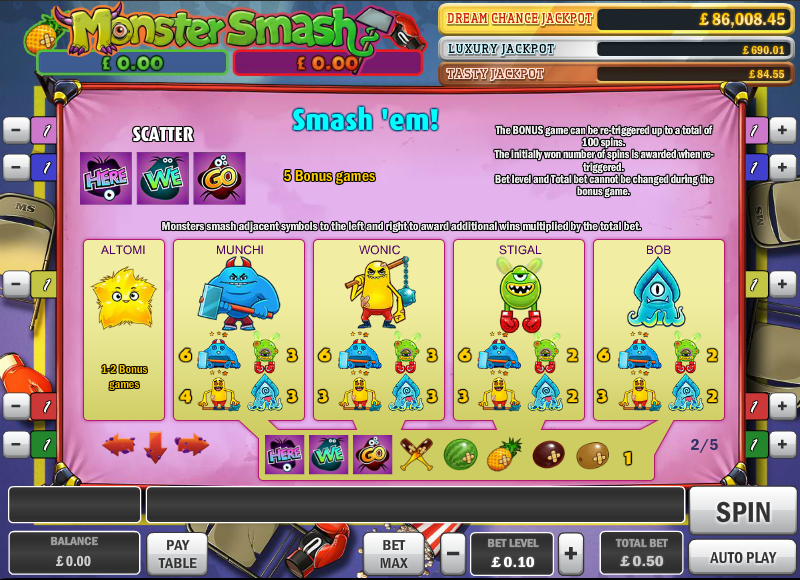 Scattersymbolene er de som er mest i fokus i Monster Smash. Det er nemlig de som blant annet kan aktivere den progressive jackpoten. Man finner to ulike scattersymboler i spillet. Den ene er formet som to balltrær som er krysset over hverandre. Dette symboler gir forskjellig utbetaling avhengig av hvilket hjul den lander på. Hvis man får et slikt scattersymbol med en runding rundt vil det si at man har kvalifisert til å få en av de tre ulike jackpoter som finnes i spillet. Navnene på de ulike jackpotene er tasty, luxury og dream chance. For å vinne dream chance, som er den med høyest verdi, må man få tre scattersymboler med en gullring rundt. Det andre scattersymbolet er det som kan aktivere here we go-funksjonen, som kan ta spilleren med til fem ulike bonusspill. Blant annet kan man få gratisspinnrunder. Disse rundene kan bli gjenaktivert underveis. Grensen er vel og merke satt til 100 gratisspinnrunder totalt per omgang. I tillegg kan man i Monster Smash faktisk velge å gamble gevinsten sin for muligheten til å doble eller triple gevinsten. Kan det bli mer spennende?