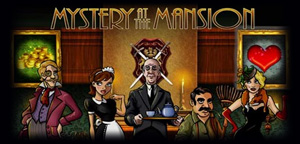 Mystery at The Mansion er en spilleautomat som er basert på brettspillet ved samme navn – som på norsk heter Cluedo. Automaten har fem hjul, tre rader med symboler og 25 gevinstlinjer. I bonusspillet kan man prøve å løse mordmysteriet ved å finne morderen, mordvåpenet og motivet. Bakgrunnsbildet i spillet viser et av rommene i herskapshuset. Spillet er laget av det svenske selskapet Net Entertainment.
Symboler

Symbolene i spillet er hentet fra brettspillet. Det er fire ulike mordvåpen blant symbolene, en giftflaske, en dolk, en pistol og en lysestake. De fire kortsymbolene fra 10 til konge er formet som fingeravtrykk sett gjennom forstørrelsesglass. Spillets spredte symbol viser herskapshuset der mordet har skjedd. Dette symbolet gir spillerne gratisspinn, men danner også egne vinnerrekker.
De fleste symbolene i spillet gir bare utbetaling dersom man får tre eller flere like symboler på samme gevinstlinje. Unntakene er det spredte symbolet og wildsymbolet, som gir gevinst også for to like. wildsymbolet er det mest verdifulle symbolet. Fem like av disse gir 7 500 mynter, mens fire like gir 2 000 mynter. Det spredte symbolet gir 400 mynter for fem like. Av de vanlige symbolene er det giftflasken som gir den største utbetalingen. Fem giftflasker gir 500 mynter. Fem dolker er verdt det samme, mens fem pistoler gir 250 mynter og fem lysestaker gir 125 mynter. Kongen er mest verdt av kortsymbolene. Fem konger gir 100 mynter. Fem dronninger gir også 100 mynter, mens fem knekter eller fem tiere gir 75 mynter. Alle vinnerrekker må starte ytterst til venstre for å gi gevinst, og man får bare utbetalt den høyeste gevinsten for hver linje. Dersom man vinner flere gevinster samtidig, på flere gevinstlinjer, får man utbetalt den høyeste gevinsten på hver linje.
Spesialsymboler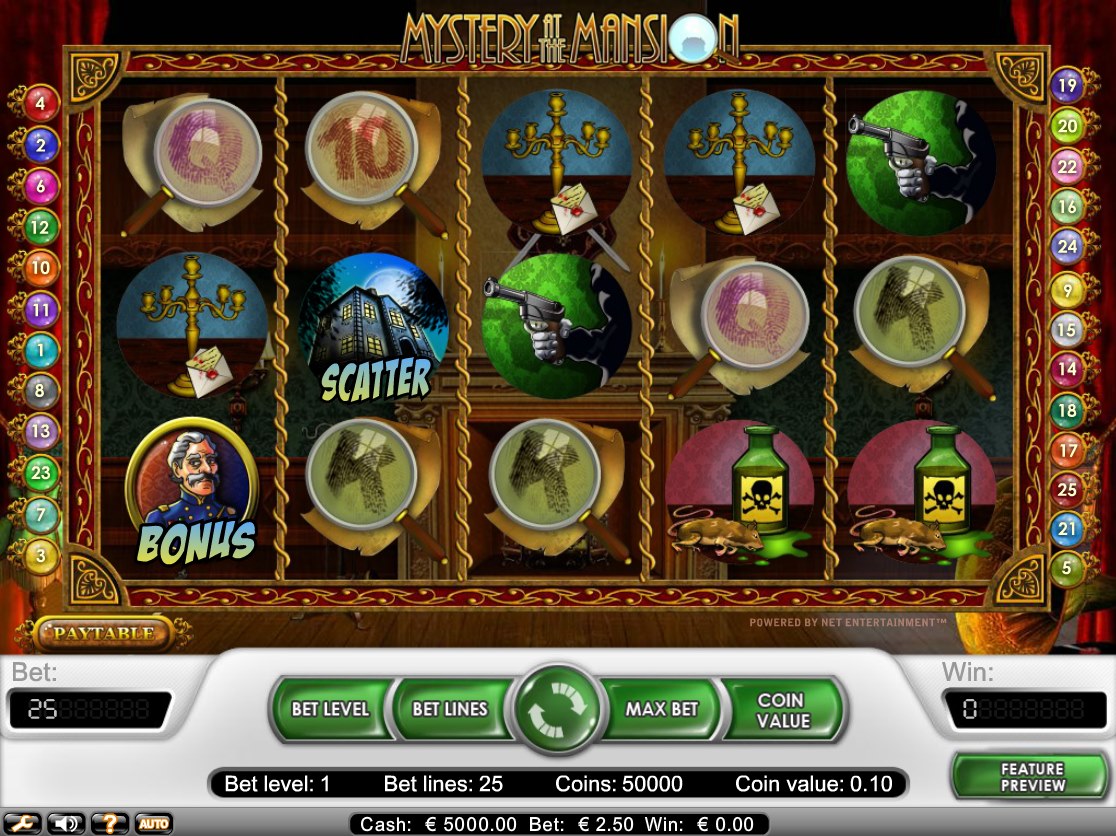 Bonusspillets symbol viser en mann som har ordet Bonus skrevet på seg. Dette symbolet gir ingen egne gevinster, men tre eller flere av dem gir spillerne adgang til bonusspillet. Spillets wildsymbol er en mann med pipe. Dette symbolet har påskriften Wild, og det kan erstatte alle de vanlige symbolene for å fullføre vinnerrekker. Wildsymbolet kan ikke erstatte spredte symboler eller bonussymboler.
Spille disse online casino
Innsatser og utbetalinger
Innsatsen kan varieres, og det er fire nivåer å velge blant. Myntverdien er fra 0,01 til 0,50 €. Maksimumsinnsatsen er 25 € per spinn, dersom man spiller med den høyeste myntverdien. Net Entertainment sørger som vanlig for å ha mange ulike myntverdier, slik at man kan spille enten man har et stort eller et begrenset spillbudsjett. Man kan også prøve spillet gratis hos mange nettkasinoer.
Gratisspinn
I tillegg til å gi egne gevinster, utløser de spredte symbolene gratisspinn. Dersom man får minst tre spredte symboler hvor som helst på spilleskjermen, vinner man gratisspinn. Tre spredte symboler gir en gevinst på 4 mynter, og man vinner 10 gratisspinn. Fire spredte symboler gir en gevinst på 50 mynter, i tillegg til 20 gratisspinn. Fem spredte symboler gir en gevinst på 400 mynter, i tillegg til 30 gratisspinn. Man får også 2 mynter for to spredte symboler, men da vinner man ingen gratisspinn. Gratisspinnene spilles med den innsatsen man spilte med da man vant dem. Man kan ikke endre innsatsbeløpet eller myntverdien før gratisspinnene spilles. Alle gevinster tredobles under gratisspinnene, så man kan sikre seg ekstra fine gevinster. Gratisspinnene kan gjenutløses, og man kan også komme til bonusspillet mens man spiller med gratisspinn.
Bonusspill

Tre bonussymboler gir adgang til bonusspillet. Dette spillet er basert på brettspillet. Man skal løse mordmysteriet gjennom å finne morderen, mordvåpenet og motivet. I det første trinnet skal man velge den man tror er morderen. Man vinner en bonus enten man gjetter riktig eller galt, men dersom man gjetter riktig, kommer man videre til trinn to, der man skal finne mordvåpenet. Samtidig multipliseres bonuspengene 2x for hvert trinn. Dersom man gjetter riktig også i trinn to, kommer man til det siste trinnet, der man skal finne mordmotivet. Svaret er ikke det samme hver gang. Det kan være ulike mordere og mordvåpen hver gang man kommer til bonusrunden, så det hjelper ikke å memorere svarene. Det er helt tilfeldig hvilket svar som er rett.
Oppsummering
Mystery At The Mansion klarer å skape en fin stemning. Grafikken er god, og spillfølelsen er fantastisk. Spillet gjenskaper det kjente brettspillet, og tilfører samtidig mange nye elementer til mysteriet. Lydeffektene i spillet er valgt med omhu. Det er både bakgrunnsmusikk og lydeffekter, men Net Entertainment overdriver ikke effektene, og dermed passer lydbildet fint inn med grafikken og temaet. Dette er rett og slett et herlig og morsomt spill som man virkelig bør prøve; enten som gratisspill eller som spill med og for ekte penger.