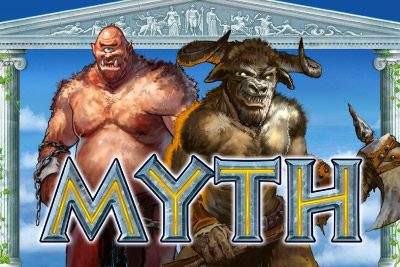 Myth er en spilleautomat fra Play'n GO. Temaet er mytologi. Dette er ikke et nytt tema. Det finnes mange spilleautomater som er basert på myter og legender fra antikken, og dette virker nesten å være et uuttømmelig tema for spillutviklerne. Derfor vil ikke temaet føles nytt og spennende, bare gjennomsnittlig.
Myth har veldig få spesialinnslag. Spillet er relativt enkelt oppbygd. Men den enkle oppbygningen er ikke nødvendigvis noe negativt. Noen av de moderne automatene har så mange spesialinnslag at man nesten mister oversikten. Alle spesialinnslagene kan til og med virke forstyrrende på spilleopplevelsen, og det kan være vanskelig å følge med på alt som skjer, særlig for nybegynnere. Det problemet slipper man i dette spillet. Her er det bare wilds, spredere og gratisspinn. Ingenting mer. Og det trengs faktisk ikke mer, heller.
Grafikk og effekter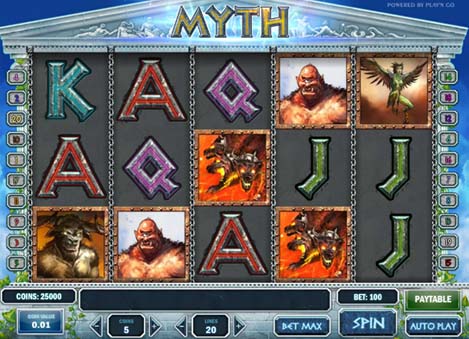 Play'n GO har hentet inspirasjon fra flere myter da de laget automaten. Symbolene er kjent fra gamle historier. Du møter blant annet romerske krigere, minotaurer, cykloper og drager. Bakgrunnsbildet viser et gammelt tempel.
Spille disse online casino
De tegnede symbolene blir animert når man vinner. Grafikken er godt laget, og musikken danner en fin ramme rundt det hele.
Det er fem hjul og tre rader i Myth. Antallet innsatslinjer er 20, og man kan velge myntverdi fra 0,01 til 0,25. Innsatsen er maksimalt 5 mynter per linje. Antallet innsatslinjer er fast. Hvis man spiller med laveste myntverdi, koster det 0,20 euro per spinn. Maksimumsinnsatsen er 25 euro per spinn.
Man kan spille fra 10 til 50 autospinn. Du kan stille inn når autospinnene skal stanse, for eksempel dersom du taper eller vinner et visst beløp, eller hvis du vinner gratisspinn. Alle autospinn spilles med samme myntverdi.
Utbetalinger
Minotauren og den mystiske kvinnen er mest verdt av symbolene. Begge disse symbolene gir 750 mynter for fem like, 250 mynter for fire like og 25 mynter for tre like. Minotauren og kvinnen gir også utbetaling for bare to like, henholdsvis 3 mynter for to minotaurer og 2 mynter for to kvinner. Wildsymbolet og sprederne gir også gevinst for to like. De andre symbolene i spillet gir bare utbetaling dersom man får minst tre like av dem.
Spesialsymboler og effekter
Spillets spesialinnslag er wilds, spredere og gratisspinn. Tre spesialfunksjoner er ganske lite sammenlignet med andre spilleautomater, men wilds og spredere kan både danne egne vinnerrekker, og hjelpe deg å vinne mer. Wildsymbolet er en soldat. For fem av disse får man hele 5000 mynter. Fire like gir 1000 mynter, tre like gir 100 mynter, og to like gir 10 mynter. I tillegg til å danne vinnerekker, fungerer wildsymbolet som en joker, som erstatter andre symboler, og fullfører vinnerrekker.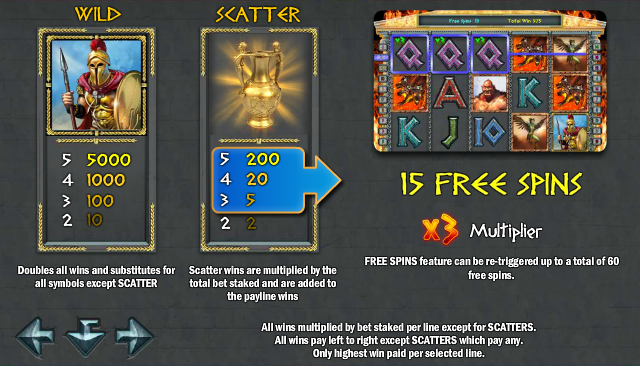 Sprederne kan også danne egne vinnerrekker. Sprederne er en gullkrukke. Fem spredere gir 200 mynter, fire gir 20 mynter, tre gir 5 mynter, og to gir deg 2 mynter. Dersom du får tre eller flere spredere, vinner du også 15 gratisspinn, som spilles med tredoble utbetalinger.
Når du vinner, kan du i tillegg spille om gevinsten din. Du trenger ikke å delta i dette gamblingspillet. Hvis gevinsten er stor, vil du kanskje ikke risikere å tape den. Men dersom du bare vinner småpenger, kan det være morsomt å gamble, for muligheten til å doble eller firedoble gevinsten.
Gamblingspillet går ut på at du skal gjette på neste kort. Du kan velge om du vil gjette på farge (rødt eller svart kort), eller om du vil gjette om kortet blir spar, hjerter, kløver eller ruter. Dersom du vil velge mellom rødt eller svart, kan du doble gevinsten ved å gjette riktig. Dersom du velger å gjette på de fire korttypene, kan du firedoble gevinsten med riktig svar. Feil svar gjør at du taper pengene.
Oppsummering

Alt i alt er Myth en morsom spilleautomat med fin grafikk. Spillet har ingen progressiv jackpot. Den største utbetalingen er 5000 mynter, for fem wildsymboler på samme linje. Selv om de fleste gevinstene er ganske små, vinner man relativt ofte i dette spillet. Dermed passer automaten fint for de litt utålmodige spillerne. Smågevinster kan jo også bli store beløp til sammen, spesielt når man har muligheten til å doble eller firedoble dem i gamblingspillet.
Utbetalingsprosenten er på 96,88 %. Det vil si at du kan regne med å få igjen 96,88 % av pengene dine. Husk at utbetalingsprosenten viser den gjennomsnittlige utbetalingen over tid. Noen ganger kan man vinne mer eller tape mer, men hvis man spiller lenge, vil det jevne seg ut.
Den enkle oppbygningen, gjør at Myth passer fint både for nybegynnere og for mer erfarne spillere.