Om spillet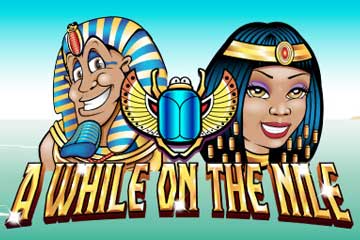 NextGen Gaming er det spillutviklerselskapet som står bak spilleautomaten A While On The Nile. NextGen Gaming har satt et veldig populært tema til spillet og vil nok falle godt i smak hos mange spillere. Spilleautomaten er utviklet på en veldig god måte og har mye å tilby spillerne, slik som god grafikk, utmerket lyd og en mengde spesialfunksjoner. Det er nok mange som kommer til å like å spille A While On The Nile.
Spillets tema
Temaet som er valgt til spillet er tydelig inspirert av den egyptiske kulturen. Allerede når man ser på navnet til spillet forstår man at det handler om Egypt. Nile er jo det engelske navnet på den store elven som renner gjennom Egypt, som på norsk heter Nilen. Bortsett fra den egyptiske elven som er i fokus i navnet på spillet finner man også en farao som sammen med sin vakre kone er spillets hovedkarakterer. Temaet er tydelig presentert gjennom hele spillet.
Grafikk og lyd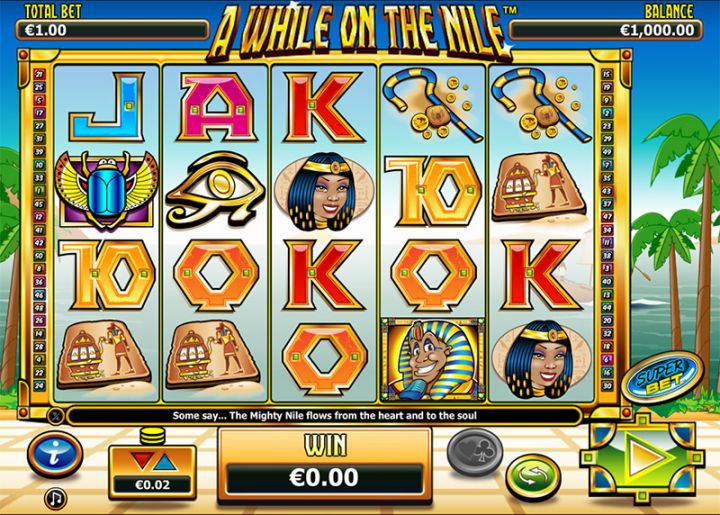 Spillets grafikk er med på å få frem tema i spillet på best mulig måte og det er helt tydelig at NextGen Gaming har tenkt på nettopp dette. Grafikken man ser i A While On The Nile er klar og tydelig og temaet kommer godt frem. Hjulene er vakkert satt opp midt i mellom to flotte egyptiske søyler og i bakgrunnen av hjulene kan man skimte elven Nilen i tillegg til en pyramide. Det er lagt på en artig animasjon i bakgrunnen, slik at man ser båter som kjører over elven i ny og ne. Det beste med animasjonen er at når man får en vinnende kombinasjon som gir gevinst, vil man se at passasjerene på båten begynner å vinke. Symbolene som er laget til spillet er alle godt utformet for å passe inn i spillets tema og de kommer på hjulene i klare og fine bilder. Lydbildet som er lagt på spillet passer helt utmerket til spillets tema. Man har en behagelig og god bakgrunnsmusikk i tillegg til at man har en mengde lydeffekter som blir aktivert underveis i spillet.
Spille disse online casino
Spillets gang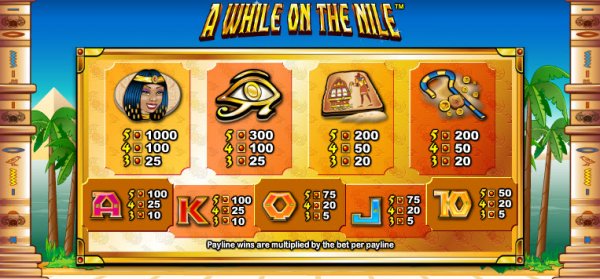 Det er noen ting som man må tilpasse før man kan sette i gang spillet. For spilleren er det viktig å ha justert spillet etter eget ønske, slik at man spiller med akkurat den innsatsen man både har mulighet til og ønsker. A While On The Nile er satt opp med fem hjul, fire rader med symboler og totalt har man 50 innsatslinjer. Innsatslinjene er faste. Det vil si at man kan ikke justere ned antallet aktive linjer. Det man vel og merke kan justere på er myntverdien. Denne kan justeres etter spillerens eget ønske og kan ligge mellom 0,01 euro og opp til 0,50 euro. Dette justerer man enkelt ved å bruke knappen som man finner nederst på spilleskjermen. Nederst på spilleskjermen finner man også en oversikt over total innsats per runde. Den kan ligge på mellom 0,50 euro og opp til 25 euro per runde. Det er med andre ord ikke de høyeste innsatsene man kan se i nettbaserte spilleautomater og kan derfor justeres for å passe til enhver spiller.
Spesialfunksjoner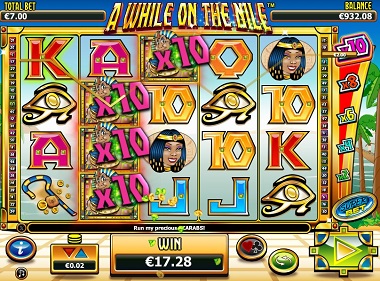 Det er en mengde ulike spesialfunksjoner å finne i A While On The Nile. Wildsymbolet er formet som faraoen og det er dette symbolet som er spillets joker. Den kan erstatte alle andre symboler bortsett fra scattersymbolet. Wildsymbolet kan dukke opp som stablet wild og har man litt flaks kan et helt hjul bli dekket av wildsymboler. Scattersymbolet er formet som en grønn edelsten og det er dette symbolet som kan aktivere gratisrundene i spillet. Scattersymbolet dukker kun opp på hjul to, tre og fire og når det skjer får man tildelt fem gratisrunder. Underveis i rundene kan et helt hjul bli dekket med wildsymboler. Dette øker sjansene for gode gevinster underveis i gratisrundene. I spillet har man også en funksjon som heter Superbet. Den fungerer slik at man får ekstra goder når man spiller med høyere innsats. Jo høyere innsats man har desto bedre goder får man. Godene man får i A While On The Nile er det at wildsymbolene ender opp med å få en multiplikatorfunksjon. Multiplikatorfunksjonen kan man justere selv, ettersom hvor høy innsats man ønsker å ha. Den kan ligge på mellom ganger to opp til ganger ti. Dette velger man helt selv, men man må huske å tilpasse innsatsen sin. Det er i disse rundene man har mulighet til å vinne ekstra gode gevinster. Alle gevinster i spilleautomaten kan faktisk også gambles.