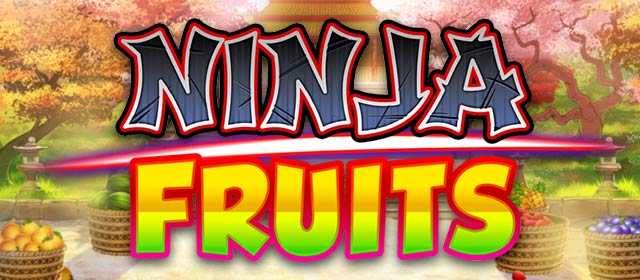 Ninja Fruits er en fruktig, saftig spilleautomat som passer både for fruktelskere og andre som liker spill. Spillet er laget av Play'n Go, og tar spillerne med til Asia. Ninja Fruits har fem hjul, 15 gevinstlinjer og et bonusspill. Man kan vinne gratisspinn, og i bonusspillet kan man vinne inntil 150 ganger innsatsen.
Symboler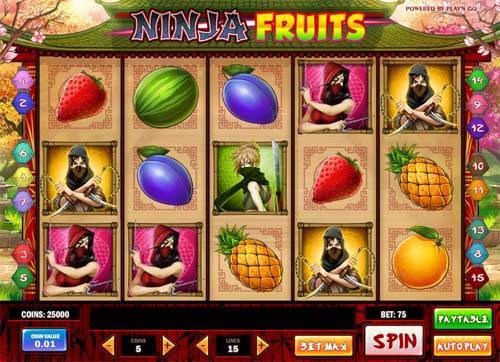 Symbolene i spillet er frukter og ninjaer. Musikken er asiatiskinspirert, og både den og lydeffektene passer godt til temaet. Bakgrunnen harmonerer også med spillets tema. Den gamle mesteren er spillets wild. Han erstatter alle andre symboler, bortsett fra bonussymbolene, gratisspinnsymbolene og de spredte symbolene. I tillegg kan wildsymbolet danne egne vinnerrekker. Kastestjernene er spillets bonussymboler. Med tre av disse, kommer man til bonusspillet. Gratisspinnsymbolet er den vakre geishaen. Med tre slike symboler vinner man 5x innsatsen, og får utdelt gratisspinn.
Innsatser og utbetalinger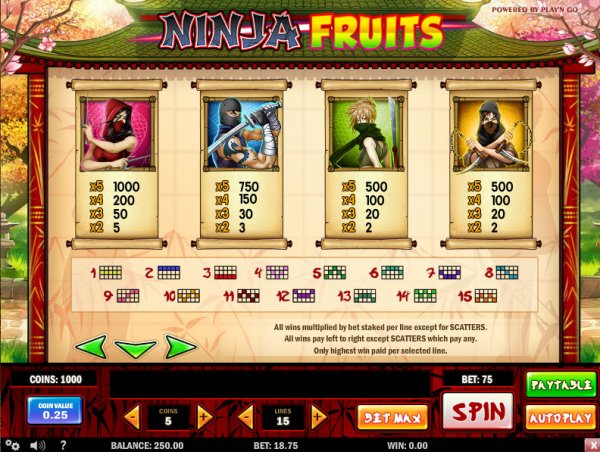 Myntverdien kan stilles fra 0,01 til 1,25 €, og man kan bare satse én mynt per linje. Den minste
innsatsen man kan spille med er 0,15 €, og maksimumsinnsatsen er på 18,75 €. Dermed er dette en forholdsvis rimelig automat, som også appellerer til spiller med et lavt budsjett. Wildsymbolet (den gamle mesteren) gir hele 5 000 mynter for fem like. Ninjasymbolene er de mest verdifulle av spillets vanlige symboler. Det er fire ulike ninjaer, i fire ulike farger. Den røde, kvinnelige ninjaen er det mest verdifulle symbolet, og gir 1 000 mynter for fem like. Den blå ninjaen er nest mest verdt, med en gevinst på 750 mynter for fem like, mens den grønne og den gule ninajen er like mye verdt, og gir 500 mynter for fem like. Alle ninjaene gir også gevinst for to like.
Spille disse online casino
Fruktsymbolene betaler ut smågevinster. Disse symbolene gir bare gevinst for tre, fire eller fem like. Vannmelonen og ananasen er like mye verdt. Begge gir 150 mynter for fem like. Appelsinen, jordbæret og plommen har også lik verdi, og gir 100 mynter for fem like. En komplett oversikt over spillets symboler og vinnerrekker finner man i spillets utbetalingstabell. Der finner man også en oversikt over gevinstlinjene, men man trenger ikke å huske hvordan alle gevinstlinjene er bygd opp, ettersom spillet automatisk registrerer alle vinnerrekker.
Gratisspinn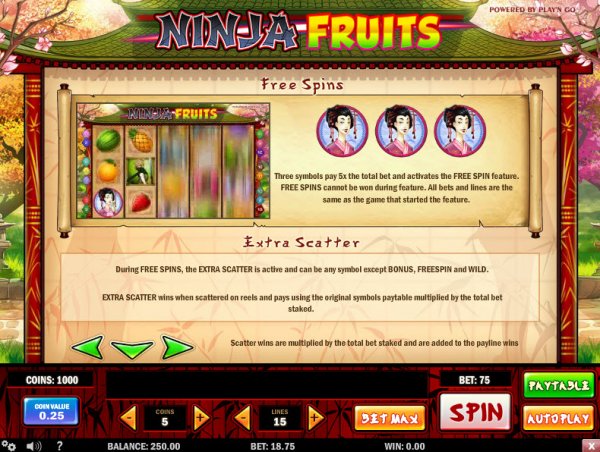 For å vinne gratisspinn, må man få tre geishaer på hjulene 1, 3 og 5. Når man spiller med gratisspinn, aktiveres et ekstra spredt symbol (scatter). Dette symbolet kan være et hvilket som helt symbol, bortsett fra bonussymbolet, gratisspinnsymbolet og wildsymbolet. Det ekstra spredte symbolet kan utvide seg til å dekke hele hjulet, og gir dermed veldig gode vinnersjanser. Før man kommer til gratisspinnene, blir man tatt med til et lykkehjul. Dette hjulet avgjør hvor mange gratisspinn man får, og hvilket symbol som blir et ekstra spredt symbol. Spillerne kan vinne 10, 12, 15, 18 eller 20 gratisspinn. Gratisspinnene kan ikke gjenutløses mens man spiller med gratisspinn.
Bonusspill
Kastestjernene utløser bonusspillet. Dette symbolet finnes bare på de tre bakerste hjulene (hjul nummer 3, 4 og 5). I dette spillet skal man kaste stjerner på frukter som ligger på pidestaller. Man får en bonus for hver frukt man klarer å knuse. Spillerne velger selv hvilken frukt de vil kaste stjernene mot. Dersom man treffer er frukt, kan man kaste på nytt. Dersom man bommer på en frukt, vil den gamle mesteren slå de gjenværende fruktene ned, og bonusspillet er over. Hvis man treffer en frukt som ikke skjuler en gevinst, er bonusspillet også over. Med litt flaks, kan man vinne 150 ganger innsatsen i bonusspillet.
Gambling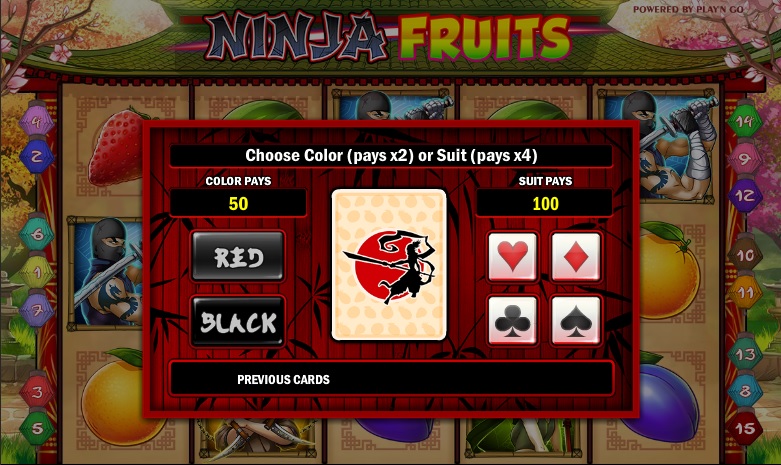 Man kan gamble om alle gevinster man vinner. Da skal man gjette fargen eller korttypen på et kort som ligger med bildesiden ned. Dersom man gjetter på farge (rødt eller svart) kan man doble gevinsten ved å gjette riktig. Dersom man gjetter på korttype (spar, hjerter, kløver eller ruter), kan man firedoble gevinsten ved riktig svar. Man kan selvsagt også gjette feil og dermed tape gevinsten, derfor lønner det seg å bare gamble om smågevinster som man har råd til å tape. Man kan gjette flere ganger dersom man gjetter riktig første gang, men man kan også velge å beholde gevinsten. Det er mulig å gamble inntil fem ganger med samme gevinst, men man kan ikke vinne mer enn totalt 2 500 mynter i gamblingspillet.
Oppsummering
Ninja Fruit er et fargerikt spill som passer fint for spillere med et lavt eller middels stort spillbudsjett. Innsatsbeløpene er rimelige, og spillet har både gratisspinn med ekstra spredte symboler, wildsymboler og et bonusspill. Man kan gamble om gevinstene for muligheten til å doble eller firedoble dem. De verdifulle symbolene i dette spillet gir også utbetaling for to like.