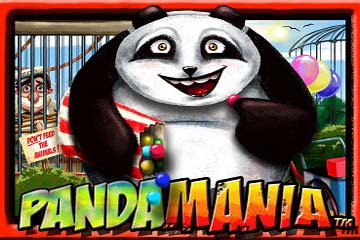 NextGen Gaming jobbet utrolig hardt i slutten av 2014, de lanserte nemlig en hel rekke nye spilleautomater bare i løpet av de to siste månedene av året. Denne spilleautomaten er en av de og ble lansert i november i 2014, og den ble raskt en suksess hos kasinospillere. Dette er en helt ny spilleautomat som har fått 25 spillelinjer og tittelen Pandamania, et ganske uventet og ikke minst originalt tema. For mange virket det nok litt som et merkelig tidspunkt å lansere en spilleautomat som virkelig minner om sommer og varme i november og rett før jul. Dette er det derimot en veldig god grunn til. Selskapet er nemlig basert i Australia og i november er det nemlig sommertid! Solskinn, flott vær og et godt humør er den perfekte kombinasjonen for en familietur til dyreparken. I Pandamania har derimot Panda tatt over hele dyrehagen og gått helt amok sammen med alle de andre dyrene, og spesielt apekattene. Sikkerhetsvakten til dyrehagen har derimot blitt bundet og plassert et eller annet sted langt borte, og det er ingen som finner han. Alt i alt har spillutviklerne hos NextGen Gaming nok en gang gjort en fantastisk jobb når det kommer til animasjonene i spillet, lydeffektene og temaet bak spillet. Kasinospillere bør absolutt klikke seg inn på Pandamania på sitt favoritt online kasino med en gang de får muligheten.
Spillets oppsett og ulike funksjoner
Denne spilleautomaten har fått et helt standard oppsett, noe som betyr at det finnes fem spinnende hjul, tre rader med symboler og til sammen 25 spillelinjer som spillerne kan satse på. I bakgrunnen vil spillerne kunne se den flotte dyrehagen med et lite fossefall på venstre side og et bur på høyre siden. Selve hjulene har blitt plassert midt på et telt som ser ut som den kommer fra et sirkus. Det hele er rett og slett utrolig gjennomført og spillerne vil kunne se skilt som viser «ikke mat dyrene», en bod som selger litt mat, ballonger og mye mer. Hele denne bakgrunnen har i tillegg blitt animert, noe som gjør at spilleautomaten bare blir enda litt mer gjennomført. Spillerne vil uten tvil få følelsen av at de befinner seg midt i en dyrehage. En annen ting som virkelig legger til atmosfæren i spillet er lyder fra dyrene og fuglene i parken. Under hjulene har NextGen Gaming sin standard meny blitt plassert og det er her spillerne kan finne de vanlige funksjonene. Spillerne kan finne mer informasjon om spillet om de klikker seg inn på bokstaven «i», justere på lyden i spillet og selvsagt ta i bruk auto play-funksjonen når de vil. I tillegg finnes selvsagt NextGen Gaming sin gamble-funksjon. Denne vil gi spillerne sjansen til å doble eller firedoble gevinstene sine når de tar den i bruk, spillerne må gjette riktig farge eller symbol på det vinnende kortet.
Spillernes innsatsalternativ
I Pandamania vil spillerne kunne justere på to ulike ting når det kommer til innsatsalternativ. Spillerne vil selv kunne velge hvor mange av spillets spillelinjer som skal aktiveres og deretter hvor mye som skal satses per spillelinje. Spillerne kan dermed selv velge hvor mange av spillets 25 spillelinjer som skal aktiveres og justere innsatsen helt fra 0,01 og oppover til 2.
Spill på disse online casinoene
Symboler i Pandamania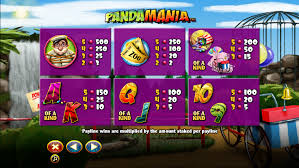 Symbolene som har blitt designet til denne spilleautomaten har uten tvil blitt designet med litt humor. Spillerne vil blant annet kunne se sikkerhetsvakten til dyrehagen som har fått bind foran munnen og blitt bundet fast et sted. I tillegg vil symboler som viser frem billetter til dyrehagen dukke opp sammen med enda flere karakterer og gjenstander fra dyrehagen. I tillegg har spillutviklerne tatt i bruk de vanlige spillekortsymbolene og designet de i flotte farger. Deretter finnes det selvsagt et wildsymbol som viser en fornøyd panda og et scattersymbol.
Ekstrafunksjoner i spilleautomaten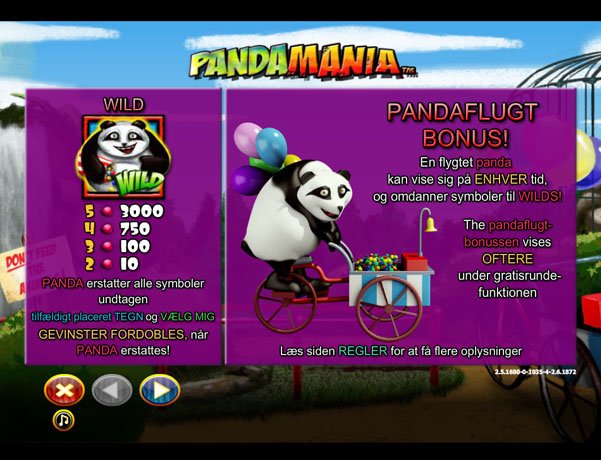 Hovedsymbolene i spillet vil kunne utbetale gevinster på opp til 500 mynter for fem like symboler på hjulene. Det finnes i tillegg til dette en hel rekke ulike funksjoner som sørger for at spillernes får enda flottere gevinster. For eksempel inneholder Pandamania et wildsymbol som viser en panda. Dette vil kunne erstatte alle de andre hovedsymbolene i spillet og dermed doble gevinstene som spillerne får. Deretter finnes det noe som heter Panda Escape bonus som vil aktiveres helt tilfeldig. Pandaen i spillet vil kunne dukke opp foran hjulene og gjøre om noen av dem til wildsymboler. Som om det ikke var nok, inneholder Pandamania en Pick Me Bonus som aktiveres ved hjelp av Pick Me-symboler som kan dukke opp på de tre hjulene i midten.