Tema

India er et magisk land med magiske mennesker. Hele landet er fylt med interessante trollmenn og eldgamle myter. Den nye spilleautomaten Pearls of India fra Play'n GO har dette magiske landet i fokus, og temaet følges meget godt fra start til slutt. Pearls of India er fullt av små og store detaljer som setter stemningen helt fra start og tar oss med på et eventyr dypt inn i den indiske jungelen. Symbolene kommer i form av ulike indiske tegn og statuetter, med sterk fokus på indisk mytologi og symbolisme. Pearls of India handler selvsagt også om edelstener, her i form av perler – navnet hinter om nettopp dette. Bakgrunnsmusikken, lydeffektene, fargene, alt er i samsvar med temaet og det er en fryd å spille Pearls of India. Den spennende spilleautomaten har en rekke kule funksjoner og spytter regelmessig ut store gevinster, noe som gjør den til en lukrativ maskin man gjerne kan spille mange timer i strekk. Bakgrunnen består av et vakkert indisk tempel omringet av en mystisk tåke, mens resten av spilleautomaten har indiske mønstre. Her får man utforske India, utforske den indiske kulturen og tjene penger samtidig. Tusenvis av spillere har lagt denne nye spilleautomaten fra Play'n GO til sine favoritter, og det med god grunn. Dette er faktisk en av de vakreste spilleautomatene vi har testet.
Grafikk og detaljer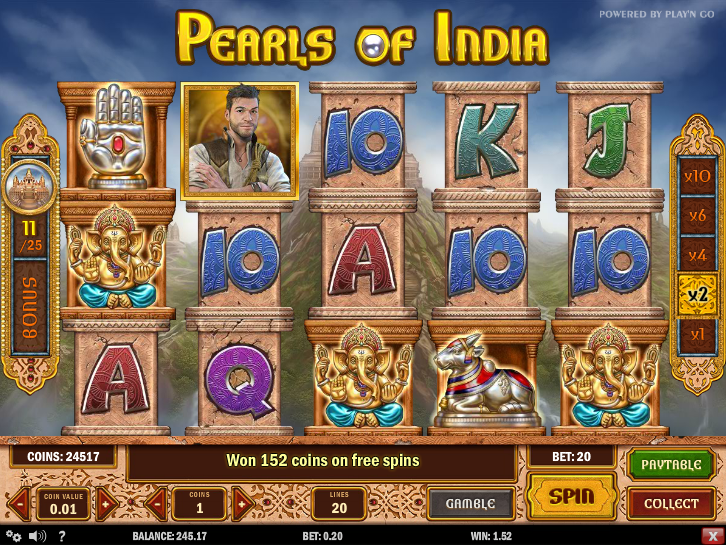 Play'n GO er en rimelig fersk spillutvikler som kun har sluppet ut litt over ett dusin spilleautomater i sin korte karriere. Spilleautomatene de skaper er dog vakre å se på og har en rekke spesielle funksjoner som skiller dem fra mengden. Pearls of India er veldig spesiell – den er fin å se på og spilles veldig godt på storskjerm, der man virkelig får et innblikk i detaljene og den gode grafikken. Symbolene er vakkert tegnet, og den spesielle spinnmetoden er kul å se på. Symbolene faller ned fra himmelen og forsvinner nedover når man trykker på spinnknappen. Pearls of India har flere animasjoner og en rekke bonusspill som virkelig gjør den til en levende maskin. De ulike indiske symbolene er fulle av bittesmå detaljer som gjør dem veldig fine å se på, med levende farger og en atmosfære man ikke kan beskrive med ord.
Utbetalinger og funksjoner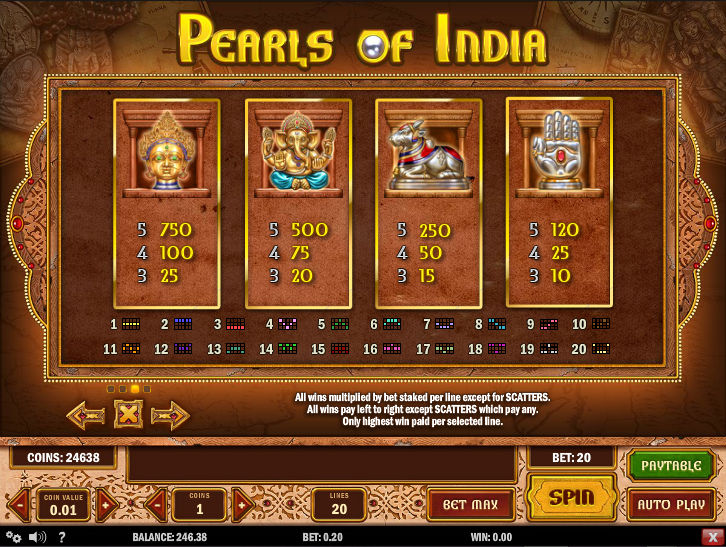 Pearls of India skiller seg virkelig fra mengden når det kommer til både utbetalinger og spesielle funksjoner. De kjedelige kortsymbolene kunne man klart seg uten, siden India kan by på så mye forskjellig. Derimot er de andre indiske detaljene veldig fine, og spytter ut gode gevinster veldig hyppig. Pearls of India har tjue gevinstlinjer som gjør det lett å følge med på kombinasjonene. Wildsymbolet kommer i form av hovedkarakteren i vår lille historie, en ung mann på jakt etter verdifulle perler. Han forvandler seg til alle andre symboler og sørger for at flere kombinasjoner settes enn hva du er vant til. Hver gang man treffer på tre eller flere symboler, får man en gevinst. Deretter fjernes de symbolene som ble brukt, og nye dukker opp fra toppen. Hver gang dette skjer, vil multiplikator-tabellen på høyre side stige. Vinner du to ganger på rad, vil gevinsten firdobles. Vinner du fem ganger på rad, vil din neste gevinst tidobles. Ja, tidobles, uten at du bruker så mye som en krone. På venstre side av skjermen ser du bonustelleren – samle inn tjuefem symboler med det indiske tempelet, og bonusspillet vil settes i gang. Der får du velge mellom tre indiske templer som vår helt kan besøke, tre ulike bonusspill som alle gir veldig gode gevinster og faktisk kan lede til at en saftig jackpot utbetales. Perlene er dog enda viktigere – det er nemlig disse som står for gratisspinn!
Spille disse online casino
Gratisspinn og jackpot
Som sagt er det perlene som står for gratisspinn. Det deles ut opp til 30 gratisspinn om gangen, og flere spinn kan samles inn om du treffer på flere perler underveis. Når man i tillegg husker på at enhver kombinasjon forsvinner fra skjermen og gjør plass til nye symboler, kan man regne med at ti-tolv ekstra «spinn» vil deles ut uansett om du treffer på perlene eller ei. Pearls of India har en veldig høy utbetalingsrate og kan faktisk spytte ut opp til en million mynter på en gang, noe som betyr at du kan bli multimillionær på noen få sekunder. Med brede innsatsmuligheter og en jackpot på en million mynter er Pearls of India en spilleautomat for alle og enhver – prøv den ut i dag så vil du forstå nøyaktig hva vi mener. Takk for nok en lukrativ spilleautomat, Play'n GO!