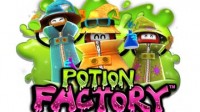 Potion Factory handler om trolldrikk og hvordan man lager de ulike drikkene og blander de sammen. Potion Factory byr på en hel haug med spennende spesialfunksjoner i en ganske så annerledes utforming. Spillutviklerne som står bak spillet Potion Factory heter Leander Games, og de pleier ikke akkurat å følge de vanlige retningslinjene når det kommer til spill, og spillene Leander Games står bak pleier ikke å stå for de mest tradisjonelle videoslot spillene.
Grafikk og lyd
Potion Factory har en leken grafikk som er veldig fargerik og fargesprakende. Hvis du klarer å se for deg et barneprogram på kanalen Nickelodeon så har du da et bra bilde av hvordan grafikken ser ut på Potion Factory. Grafikken passer utmerket til spillideen, men lider du av epilepsi bør du kanskje styre unna akkurat dette spillet. Når du vinner en gevinst så begynner nemlig skjermen å blinke ukontrollert. Det er et gjennomgående høyt tempo i løpet av hele spillet i Potion Factory.
Lyden i spillet er også veldig leken, rett og slett som om det var hentet ut fra et barneprogram. Det må gis skryt til spillutviklerne Leander Games som står bak det flotte og brede lydbildet. Det finnes praktisk talt hundrevis av ulike lydeffekter i spillet. Lydeffektene bidrar også til at tempoet holder seg på et høyt nivå.
Innsatser
Potion Factory har fem hjul og fire rader av symboler. Dette gjør jo at antallet innsatslinjer blir noe mer enn det som er vanlig for en standard videoslot spill. Du har faktisk hele 40 innsatslinjer å spille på. I Potion Factory kan du ikke velge antall innsatslinjer å spille på, slik som er vanlig på mange andre videoslot spill, men du kan i hvert fall styre hvor mye du skal satse per linje helt selv. Med en innsats på 0,10 euro per linje blir innsats 0,40 euro. Høyeste mulige innsats er 20 euro. Dette gjelder da uten "nudge" funksjonen som finnes i spillet. Nudge funksjonen kan gjøre sånn at man dobler den originale innsatsen. Som oftest er det en god ide å aktivere nudge funksjonen, men dette kommer det mer om litt lengre nede.
Effekter og spesialsymboler
Spesialfunksjonene i Potion Factory er mange og de er unike. Bonusspill, free spinns og ekspanderende wild symboler er bare noen av de funksjonene Potion Factory kan tilby.
En unik funksjon som Potion Factory har er nudge funksjonen, som innebærer at hjul 2 og 4 kan flyttes 1, 2 eller 3 steg, hvis det gjør at man da får en vinnende kombinasjon av symboler på hjulene. Denne funksjonen gir altså ikke bare en ny sjanse til å få en gevinst men faktisk også en tredje og en fjerde sjanse.
For å få sjansen til å aktivere noen av bonusfunksjonene i spillet må man først få 3 bonussymboler på hjul 1, 3 og 5. Da får du snurre på et hjul og har tre mulige resultater, og det er nemlig gratis spinn runder, The X formula bonusspill eller Instant Win. I tillegg til dette kommer det til å stå et tall ved siden av resultatet, det vil være 1, 2 eller 3. Med tallene 2 eller 3 så får man snurre på bonushjulet en gang til, og nå på et høyere nivå.
I gratis spinn rundene får man enten 5-8, 8-11 eller 12-15 gratis spinn, dette kommer ann på hvilket nivå man befinner seg på. Jo høyere nivå, jo flere gratis runder får man. I gratis spinn rundene så blir alle wild symboler faste, det vil si at de blir låst til hjulene. Man trenger ikke så mye flaks for å få ganske mange wild symboler på hjulene. Så da er det ikke så vanskelig å forstå at denne funksjonen kan gi ganske gode gevinster, spesielt hvis man får 10 eller flere gratis runder.
I bonusspillet The X Formula så skal man blande ingredienser for å skape den mest optimale trolldrikken. I dette minispillet skal man trykke på en mange ulike emner og krysse fingrene for at det gir resultat. Man kan vinne opp til 50 ganger innsatsen med denne funksjonen.
Extended Wild blir aktivert tilfeldig og innebærer at et helt hjul kan dekkes av wild symboler.
Sammendrag
Potion Factory er en festlig videoslot som byr på en veldig livlig spillopplevelse. Det er vanskelig og ikke bli dratt med i den herlige innrammingen og det høye tempoet. Gevinstene kommer ganske ofte i det ordinære spillet og når man aktiverer noen av bonus funksjonene så kan man nesten regne med at man får plukket med seg ganske mange trivelige gevinster.