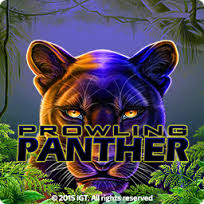 Du er herved invitert til jakt i regnskogen, sammen med den luskende panter! Jakten på jackpotten begynner nå, så skynd deg! Den som finner, den vinner jackpotten på 250 000 mynter. Andre premier du kan oppnå, er gevinster på spilleautomatens 720 måter å vinne på, med fem gevinsthjul. Denne jakten er «high variance», med 92.09-96.09% sjanse for å finne den store gullpotten i den ville jungel. Dette vil si at du vinner ikke så ofte, men når du vinner, vinner du mye. Den som arrangerer jakten, er IGT (WagerWorks). Klar, ferdig, gå!
Temaet i spillet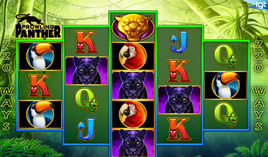 Prowling Panther er basert på en fysisk spilleautomat, ved samme navn. Spilleautomaten er rettet mot mer seriøse spillere, som kan punge ut med litt penger. I motsetning til spillere som bare er ute etter å spille for gøy og for spillopplevelsen, bryr disse spillerne seg mer om gevinstene enn grafikken. Spilleautomaten er inspirert av det eksotiske dyrelivet i regnskogen, og panteren. Dyr-inspirerte spill fra IGT har blitt et kjennemerke for dem. I den store kattefamilien, finner vi panteren, et stort medlem av familien. Panteren, som også blir kalt for den svarte panteren, er svært mektig, og blir sett på som den sterkeste klatrer blant familien. Den kan også brøle, noe som de andre i kattefamilien ikke kan. Samtidig som pantere er stille og forsiktige dyr, er de også svært aggressive, og er derfor fryktet. De befinner seg i regnskogen, skog, myr, savanner, sumper, fjell og ørkener. Det at pantere spiser en stor variasjon av dyr, er en av grunnene til at de kan bo så spredt. De spiser reptiler, fugler og forskjellige pattedyr.
Utseende og grafikk
Bakgrunnsbildet er en nydelig, avslappende og veldig grønn jungel. Grønnfargen er så sterk, at man nesten blir blendet av synet. Her finnes mange forskjellige trær, og man begynner å lure på hvilke andre dyr og insekter som eksisterer sammen i jungelen. Tittelen til Prowling Panther er svart, med en panterfigur over seg. Musikken man hører under spillet, er jungel-musikk. Musikken som spilles under gratisspinn-rundene er adrenalinfylt, og fargen skifter fra grønn til panter-lilla. Man hører typiske lyder fra dyrelivet under spillet, samt brøl fra den luskene panter. Kan vi nå si at vi er «in the jungle, the mighty jungle, (where) the PANTHER sleeps tonight»?
Spill på disse online casinoene
Symboler og detaljer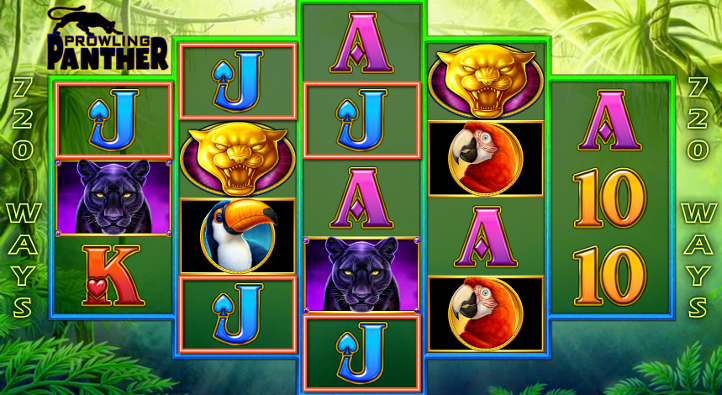 Symboler som betaler mye, er en tukan, papegøye og den luskene panter. Fuglene er søte, og panteren majestetisk. I sine livlige farger, er standardsymbolene 10, J, Q, K og A. Det som hadde vært stilig, var om standardsymbolene hadde et mer jungel preg over seg. En apekatt hengende i J, eller en slange som åler seg rundt 10. Wildsymbolet er et 2x ikon. Denne finnes på gevinsthjul to, tre og fire. Den litt skumle gullpanteren, er scattersymbolet, som aktiverer gratisspinn-rundene.
Funksjoner og utbetalinger
Man kan vinne på 720 måter, og dette på grunn av «MultiWay Xtra» funksjonen. Det minste man kan satse, er 0.50, og det meste 500 mynter. Man må spille på alle 50 linjene, slik at innsatsområdet er fra 50-2 500 per spinn. Uten om jackpotten, er det maksimale beløp man kan vinne, 500 ganger det du har satset. Det er da snakk om millionbeløp. Et av IGTs kjennemerker, er en litt merkelig, men samtidig kjent design på gevinsthjulene. Wild-symbolet, som er 2X, erstatter alle symboler, men ikke scattersymbolet.
Gratisspinn, bonus og jackpot
Jakten på gratisspinn, vinner du ved å få gullpanteren, uavhengig av hvilket hjul. Åtte gratisspinn blir tildelt per kombinasjon av gullpanteren, som medalje. Under gratisspinn-rundene, kan man vinne mer scattersymboler. Dette betyr at man da kan vinne maksimalt 256 gratisspinn! Det er under gratisspinnene du kan vinne mye, da IGT er kjent for dette. Jackpotten er på 250 000 mynter. Er du en av de heldige som får skutt gullfuglen?
Sammendrag
Man kan vinne veldig mye på dette spillet, og passer best for seriøse spillere som er villig til å satse mye, for å vinne mye. «Old School»-spillere kan også glede seg til dette spillet, da grafikken er litt enkel, og «utdatert». Spilleautomater før i tiden hadde ikke avanserte, eller «high end» animasjoner og grafikk. Av og til er det enkleste ofte det beste- for noen. Ja, vi er i en «enkel del» av jungelen, uten tvil. Grafikken kunne ha vært litt mer spennende, men det har jo sin sjarm å være en litt «utdatert» spilleautomat også.