Tema: Skattejakt
Spillet handler om jakten på skjulte skatter, og er inspirert av Indiana Jones og Lara Croft. Likhetstrekkene med disse filmene er faktisk veldig store, uten at spillet kan kalles en direkte kopi av filmene.
Grafikk og spillets detaljer
Grafikken i Relic Raiders er tegneserieaktig, men veldig bra laget. Man kan satse inntil 10 000 mynter per spinn. Den minste myntverdien er på 0,01, mens den største myntverdien er 0,50 i den valutaen man spiller med. Man vinner bare på aktive linjer, og alle vinnerrekker må starte ytterst til venstre og gå fra venstre mot høyre. Spilleautomaten Relic Raiders har fem hjul og fire rader med symboler. Automaten har hele 50 gevinstlinjer, og spillerne velger selv hvor mange linjer de vil aktivere. Spillets utbetalingsprosent er bare på 90 %, noe som er uvanlig lavt for en spilleautomat fra Net Entertainment. De er kjent for relativt høy utbetalingsprosent, og andre spill fra selskapet har utbetalingsprosenter på over 96 %. Den lave utbetalingsprosenten i dette spillet gjør at man ikke kan forvente å gå med overskudd. Men utbetalingsprosenten viser den gjennomsnittlige utbetalingen over tid. Man kan ha flaks og vinne mer, eller man kan ha uflaks og vinne tilbake en mindre andel av innsatsen sin.
Symboler og gevinster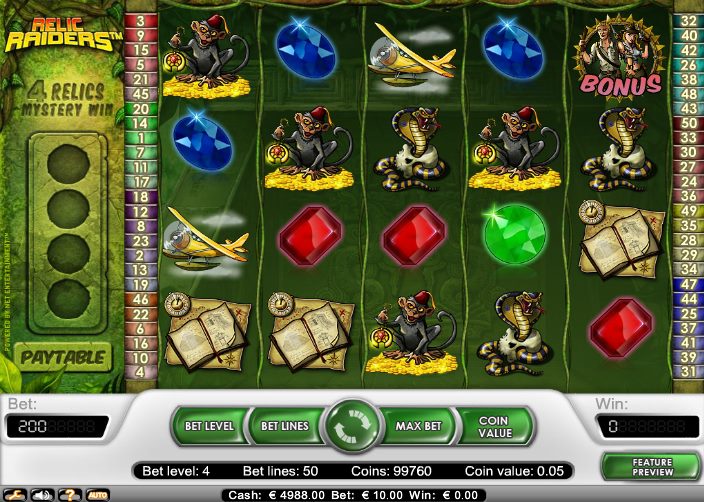 Relic Raiders har ingen vanlige kortsymboler. De lavere gevinstene blir i stedet delt ut av juveler i ulike farger. De mer verdifulle symbolene er et fly, en bok med et skattekart, en ape og en slange. Flyet er det mest verdifulle av disse symbolene, og gir 500 mynter i gevinst for fem like. Flyet gir også utbetaling for to like, mens de andre symbolene må komme tre på rad for å gi gevinst. Spillets utbetalingstabell viser alle symbolene, og hvor mye de er verdt når de dukker opp i kombinasjoner på tre eller flere like.
Spille disse online casino
Wildsymbolet er en heksedoktor. Man kan vinne hele 10 000 mynter for fem wildsymboler på samme gevinstlinje, og wildsymbolet gir også utbetaling for to like. Ellers fungerer wildsymbolet på samme måte som i andre spill, ved at det erstatter andre symboler for å fullføre vinnerrekker. Wildsymbolet kan ikke erstatte det spredte symbolet.
Skattekisten er spillets spredte symbol (scatter). Tre eller flere spredte symboler hvor som helst på skjermen gir en gevinst, men skattekisten deler også ut gratisspinn i tillegg til gevinsten. Under gratisspinnene kan man få inntil 5x multiplikator. Antallet gratisspinn man vinner varierer, det samme gjør multiplikatoren. Dersom man får to eller flere skattekister samtidig under gratisspinnene, vinner man flere gratisspinn eller en større multiplikator. Hvor mange gratisspinn eller hvor stor multiplikator man vinner, er tilfeldig.
Bonusspill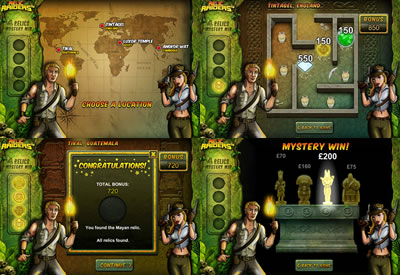 Dersom man får tre eller flere bonussymboler på samme gevinstlinje, kommer man til bonusspillet. Man kan bare vinne ett bonusspill per spinn. I bonusspillet skal spillerne samle 4 relikvier i form av medaljonger. Et fly flyr rundt, og lander på en av fire landingsplasser rundt om i verden. Der kommer man inn i en labyrint, og man får utdelt en hakke. Man finner relikviene ved å knuse krukker i labyrinten. Krukkene kan inneholde mye rart, og bare én krukke på hvert sted inneholder en relikvie. Dersom man finner en edderkopp i en av krukkene, er spillet over. Hvis man klarer å finne relikvien før man finner edderkoppen, får man beholde relikvien, og den blir plassert til venstre for spillskjermen. Relikviene ligger ikke i samme krukke hver gang, derfor kan man ikke memorere hvor de ligger slik at det blir lettere å finne dem neste gang.
Relikviene man har samlet opp blir lagret i inntil 36 timer etter at man spilte siste spinn, derfor kan man samle opp relikviene gjennom flere spillsesjoner. Man må bare fortsette å spille innen 36 timer etter at man spilte forrige spinn, slik at man ikke mister de relikviene man allerede har samlet. Med fire relikvier får man en mysteriegevinst. Da skal man velge mellom fire statuer. Hver statue skjuler en gevinst, og man er garantert gevinst uansett hvilken statue man velger. Det som vil variere er gevinstens størrelse.
Oppsummering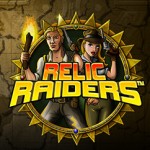 Til tross for at temaet i Relic Raider ikke er spesielt originalt, er grafikken god, og man kan vinne fine gevinster. Det er også fint at man kan lagre relikviene, slik at man kan samle dem opp over flere spillsesjoner, for det kan ta litt tid å få samlet alle fire relikviene. Spillets utbetalingsprosent er dessverre veldig lav, spesielt til å være et spill fra Net Entertainment. Derfor kan man ikke forvente å vinne spesielt ofte i dette spillet. Men spillfølelsen er god, og spillet vil nok appellere til alle som liker skattejakt og eventyrfilmer. Bonusspillet er også ganske morsomt.