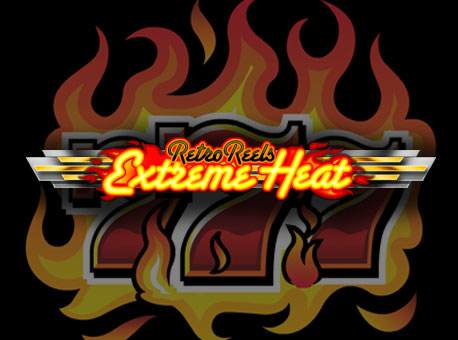 Retro Reels Extreme Heat er en del av Microgamings serie Retro Reels. Disse spillene er inspirert at de klassiske spilleautomatene som pleide å stå i butikker og på kjøpesentre. De klassiske elementene er kombinert med moderne teknologi for å gi spillerne det beste av begge verdener.
Underholdende spesialfunksjoner
Extreme Heat har også et par ekstrainnslag som ikke fantes i de gamle automatene. Spillet har en respinnfunksjon. Respinnfunksjonen gir økte vinnersjanser, men man må betale ekstra for respinnet. Prisen man må betale, avhenger av hvor stor gevinst man har sjansen til å vinne. Et respinn kan koste alt fra et par kroner til mange tusen kroner, noe som altså er avhengig av den mulige premiens størrelse. En spesiell funksjon, uten tvil. Man har også muligheten til å vinne gratisspinn, noe de klassiske spilleautomatene ikke kunne by på. I tillegg har Extreme Heat et wildsymbol som kan fullføre og utvide vinnerrekker.
Symboler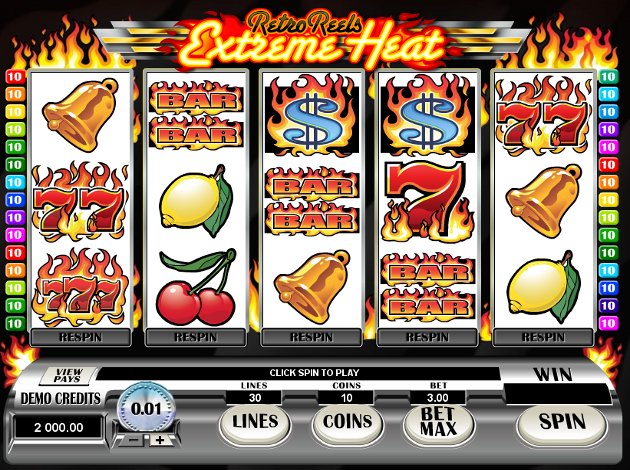 Symbolene i Retro Reels Extreme Heat er inspirert av klassiske spilleautomater, men grafikken er selvsagt moderne og førsteklasses. Sjutallet finnes i tre flammende varianter. Det ene symbolet inneholder ett sjutall, det andre inneholder to sjutall, og det tredje inneholder tre sjutall. Barsymbolet finnes også i tre varianter. I tillegg dukker det opp velkjente bjeller, sitroner og kirsebær. Det flammende dollarsymbolet er spillets wild. Dette symbolet kan erstatte alle andre symboler, bortsett fra de spredte symbolene. Med 10 flammende dollarsymboler på skjermen, vinner man jackpotten på 10 000 mynter.
Spille disse online casino
Innsatser og utbetalinger
Retro Reels Extreme Heat har 30 gevinstlinjer, og man velger selv hvor mange av disse linjene man vil aktivere. Man kan bare vinne på aktive linjer, derfor lønner det seg vanligvis å aktivere alle linjene, og heller spille med en lavere myntverdi. Myntverdien kan stilles fra 0,01 til 0,25. og man kan satse fra én til femten mynter per linje. Dette gir ganske store variasjonsmuligheter i innsatsbeløp, samtidig som automaten er forholdsvis rimelig, og dermed passer den også for nybegynnere og hobbyspillere.
Spesialsymboler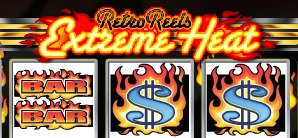 Det flammende dollarsymbolet er mest verdifullt. Fem like av disse betyr at man vinner jackpotten på 10 000 mynter. For fire dollarsymboler får man 1000 mynter, og dette symbolet gir også utbetaling for to like. De andre symbolene gir bare utbetaling dersom man får minst tre like. De flammende sjutallene er nest mest verdt. Det finnes tre varianter av disse sjutallene, men alle har samme verdi. Sjutallene gir 500 mynter for fem like, 250 mynter for fire like, og 50 mynter for tre like. Man får også utbetaling for ulike kombinasjoner av sjutallssymboler. Man trenger altså ikke å få tre like for å få gevinst, men gevinstene er lavere når man får en vinnerrekke bestående av ulike symboler. Da gir fem sjutall bare 50 mynter i gevinst. Barsymbolet finnes også i tre varianter, og gir 250 mynter for fem like. Kombinasjoner av fem ulike barsymboler gir 50 mynter. Bjeller, sitroner og kirsebær deler ut smågevinster. Spillets utbetalingstabell gir en komplett oversikt over symbolene og verdiene av dem.
Jackpot og utbetalingsrate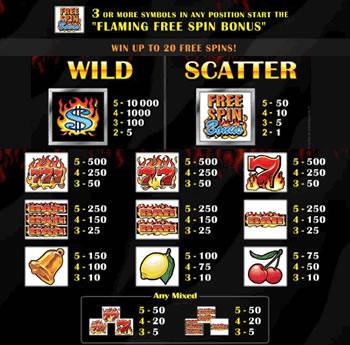 Den største jackpotten i grunnspillet er på 10 000 mynter. Spillets teoretiske utbetalingsprosent er 97,5 %. Dette er den prosentdelen av innsatsene man kan forvente å vinne tilbake. Utbetalingsprosenten er basert på spill over lang tid, og den kan være både høyere og lavere i perioder. Det spredte symbolet deler ut gratisspinn, men to eller flere spredte symboler gir også en gevinst.
Respinn
Det koster litt ekstra dersom man velger å spinne et av hjulene på nytt, derfor må man vurdere om det er verdt risikoen eller ikke. Man kan vinne større gevinster ved å velge respinn, men man risikerer også å ikke vinne noe, og da ender man bare opp med å tømme spillbudsjettet raskere enn ved vanlig spill. Det kan være fristende å spinne på nytt for hvert spinn, men det vil fort koste mer enn det smaker. Derfor bør respinnfunksjonen brukes med måte.
Gratisspinn
Med tre eller flere spredte symboler på spillskjermen, vinner man gratisspinn. De spredte symbolene teller med uansett hvor på skjermen de befinner seg, og de teller også med dersom de er på en gevinstlinje som ikke er aktivert. Jo flere spredte symboler som dukker opp samtidig, desto flere gratisspinn vinner man. Man må få minst tre spredte symboler for å vinne gratisspinn. Da får man 10 gratisspinn. Dersom man får fire spredte symboler, vinner man 15 gratisspinn, og med fem spredte symboler får man 20 gratisspinn. Alle gratisspinn gir dobbel utbetaling.
Konklusjon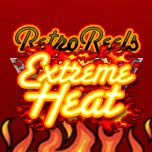 Retro Reels Extreme Heat er en herlig kombinasjon av klassiske spilleautomater og moderne videoautomater. Microgaming har laget en hel serie av slike spill, og spillene passer perfekt til alle som likte de gamle spilleautomatene. Her får man en fin kombinasjon av gammelt og nytt.