Tema og Grafikk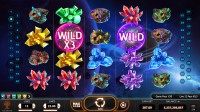 Denne gangen er det Yggdrasil som har utviklet et nytt og spennende spill, dette er faktisk kun Yggdrasil sin tredje videoslot da de hovedsakelig har konsentrert seg om å utvikle tallspill som lotteri og skrapelodd. Nå har de derimot bestemt seg for å prøve seg på en ny videoslot, Yggdrasil er på samme måte som sine to forgjengere en videoslot som utfordrer konvensjonene. Her så handler det altså om alt fra de små detaljene som at Robotnik har fire rader istedet for de mer «vanlige» tre, til at bakgrunnsmusikken er en raskere versjon av Strauss sin verdensberømte vals An der Schønen Blauen Donau. Det er derimot litt usikker rundt selve bakgrunns historien til Robotnik om det i det hele tatt finnes en, men det at spillet er designet for å gi følelsen av at selve spillet befinner seg i verdensrommet er det ikke noe tvil om. Dette forsterkes bare enda mer når en ser at symbolene som er blitt valgt ut her består av ulike steiner og krystaller som mest sannsynlig kan finnes i verdensrommet og at en kan se to planeter svakt i bakgrunnen av spillet. Selve grafikken i denne vidoesloten er virkelig krystallklart på akkurat samme måte som i Yggdrasils tidligere videoslots Jokerizer og Winterberries. Lyden i Robotnik er det heller ikke noe som helst å klage på, det er virkelig et fåtall av videoslots som har en lyd som til og med høres helt perfekt ut når en har på seg hodetelefoner, her så er virkelig Robotnik et unntak.
Innsatser og Alternativ
I Robotnik så er videosloten bygd opp av fem hjul og fire rader med symboler, antallet med spillelinjer er også ganske så høyt, det er nemlig hele 40 stykker. Disse spillelinjene er derimot fastsatt til sin karakter så det eneste valget en kan gjøre før en setter igang en spin er å velge myntverdien en skal satse med. Myntverdien i denne sloten går ned fra 0, 01 og opp til 2 euro eller tilsvarende i annen valuta så den laveste innsatsen en kan gjøre per spin er 0, 40 mens den høyeste innsatsen en kan gjøre er hele 80 euro eller tilsvarende i annen valuta. I tillegg så kan en også gjøre hele spille prosessen enda litt raskere ved å benytte autospin funksjonen hvor en kan spille opp til 500 spins helt automatiskt.
Effekter og Spesialsymboler
Robotnik er virkelig ikke noen videoslot som er fullpakket med ulike bonusfunksjoner, men de få funksjonene som har blitt lagt til i denne sloten er derimot av høy kvalitet både når det gjelder underholdning og når det gjelder funksjon. En kan nemlig finne flere typer Wild symboler i tillegg til respins. Robotnik videosloten er en ganske så avskallet historie når det kommer til bonus funksjonene, her så kan en nemlig ikke finne noen bonus spill å aktivere og heller ingen freespins modus. Robotnik kan derimot by på to ulike Wild symboler i tillegg til respins og også en jokerfunksjon hvor roboten Robotnik klatrer inn i historien. Her så fungerer begge Wild symbolene som en erstatning for alle andre symboler, det eneste som skiller disse to ulike Wild symbolene ifra hverandre er at den ene ikke har noen multiplikator mens den andre gir x3 på absolutt alle linjegevinster. En annen forskjell mellom disse to Wild symbolene er at den «vanlige» Wild symbolet kan dukke opp stablet på hjulene mens multiplikator jokeren alltid dukker opp alene. Når noen av disse to Wild symbolene dukker opp på hjulene i spillet så kommer denne til å låses fast mens hjulene snurrer på nytt. Dersom det da skulle dukke opp et nytt Wild symbol så fortsetter spillet med enda en respin, så når denne turen ender så ender nemlig også respin funksjonen. Det som er verdt å notere seg er at når som helst iløpet av en spin eller etter sen spin så kan Robotnik klatre inn i spillet, han flyr nemlig enkelt og greit inn fra siden og forvandler et visst antall symboler til vanlige Wild symboler eller til multiplikator jokere.
Når alt kommer til alt så er virkelig Robotnik en unik videoslot både når det kommer til design, spille ideen og også bonusfunksjonene. Dersom en da også ser på at grafikken er uvanlig vakker og at lyden i spillet også er det beste en mest sannsynlig har hørt i en videoslot noensinne så kan en bare regne med å få en helt utrolig fin spille opplevelse av denne sloten.