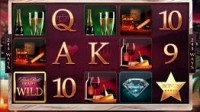 The finer reels of life er uten tvil den mest velpolerte video slotten på nettet. Fra grafikken og bakgrunnsmusikken av høy klasse, til spesialfunksjonene som inkluderer gratis spinn spill og i tillegg funksjonen som gjør at hjulene kan helt tilfeldig bli gjort om til wild symboler, The finer reels of life er en videoslot som virkelig har alt.
The finer reels of life er ikke en actionfylt videoslot. Den er egentlig det helt motsatte. Denne videosloten gir spillerne sine en stemningsfylt historie, der de avanserte animasjonene er dandert vakkert i bakgrunnen.
Grafikk og lyd
Når man klikker i gang The finer reels of life, så er det som om du åpner døren til en eksklusiv restaurant der atmosfæren er høyst eksklusiv. Hvis du kan forestille deg en middag i den intime delen av den mest eksklusive restauranten på det 7 stjernede hotellet Burj Khalifa i Dubai, så forstår du hva som menes her.
Grafikken går i fløyel og gull og er rett og slett vakker. Symbolene i spillet går i spiselige, drikkbare og røykbare ting som man absolutt forbinder med en eksklusiv middag. Her er det bare å lukke øynene og drømme seg bort til den mest eksklusive opplevelsen man kan tenke seg.
Bakgrunnsmusikken er en sak for seg selv. Det er ikke mange videoslot spill som har en bakgrunnsmusikk som beregnes som bra, eller som holder en høy kvalitet for og for eksempel spilles på høytalere. Det er her The finer reels of life skiller seg ut, for her er det virkelig gjort unntak på det. Det er en type lounge musikk som er litt jazz inspirert, som du blir møtt med i det du starter opp spillet og musikken passer helt utmerket til stemningen som er satt for resten av spillet.
Innsatser
The finer reels of life har fem hjul og tre rader, men istedenfor å tilby et spill med innsatslinjer å spille på, så har dette spillet hele 243 måter å vinne gevinster på. Det vil si at når man setter i gang spillet så trenger man ikke å tenke på hvor mange linjer man ønsker å spille med eller hvor mye man skal satse per linje. Spillerne har likevel stor mulighet til å velge både myntverdi og antall mynter man ønsker å spille med i hver runde.
Effekter og spesialsymboler
The finer reels of life byr ikke bare på grafikk og lydeffekter som er helt utenom det vanlige, men spillet er i tillegg fullpakket med spesialfunksjoner. Blant annet så byr spillet på wild symboler som automatisk dobler alle gevinster. The finer reels of life byr også på en spesial funksjon som blir kalt "wild celebration" og har også et gratis spinn spill som gir bedre gevinster for hver gang den blir aktivert.
Wild celebration er en funksjon som gjør at helt tilfeldig så kan faktisk opp til 5 hjul bli gjort om til wild symboler og dette kan skje i løpet av en runde. Siden det ikke er mulig å vite når denne funksjonen kommer til å bli aktivert, så er det bare å spinne i gang spillet og krysse fingrene. En ting som er helt klart er at man kan få veldig gode gevinster hvis man er så heldig å få alle fem hjulene snudd om til wild symboler. Skjer dette så kan man faktisk vinne opp mot 1,8 millioner mynter.
Gratis spinn funksjonen går under navnet Finer Features og omfatter fire ulike gratis spinn spill. De fire ulike versjonene har ulike navn, Coffee & Chocolate, Wine & Cheese, Whisky & Cigars og Champagne & Diamonds. Hver og en av disse fire funksjonene har sin egen lille spesialitet. Champagne & Diamonds funksjonene byr for eksempel på 25 gratis spinn runder i tillegg til en multiplikator funksjon som da øker for hver gang man har en suksessfull runde. I tillegg til dette så har også Champagne & Diamonds en egen bonus funksjon som heter Rolling Reels.
Sammendrag
Hvis man ender opp med å være en av de heldige og tar hjem spillets aller høyeste gevinst, som da er på 1,8 millioner mynter, eller noe annen storgevinst som kan vinnes i The finer reels of life, så trenger man i det minste ikke å lure på hvordan man skal feire. Whisky og en cigar? Champagne? Denne videosloten byr deg som spiller en finere smak og gir en lekker opplevelse, og dette gjelder for både øyne og ører, og så er det jo lov å håpe på at det blir også en lekker opplevelse for lommeboken.