Neshorn er faktisk et av de aller farligste rovdyrene som lever og oppholder seg på de åpne slettene rundt om i Afrika. Dette vakre, men livsfarlige dyret, unngår faktisk mennesker og foretrekker natten fremfor dagtid. Det er nemlig på natten disse dyrene kan leve ut sin aktive livsstil, men om den opplever fare eller en trussel av noe slag vil den rett og slett ødelegge alt som er i veien. Enda en ting som mange ikke vet om neshorn er det at de har utrolig dårlig syn, derfor er den helt avhengig av den gode hørselen sin i tillegg til den utrolige luktesansen. Takket være disse to sansene klarer dyret seg ypperlig i alle situasjoner. Neshornets kraftige og skarpe horn, utrolig fysiske krefter og enorme vekt gjør at dette dyret vil vinne de fleste kampene, uansett hva slags dyr den må kjempe mot. Det er alt dette Bally Technologies har basert sin spilleautomat på, og denne automaten har fått tittelen Thunder Horn. Thunder Horn er en spilleautomat som representerer faunaen i Afrika på en flott måte og kan vise frem mange vakre sider fra denne verdensdelen. Bally Technologies har tross alt allerede hatt over 75 år som en leder i spillindustrien, og alle de ulike spilleautomatene fra dette selskapet har blitt brukt i kasinoer rundt hele verden. I Thunder Horn kan spillerne glede seg til noen flotte jackpoter, og et spill som kan by på en flott bakgrunn fra Afrika samt en rekke symboler som viser frem litt av det verdensdelen har å by på.
Spillets innsatsalternativ og oppsett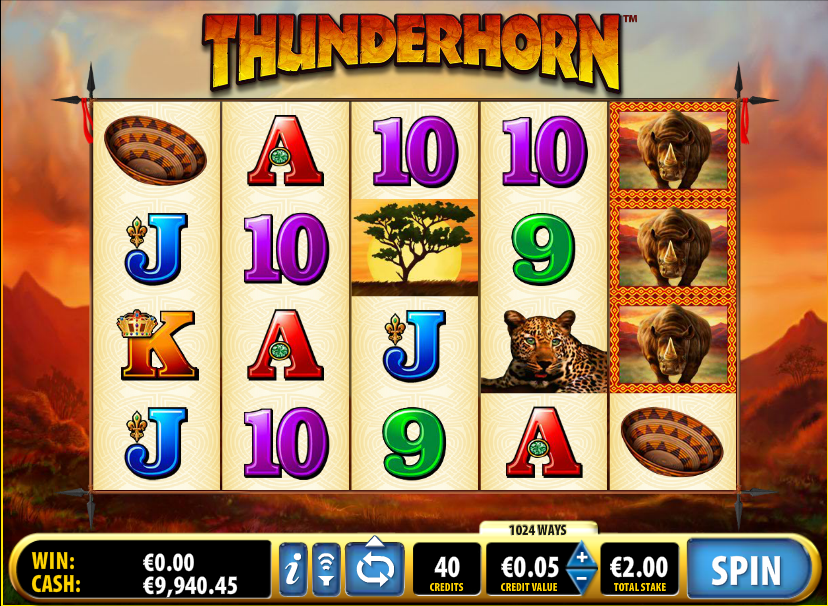 Thunder Horn har fått et standard oppsett, men likevel med en liten vri. Vanligvis setter spillere stor pris på dette. Spillet har med andre ord fått fem hjul og fire rader med symboler. Med i stedet for at spillet har fått de vanlige spillelinjene som spillerne kan velge mellom, har Thunder Horn fått utrolig 1024 ulike måter spillerne kan vinne på. Denne enorme mengden med ulike måter en spiller kan vinne på vil si at det ikke finnes noen vanlige spillelinjer som går hverken horisontalt eller diagonalt. De aller fleste linjene i spilleautomaten krever nemlig bare at et bestemt antall symboler dukker opp hvor som helst på hjulene. Det eneste kravet er at de er på hjul som ligger inntil hverandre. Når det kommer til innsatsalternativ i spillet, fungerer selvfølgelig dette litt annerledes enn vanlig på grunn av at det ikke finnes noen spillelinjer. Likevel må dette forklares som om automaten har spillelinjer for at det skal være forståelig. Den minimale innsatsen en spiller kan velge i spillet er $ 0,01 med 40 standard spillelinjer, mens den maksimale innsatsen som er tillatt i spillet er på til sammen $ 16. Dette gjør at spillerne i Thunder Horn faktisk kan satse såpass høyt som $ 640 på et eneste spinn. Bortsett fra dette inneholder selvsagt Thunder Horn en praktisk autospinnfunksjon. Her kan spillere som ønsker det velge at automaten skal spinne mellom fem og 25 runder automatisk, så kan de bruke tiden til å se på eller gjøre andre ting. Informasjonsknappen i spillet har to ulike menyvalg, nemlig spilleregler og utbetalingstabell.
Spesialfunksjoner, bonuser og symboler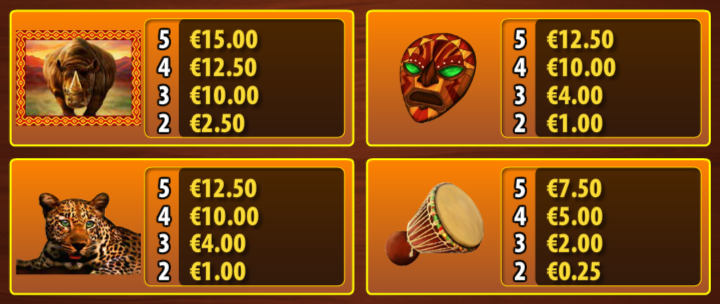 I Thunder Horn kan spillerne glede seg til en rekke ulike flotte symboler som representer både dyrelivet i Afrika i tillegg til annet som Afrika kan by på. Spillerne vil blant annet kunne se afrikanske masker, trommer, flott keramikk, vakre leoparder og selvfølgelig neshornet selv. I tillegg til dette har Bally Technologies tatt i bruk de standard spillekortsymbolene ni, ti, knekt, dame, konge og ess som har blitt designet i sterke og flotte farger. I tillegg til disse standardsymbolene kan selvfølgelig Thunder Storm friste med noen spennende spesialsymboler. Wildsymbolet i spillet har denne gangen blitt representert av et tre som står foran en flott bakgrunn, nemlig en solnedgang på den Afrikanske savannen. Dette treet vil kunne erstatte absolutt alle andre symboler i spillet med unntak av scattersymbolet. Wildsymbolet dukker kun opp på de midterste hjulene. Scattersymbolet har blitt representert av en bonus logo og er naturlig nok også ansvarlig for bonusrunden i spillet. Dersom tre, fire eller fem scattersymboler dukker opp i løpet av ett spinn vil spillerne bli belønnet med åtte, 15 eller 20 gratisspinnrunder. Om det skulle vise seg at det dukker opp noen wildsymboler i løpet av en gratisspinnrunde, vil gevinsten i den runden få en multiplikator på enten 2 x eller 3 x. Dersom to eller flere scattersymboler dukker opp under gratisspinnrundene kan spillerne vinne mellom fem og 20 gratisspinn til.
Spill på disse online casinoene