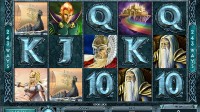 Thunderstruck 2 er en av de mest påkostede videoslot spillene som kommer fra spilleutvikleren Microgaming, og bare det sier litt om hva man kan forvente av spillet. I utviklingen av spillet så har det virkelig ikke blitt holdt tilbake på noen ting. Bakgrunnsmusikken er komponert av en mesterkomponist og du kommer mest sannsynlig til å begynne å nynne med etter kun noen få spillerunder. Grafikken er utmerket og det samme gjelder spilleatmosfæren. En annen ting som gjør at Thunderstruck 2 er et skikkelig bra videoslot spill er det at man har muligheten til å vinne hele 2,4 millioner mynter på kun en snurr.
Tema og grafikk
For Thunderstruck 2 så har Microgaming hentet inspirasjon fra den nordiske mytologien. På noen måter så minner Thunderstuck 2 om Hall of Gods fra Net Entertainment. Av en eller annen grunn så har nordisk mytologi blitt et populært tema for spillutviklerne. Symbolene består blant annet av kjente norrøne guder, sånn som Thor og Odin, og andre typiske motiv fra norrøn/vikingtiden.
Grafikken støtter tema på en utmerket måte. Bakgrunnen i spillet går i en stengrå farge og har en dekor som virkelig står i stil til temaet med vikingtiden. En annen fin funksjon i grafikken og utformingen av spillet er det at for hver gang man får en gevinst så blir det spilt av en lekker animasjon.
Innsatser
Thunderstruck 2 har 5 hjul men utenom det så skiller spillet seg ut fra andre videoslot spill. Det finnes for eksempel ikke noen innsatslinjer i Thunderstruck 2. I stedet for de vanlige innsatslinjene så har Microgaming valgt å bruke et annet konsept i spillet som innebærer at man har 243 ulike måter å vinne på i hver spillerunde. For å få en gevinst i spillet så må man få en kombinasjon med like symboler på hjul som står inntil hverandre fra venstre til høyre. Det er krav til minst 3 symboler i en kombinasjon for å få en gevinst, men det gjelder ikke bonussymbolene.
Spesialfunksjoner
De fleste videoslot spill tilbyr blant annet muligheten for å vinne gratis spinn runder og har vanligvis noe form for wild symbol. Thunderstruck 2 har et wild symbol, scatter symboler som gir gratis spinn runder på fire ulike nivåer og har også en tilfeldig bonusfunksjon. Med andre ord så er dette spillet fullpakket med spesialfunksjoner.
Spillets wild symbol er symbolet av spillets logo. Wild symbolet i Thunderstruck 2 fungerer slik det gjør i de fleste andre videoslot spill, symbolet kan erstatte alle andre symboler. En ekstra liten bonus på wild symbolet er det at alle gevinster med wild symbol i en kombinasjon blir doblet i verdi.
Scatter symbolet i spillet er symbolet av Thors hammer. Dette symbolet har en virkelig høy verdi i spillet da den har flere gode egenskaper som virkelig er positive for spillerne. Første goden man får av scatter symbolet er det at man får en myntgevinst når minst to scatter symboler dukker opp på skjermen. Andre goden man får er hvis det dukker opp minst 3 scatter symboler på skjermen så får man gratis spinn runder.
Første gangen man aktiverer gratis spinn runder så blir karakteren Valkyrie også aktivert og da får man 10 gratis spinn runder som også har med en multiplikasjons funksjon som ganger alle gevinster med 5. Spillet går også videre og etter femte gangen man aktiverer gratis spinn runder så blir hovedkarakteren i spillet Loke. Loke gir spilleren da 15 gratis spinn runder som også da har en spesiell wild symbol. Etter det så er det Odin og Loke som sammen deler ut gratis spinn runder som i tillegg har masse ulike ekstra funksjoner. Hvis man kommer så langt som til Thors free spinns så er man nesten garantert store gevinst beløp.
Den tilfeldige bonusfunksjonen i spillet heter Wildstorm og den innebærer rett og slett at opp til fem hjul når som helst kan bli dekket med wild symboler. Det er når denne funksjonen aktiveres at man får sjansen til å vinne maks gevinsten som ligger på 2,4 millioner mynter.
Sammendrag
Thunderstruck er en videslot som er fullpakket med ekstrafunksjoner. Det gjør at det hele tiden er noe nytt å oppdage. Det at gratis spinn rundene kan ha ekstreme gode fordeler gjør jo også at spenningen øker noe enormt i det man får aktivert sine første gratis runder. Legger man dette sammen med den tilfeldige bonusfunksjonen og den høye utbetalingsprosenten så går Thunderstruck 2 under kategorien som en utmerket videoslot som alle kasinointeresserte burde prøve minst en gang. Det er et spill som inneholder mye.