Tema og Grafikk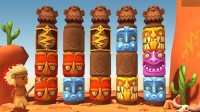 Som en kanskje har gjettet seg frem til ut fra spillets tittel så er temaet i Turning Totems nemlig totempåler, en totempåle er en påle som er laget i treverk og som prydes av mengder med utskjæringer som viser ulike figurer og mønster. Totempåler blir jo som regel forbundet med urbefolkningen i USA sine tradisjoner, men det finnes faktisk også totempåler i andre deler av verden også.
Om en har spilt noen av Thunderkick sine videoslots tidligere så er en kanskje klar over at de har en vane med å legge til et introduksjons videoklipp før en faktisk kommer frem til hvor hjulene i spillet blir presentert. Det er selvfølgelig heller ikke blitt gjort noen unntak for denne sloten Turning Totems heller, her så er virkelig introduksjons klippet utrolig godt laget, en blir nemlig tatt med på en flytur over et ørkenlandskap hvor en langt, langt borte kan se fem ulike hjul. Når denne flyturen er kommet til sin ende så presenteres da spilleren for de fem hjulene av en indianer som har på seg en virkelig imponerende fjærdrakt. Denne indianeren står så til venstre for hjulene når en holder på å spille og fungerer faktisk også litt som en maskot iløpet av spillets gang. Symbolene som er blitt valgt ut til dette spillet er da i form av ulike dyre- ansikt som er det som er vanlig å finne på totempåler, blant annet så kan en altså se ørn og øgler. En totempåle blir som regel satt opp når en høvding eller en annen viktig person er gått bort, tanken bak dette er da at de som lever skal påminnes den avdøde ved å se på denne totempålen, og på totempålene så er utskjæringene og mønsteret som regel i form av ulike dyr som kobles til høvdingens eller personen sin klan. Dessverre så tilbyr ikke dette spillet noen som helst form for bakgrunns musikk men når det kommer til lydeffektene som spilles iløpet av spillet så er det utrolig mange av disse og de er alle av høy kvalitet.
Innsatser og Alternativ
I denne videosloten som kommer ifra den svenske spillutvikleren Thunderkick, så er automaten satt sammen av hele 15 hjul, hvor hver eneste en består av en posisjon. Antallet ulike rader i spillet er tre stykker og en kan dessverre ikke justere på antallet spillelinjer som en skal spille med, heller ikke myntverdien i innsatsene eller innsatsnivået som en ønsker å spille med. Det som en derimot må gjøre før en setter igang å spinne hjulene er å velge den totale innsatsen som en ønsker, da kan en velge mellom 0, 10, 0, 50, 1, 2, 5, 10, 50, 100 og også 250 euro eller tilsvarende i annen valuta. Denne videosloten i likhet med mange andre ifra Thunderkick har en auto spin funksjon å by på, det gjør at en kan spille mellom 5 og 5000 spins uten engang å måtte klikke på noen knapper for å sette igang hjulene manuelt. Spillet gjør hele jobben for deg.
Effekter og Spesialsymboler
I Turning Totems så kan en spille med ulike bonus funksjoner som respins, freespins, multiplikatorer og noe som heter «Inwinity». Som en ser så har faktisk ikke Turning Totems noen Wild symboler, og heller ikke noen bonusspill, istedet så har Thunderkick laget disse unike freespins- og respins funksjonene. Dersom en tidligere har spilt enten Jack Hammer eller Jack Hammer to så er den sistnevnte funksjonen, nemlig respins ganske så like «Sticky Wins» som en finner i de to videoslotene. Respin funksjonen her aktiveres nemlig hver gang en får minimum fem like symboler som dukker opp samtidig på de ulike hjulene, når akkurat dette skjer så kommer disse 5 eller flere symbolene til å stoppe opp på sine posisjoner mens de andre posisjonene på hjulene kommer til å snurre igjen. Respin funksjonene fortsetter å gjenta seg om og om igjen frem til de ikke dukker opp enda noen symboler for å klare å gjennomføre gevinstlinjene. Så har en freespin funksjonen som virkelig er denne videoslotens høydepunkt, denne aktiveres når en får minimum seks eller flere «orm» eller «slange» symboler på hjulene. Dersom en får seks av disse symbolene så vinner en 12 freespins og deretter så får en enda to spins for hvert ekstra symbol som dukker opp, så en kan på det aller mest på hele 30 stykk freespins ut fra denne funksjonen alene. Inwinity funksjonene er koblet til freespins funksjonen, denne går ut på at spilleren, når alle freespins er over får enda en sjanse til å få en gevinst. Hjulene fortsetter nemlig å snurre om og om igjen helt til du får en siste gevinst.