Om spillet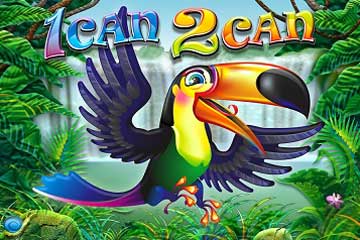 NextGen Gaming er spillutviklerselskapet som står bak spilleautomaten 1 Can 2 Can. Spilleautomaten stikker seg virkelig ut på markedet med sitt godt utviklede tema. Det skal mye til for å slå den sommerfølelsen man får når man spiller 1 Can 2 Can. Spillet har virkelig alt det man kan ønske seg når man tenker på en spilleautomat. Et tema som er utrolig godt utviklet, med klare og gode symboler, og selvsagt en mengde spesialfunksjoner som kan bidra til enda flere gevinster.
Spillest tema
Som nevnt er det sommeren som står i fokus i 1 Can 2 Can, så hvis man savner følelsen av sommer er det bare å sette i gang og prøve ut spillet. Følelsen vil da komme raskt tilbake. Det er en tukan som er hovedkarakteren gjennom hele spillet, og han har fått et litt rampete trekk. Omgivelsene rundt tukanen er tydelig satt til sommer og sydlige strøk, hvor man ser grønne frodige planter og vakre blomster, i tillegg til vakkert, klart vann. Temaet i spillet tar spilleren med på en reise gjennom jungelen som befinner seg på en vakker øy. Temaet er så godt presentert at man virkelig føler seg som en del av historien.
Grafikk og lyd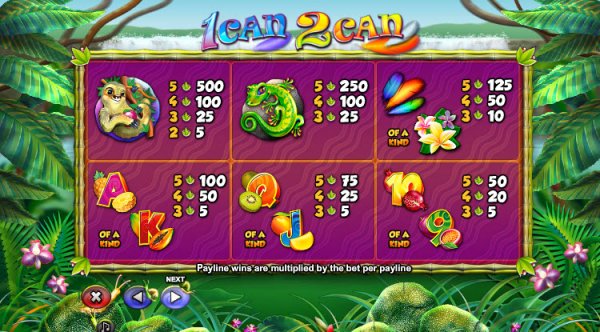 Grafikken i en spilleautomat er en utrolig viktig del av spilleopplevelsen. Både fordi det får frem spillets tema og fordi det setter standarden for hele opplevelsen man som spiller får når man spiller. Grafikken i 1 Can 2 Can er det lite å si på. Man skal rett og slett lete lenge for å finne en bedre grafikk i en spilleautomat. Bakgrunnen i spillet er også utrolig godt utviklet. Man kan skimte et fossefall som omringes av frodige grønne planter. Dette setter rammen for temaet i spillet. Det er tydelig at man befinner seg i en vakker jungel. Hovedkarakterene i spillet er også godt representert rundt hjulene og utformet i klare og vakre farger. På undersiden av hjulene finner man to snegler og på hver sin side av hjulene finner man de to tukanene, som altså er hovedkarakterene i spillet. Tukanene sitter rundt hjulene både for å følge med på spillet, men også for å hjelpe spilleren litt underveis. Dette er en artig animasjon utviklerne har lagt inn i spillet. Lydbildet som er lagt på spillet passer helt utmerket til tema. Bakgrunnsmusikken er nesten så man får lyst til å danse når man hører den og den skaper en perfekt stemning i spillet. I tillegg til denne musikken hører man flere ulike dyrelyder, som føles helt naturlig siden man tross alt befinner seg i en jungel. Det er rett og slett en helhet i spillet som gir en utrolig god spilleopplevelse.
Spille disse online casino
Spillets gang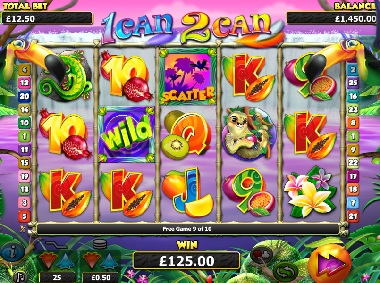 Det er noen ting som er greit å regulere før man begynner å spille. Innsatsnivået man spiller på er viktig for spilleopplevelsen i spillet. I 1 Can 2 Can finner man til sammen fem hjul, tre rader med symboler og totalt i spillet har man 25 innsatslinjer. Innsatslinjene er ikke faste. Det vil si at hvis man ønsker kan man regulere ned antallet. Det neste mans skal gjøre er å tilpasse innsatsen man ønsker å ha i spillet. I 1 Can 2 Can legger man innsatsen på hver aktive innsatslinje. Innsatsen regulerer man ved å bruke knappen man finner nederst på spilleskjermen. Man kan totalt ligge på en innsats mellom 0,25 euro og opp til 50 euro. Øverst på spilleskjermen finner man en oversikt over total innsats man har per runde.
Spesialfunksjoner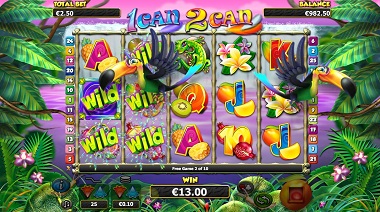 Det er en mengde ulike spesialfunksjoner i 1 Can 2 Can. Wildsymbolet er formet som en grønn tekst mot en lilla bakgrunn. Dette er spillets joker og kan erstatte alle andre symboler i spillet, bortsett fra scattersymbolet. Tukanene som sitter på hver sin side av spillet kan når som helst velge å plassere ut et wildsymbol på hjulene, i tillegg til at symbolene kan dukke opp når som helst i en runde. Scattersymbolet er formet som et vakkert bilde med flygende tukaner og palmer i bakgrunnen. Dette er symbolet som kan aktivere gratisspinnrundene i spillet. Man trenger en kombinasjon av minst tre slike symboler for å aktivere rundene. Man får tildelt maks ti gratisrunder og tukanene jobber da fortsatt med å plassere ut tilfeldige wildsymboler. På slutten av hver runde kan man velge å benytte seg av gamblefunksjonen. Her kan man velge å forsøke å doble gevinsten sin eller å firedoble den. Ønsker man å bruke gamblefunksjonen etter gratisrunder må man vente til alle rundene er brukt opp.