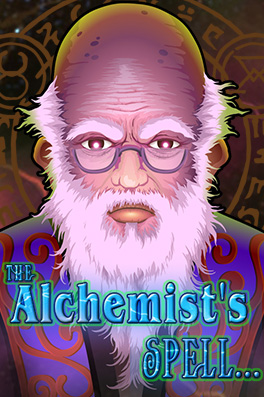 Når det kommer til Playtech og de ulike spilleautomatene som de utvikler, er forventingene vanligvis satt ganske høyt. Delvis er nok dette på grunn av de nye, kreative kinematiske funksjonene som spillutviklerne vanligvis kommer opp med. Med denne flotte spilleautomaten har de nok en gang bevist hva de kan få til, og spillerne som enda ikke har testet The Alchemists Spell kan bare glede seg. Alchemy, eller alkyimi på norsk, er middelalderens versjon av kjemi. Dette studiet ble ofte kombinert med såkalt magi og de gamle alkymistene mente for eksempel at de kunne gjøre om metall til gull og lage eliksirer for blant annet evig liv. Det er nettopp dette The Alchemists Spell handler om og her blir spillere tatt med inn i den flotte, magiske verdenen av alkymi. Utseende til denne spilleautomaten er ganske enkelt satt opp. Den har hverken noen avansert grafikk eller flotte videofunksjoner som man finner i de aller fleste andre moderne spilleautomater. The Alchemists Spell er med andre ord en veldig enkel automat og er satt sammen av de vanlige funksjonene. Det er heller ikke noe hokus pokus når det kommer til spillets ekstrafunksjoner. Spillerne kan likevel glede seg til spennende spesialfunksjoner sånn som tre ulike wildsymboler, scattersymboler, gratisspinnrunder og en rekke multiplikatorer.
Spillets oppsett, funksjoner og innsatsalternativ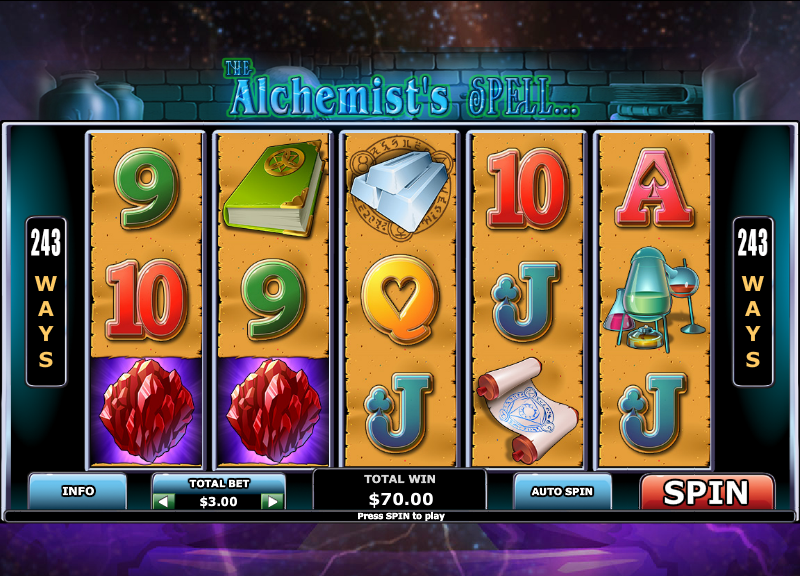 Når det kommer til spilleautomaten som ikke har de vanlige spillelinjene som man vanligvis finner i de fleste spill, er spillerne helt avhengig av hvordan minimums- og maksimumsinnsatsene er. The Alchemists Spell er et av disse spillene, den har nemlig ikke noen spillelinjer i det hele tatt og har i stedet fått 243 ulike måter spillerne kan vinne på. Spillet har blitt satt opp av fem spinnende hjul, tre rader med symbolene i spillet og deretter disse 243 ulike måtene spillerne kan få gevinster på. Når det kommer til innsatsalternativene i spillet kan som sagt ikke spillerne justere på noen spillelinjer, da det ikke finnes noen. I stedet kan de justere på innsatsen sin gjennom hvor mange mynter de vil satse per spinn. Når det kommer til The Alchemists Spell-spillet er minimumsinnsatsen på $ 0,30, mens maksimumsinnsatsen er utrolig høy og på hele $ 750. Med et tall som dette passer The Alchemists Spell helt ypperlig til storspillere, men likevel kan nybegynnere og spillerne som spiller med lavere innsatser fortsatt sette pris på spillet. Spillet har i tillegg til dette fått standardknappene som gjør at spillerne kan tilpasse spillet enda litt mer ut i fra egne behov. Blant annet finnes selvfølgelig autospinnfunksjonen som gjør at spillerne kan sette hele automaten på autopilot. Kanskje man gjør dette samtidig som man holder på med andre ting eller at man ønsker at det hele skal gå litt raskere. I tillegg finnes informasjonsknappen for utbetalingstabell og lignende, samt lydknappen som lar spillerne skru av eller på bakgrunnsmusikken.
Spesialsymboler og ekstrafunksjoner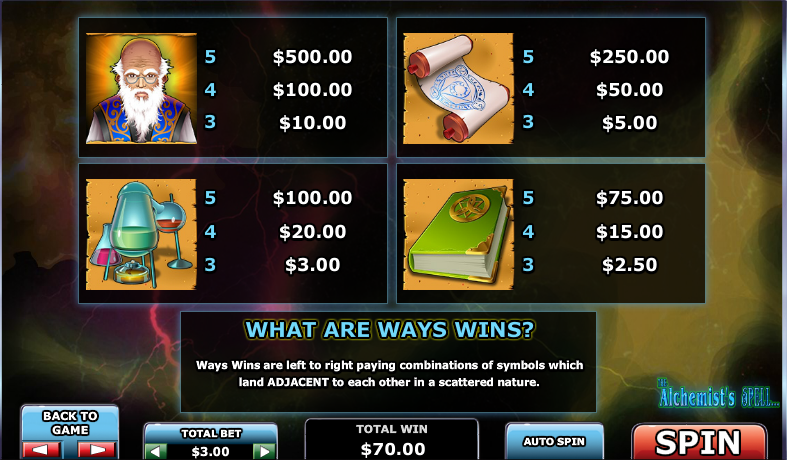 Spillet inneholder faktisk ingen ekstra bonusspill eller gamblefunksjoner, disse brukes vanligvis av spillerne for at de skal kunne øke sjansene for ekstra gevinster i spillet. Det er derimot ingen grunn til at spillerne skal fortvile, det finnes fortsatt en rekke spennende ekstrafunksjoner og spesialsymboler i spillet som de kan glede seg til. The Alchemists Spell inneholder nemlig tre ulike wildsymboler som består av en gullbarre, sølvbarre og bronsebarre. I tillegg til dette har spillet et scattersymbol som har blitt representert av røde krystaller. Wildsymbolene i spillet vil kunne erstatte alle andre symboler i spillet, med unntak av scattersymbolet. Dersom tre, fire eller fem scattersymboler dukker opp på hjulene vil spillerne motta en belønning i form av fem, ti eller 20 gratisspinnrunder. I løpet av disse gratisspinnrundene vil wildsymbolet i spillet ende opp som nøkkelen som kan føre spillerne til de virkelig store gevinstene. Dersom en bronsebarre dukker opp, vil spillerne bli belønnet med en multiplikator på 2 x gevinstene sine, bronsebarresymbolet kan derimot kun dukke opp på hjul to. Dersom sølvbarresymbolet dukker opp vil spillerne i stedet motta en multiplikator på 2 x gevinstene, og dette symbolet kan kun dukke opp på hjul tre. Gullbarresymbolet er selvfølgelig den som gir best gevinst og dersom den dukker opp vil de gi en multiplikator på 5 x. Dette symbolet kan kun dukke opp på hjul fire. Til slutt kan en kombinasjon av disse ulike wildsymbolene dukke opp, og om dette skjer vil spillerne motta en multiplikator som blir basert på multiplikatorene multiplisert med hverandre. For eksempel om alle tre wildsymbolene dukker opp vil multiplikatoren være på 30 x fordi det vil være 2 x, ganger 3 x, ganger 5 x.
Spille disse online casino