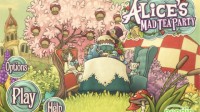 Alice i Eventyrland er et av de mest kjente barnbøkene gjennom historien. Det var forfatteren Lewis Carroll som i 1865 skrev boken om den lille jenta som het Alice, som en dag får øye på en liten hvit kanin som oppfører seg veldig underlig og ser ut til å ha veldig dårlig tid og skal rekke noe. Alice følger etter kaninen og ramler plutselig ned i et kaninhull i bakken, som ikke virker som om har noe ende på seg. Når hun endelig lander på beina igjen, etter det som virker som lang tid, venter et storslagent eventyr fylt med helt gale karakterer.
I videoautomaten Alice and the mad tea party får du mange nye bekjentskaper med mange av karakterene fra det fantastiske originale eventyret. Den gale hattemakeren er med, og også så klart den lille hvite kaninen. Spillet byr på en hel haug med spesialfunksjoner, som alle gir en ekstra dimensjon til spillet. Det regnes frem til hele 7 spesialfunksjoner, og det er virkelig ikke ille!
Grafikk og lyd
Når du først trykker i gang spillet og du ramler ned i det virtuelle kaninhullet, så blir du møtt av en innbydende grafikk som har varme og klare farger. Symbolene er formet til å forestille mange av de kjente karakterene i eventyret, men blir også blandet med ulike symboler fra vanlig kortstokk. Alle symbolene i spillet er animert når du vinner gevinster i løpet av spillet. Lyden som spilles når man vinner gevinster er også godt produsert og virker som om det kunne ha vært tatt rett ut av filmen om Alice og hennes eventyr.
Noe som er ganske så spesielt i dette spillet er at hjulene ikke tar opp så stor plass av spillskjermen. Det finnes veldig god plass til mye annet i spillskjermen også. Grunnen til dette viser seg å være at de som har produsert spillet, som heter Williams Interactive, har programmert inn mange ulike animasjoner i spillet, og disse tar en god del plass. Når du spiller kommer du til å få se bokens hovedkarakter spaserer forbi over hjulene i spillet. Når du aktiverer noen bonusfunksjoner som består av minispill, så vil også animasjonene vises der.
Innsatser i spillet
Alice og the mad tea party har 30 faste innsatslinjer. Disse er fordelt over 5 hjul og 3 rader med symboler. Du har to alternativer når du skal legge inn din innsats. Enten så kan spilleren velge noe av det som er forhåndsbestemt, eller så kan spilleren velge å tilpasse innsatsen etter ønske. Dette gjør man ved å velge hvor mye man ønsker å satse per linje. Laveste mulig innsats er 0,50 og høyeste er 100 euro. Det er verdt å notere seg at man alltid betaler en "funksjonsinnsats".
Effekter og spesialsymboler
Det første spesialsymbolet du treffer på i dette spillet er mest sannsynlig jokeren.  Den er formet som en sirlig tekst hvor det står nettopp WILD. Bortsett fra dette finnes det 2 andre spesialsymboler. Disse er merket med teksten ALICE og teksten FEATURE.
Det førstnevnte symbolet aktiverer funksjonen Super Mad Respin, i tillegg til at symbolet fungerer som spillest høyeste betalende symbol. Super Mad Respin aktiveres når hele det første hjulet dekkes av ALICE symboler. Når dette skjer får spilleren velge mellom 3 ulike tekanner. Bak tekannene skjuler det seg enten et antall repsins med antallet ALICE symboler som vises på hjulene eller så vil det stå END. Når re spinn blir aktivert og kjører så vil alle ALICE symboler fungere som joker symboler.
Feature symbolet aktiverer spillets gratis spinn funksjon. Dette gjøres når den dukker opp på hjul 1, 3 og 5. Man kan som spiller vinne opp til 14 gratis spinn med en multiplikator som kan gå opp til 3 ganger gevinsten.
Hver og en av de mest kjente karakterene fra eventyret har også sin egen bonus funksjon som aktiveres slumpmessig etter et spinn. Alice symbolet blir joker symboler opp til hjul 5. Chesire Cat symbolet gir opp til 15 symboler som blir joker symboler. Mad Hatter lar deg velge tekopp og få gevinster. Caterpillar gir ut tilfeldige multiplikator på opp til 15 ganger gevinsten, etter en vinnersnurr. Queen of Hearts lar deg velge ett kort som forvandler symboler på samme hjul til jokere.
Sammendrag
Alice and the mad tea party er et unikt spill, med spillskjermen som gir utrolig mye plass til animasjonene i spillet. Spillet har også en drøss med bonusfunksjoner. Dette er et spill med et godt kjent eventyr som base, og dette gir en bra videoslot og gir akkurat det det skal, nemlig å by på spennende spill.