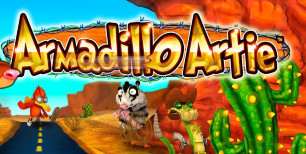 Armadillo Artie kommer selvfølgelig fra den populære tegneserien og han har dukket opp i flere sammenhenger allerede. Denne gangen er det spillutviklerne hos Novomatic som har utviklet en automat hvor Armadillo Artie har blitt hovedkarakteren. Temaet i spillet handler altså om denne søte skapningen og alle hans venner fra den ville vesten. Det er nok mange kasinospillere der ute som synes at de har møtt på denne karakteren før, og det er ikke bare fantasien som spiller et puss. De fleste vil nok kjenne igjen Armadillo Artie fra den første spilleautomaten i denne serien som ble lansert allerede i april 2013. Denne nye spilleautomaten går faktisk mye ut på det samme, den handler tross alt om akkurat samme karakter, men denne gangen har Greentube, som er ansvarlig for nettspillings- og underholdningsmarkedsdelen av spillet, sørget for at det hele blir enda litt mer visuelt tilfredsstillende. Alt i denne spilleautomaten har spillutviklerne jobbet ekstra mye med denne gangen, og det synes utrolig godt. Alt det visuelle, både grafikken, bakgrunnsbildet og symbolene på hjulene er mer gjennomført og flerdimensjonalt for at spillerne skal få en enda bedre opplevelse. Armadillo Artie og hans søte venner elsker når noen spiller denne automaten sammen med dem. Hvert eneste lille krypdyr er utrolig flink til noe helt spesielt, og viser mer enn gjerne frem akkurat dette, sammen med noen flotte gevinster som står på spill.
Spillets ulike funksjoner, innsatsalternativ og oppsett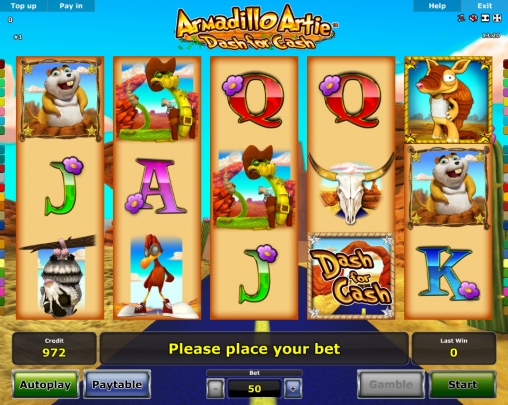 Denne gangen har Novomatic gitt spilleautomaten et standard oppsett, den er satt sammen av fem hjul som har tre rader med symboler og til sammen 25 spillelinjer. I tillegg til dette har spillutviklerne sørget for at det hele kun skal handle om underholdning og moro. Spillerne vil selv kunne justere på innsatsen per spillelinje, men man vil ikke kunne justere på antallet spillelinjer som skal aktiveres. Alle spillets 25 spillelinjer vil nemlig alltid være aktiverte. Med andre ord har spillerne én ting mindre som må avgjøres før de kan spinne i gang hjulene. For at spillerne skal få det aller meste ut av denne spilleautomaten bør de velge en innsats som de selv er komfortable med. Siden menyfeltet har blitt laget på en ganske minimalistisk og gjenkjennelig måte, er det enkelt for spillerne å gjøre nettopp dette. Spillerne vil kunne satse en rekke ulike verdier på spillelinjene, hvor minimumsinnsatsen er på $ 2 per spillelinje og maksinnsatsen er $ 400 per linje. Med tall som dette kan spillerne med andre ord satse helt opp til $ 10.000 per spinn. Derfor passer denne spilleautomaten helt perfekt for storspillere som virkelig vil satse stort og dermed også vinne stort. Armadillo Artie har i tillegg til dette fått en flott funksjon som nok passer de fleste spillere. Etter hvert gevinstgivende spinn vil gambleknappen lyse opp. Dette indikerer at spilleren kan gamble gevinsten sin og vinne enda mer. Dette kan spillerne faktisk gjøre flere ganger etter hverandre. Det eneste spillerne må gjøre er å krysse fingrene og gjette riktig farge på kortet. Om man klarer dette vil spilleren vinne det dobbelte av hva den originale gevinsten var.
Symboler, bonuser og gratisspinnrunder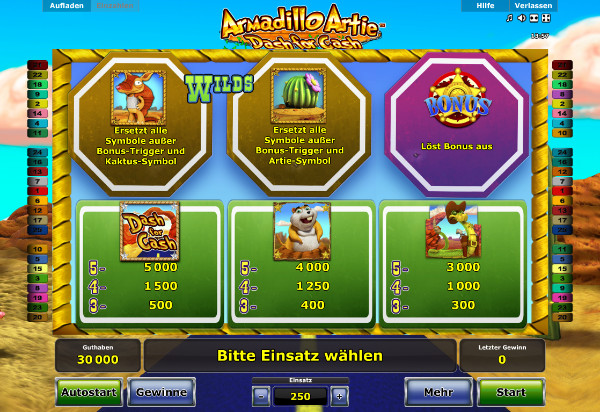 Siden dette er en spilleautomat som har fått et tema basert på dyr som befinner seg i den ville vesten og i ørkenen, er det selvfølgelig disse dyrene, i tillegg til en rekke andre gjenstander, som befinner seg på hjulene. Blant annet vil spillerne kunne se kaktus, slanger med cowboyhatt på, en flott fugl, hodeskallen til en okse, samt enda flere dyr og gjenstander. I tillegg til dette har Novomatic tatt i bruk de standardsymbolene fra klassiske spillekort, fra knekt til ess, som de har designet i flotte, sterke farger. Selvfølgelig stopper det ikke opp der, spillet har nemlig enda flere symboler og det er nemlig spillets spesialsymboler. Kaktussymbolet og Armadillo Artie er spillets to stilige wildsymboler, mens skiltet til sheriffen i byen er spillets bonussymbol. De to førstnevnte symbolene vil kun dukke opp på det midterste og det siste hjulet. Når de først dukker opp på den samme raden vil wild shapes-funksjonen bli aktivert og kaktusen i spillet vil vokse utrolig raskt. Alle symbolene som blir dekket av kaktusen når den vokser seg større vil på denne måten bli gjort om til wildsymboler. Dette spillet blir enda litt mer spennende når tre bonussymboler dukker opp på de tre midterste hjulene. Det som gjør denne bonusen litt uvanlig mot hva man vanligvis finner i automater er at før wild west-gratisspinnrundene i det hele tatt begynner vil spillerne kunne velge fra de fire ekstra bonusene.
Spille disse online casino