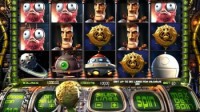 Klarer du å huske filmen Mars Attacks? Da kommer du automatisk til å kjenne igjen litt av historien i spillet Arrival. For eksempel så er hovedpersonen skurken "Brain" virkelig lik de grønne monstrene fra planeten Mars som invaderer jorden i storfilmen.
I spillet Arrival så savnes det wild symboler i hovedspillet og i spillet så finnes det heller ikke noe multiplikasjons funksjon. Dette spiller da til gjengjeld en ganske liten rolle når det finnes to skikkelig bra bonusspill, samt også et gratis spinn funksjon, der gevinstene kan virkelig bli astronomiske.
Tema, grafikk og lyd
Temaet i Arrival går ut på at det er to helter som går patrulje på jorden for å holde den trygg fra Aliens. Under en ekspedisjon så blir en av dem kidnappet og da blir livet på jorden virkelig i fare. Den utenomjordiske skapningen Brain har fått navnet mye på grunn av sin store skalle. Han er hjernen bak kidnappingen og kidnappingen er en del av en mye større plan. Og selvfølgelig er planen en ganske så ondskapsfull en. Heldigvis så er jo dette kun et spill, og Brain er på mange måter på spillerens side. Han fungerer for eksempel som spillets maskot og står og heier på spilleren når det blir vunnet gevinster.
Arrival er et meget godt utviklet spill og har en flott 3D grafikk og et bredt lydspekter. Hjulene i spillet er fylt med symboler som har med rommet og romkrig å gjøre. Det går heller egentlig ikke an å si noe negativt om grafikken og lyden. Det eneste man kan kanskje trekke litt ned på er det at Brain kan være litt vel masete med sine oppfordringer til å fortsette å spille hvis man bruker for lite tid mellom hver runde.
Innsatser
Betsoft har en slags standard når det kommer til innsatser og spillalternativ og i spillet Arrival så følger de sin standard til punkt og prikke. Spillet har fem hjul og tre rader av symboler. Det er hele 30 innsatslinjer. Myntverdien strekker seg fra 0,02 til 1 i kreditt og man kan velge alt fra 1 – 5 mynter i innsats per spinn. Hvis man spiller spillet i Euro så er laveste innsatsen man kan ha 0,60 og høyeste innsatsen er på 150 Euro. Her er det mye opp til enhver spiller hvor lite eller hvor mye man ønsker å satse.
Effekter og spesialsymboler
Dessverre så tilbyr ikke spillet Arrival verken wild symboler i hovedspillet eller noe multiplikasjons funksjon. Dette er så klart en bakdel av spillet, men det som veier veldig opp i Arrival er at det er to ulike bonusspill å prøve seg på, pluss også et utmerket gratis spinn spill.
Gratis spinn spillet blir aktivert når man får 3 Brain Aliens symboler spredt rundt på hjulene. Symbolene trenger altså ikke å være på samme hjul for at spillet skal bli aktivert. For hvert spinn så blir et av hjulene dekket med wild symboler, noe som da vil si at et helt hjul plutselig blir gjort om til jokere. I gratis spinn spillet så har man veldig gode sjanser til å ta hjem store gevinster. Funksjonen blir dessverre ikke aktivert så altfor ofte, men når den først blir det så kan man nesten regne med å få store belønninger.
Hvis man får 3 eller flere av symbolet av en strålepistol så blir UFO Click Me funksjonen aktivert. Her skal man helt enkelt klikke på UFO'n som dukker opp på skjermen, og da kan man ha sjansen til å få med seg noen bonus gevinster. Det kan plutselig dukke opp en tekst hvor det står "collect", istedenfor en gevinst symbol, dette betyr da at bonusspillet er avsluttet.
Det andre bonusspillet i Arrival blir aktivert når man får tre eller flere av jentesymbolet. Dette symbolet er bilde av den helten som har blitt kidnappet og som nå svever rundt i galaksen. Når dette bonusspillet blir aktivert så er oppgaven til spilleren slik at man skal hjelpe den andre helten til å prøve å redde ut den redde jenta fra den utenomjordiske skapningens klør. Hvis man klarer å hjelpe helten med dette så kan man ende opp med å få med seg ganske mange gode gevinster.
Sammendrag
Arrival er et utmerket videoslot spill. Den har tre bra spesial funksjoner og en ganske høy utbetalingsprosent. En ulempe er at gevinstene i hoveddelen i spillet er kanskje ikke så imponerende. Dette er nok veldig mye på grunn av at spillet ikke har noe wild symbol i hovedspillet. Men når det kommer til spillets utseende, grafikk og lyd så er det ingenting å klage på.