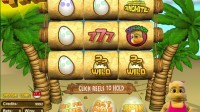 Spilleutvikleren Betsoft er fremfor alt kjent for å skape videoslots og arkadespill for kasinoer, med en 3D grafikk uten like, men en ekstremt høy oppløsning samt animasjoner som gjør utviklerne på Pixar og Disney grønne av misunnelse. Betsoft har likevel flere strenger i sin bue enn som så. Fra tid til annen slipper Betsoft litt enklere spilleautomater med ytterst ukompliserte spillideer. Back in Time er et bra eksempel på et slikt spill.
Formen på Back in Time er en klassisk spilleautomat med tre hjul og tre rader men når det kommer til funksjonen av spillet så er ikke Back in Time i nærheten av en klassisk spilleautomat. Det finnes for eksempel tre spesialfunksjoner i spillet. Det er ikke komplisert å spille Back in Time men man skal likevel ikke automatisk sammenligne dette spillet med fruktmaskinene kun fordi det er 3 rader og tre hjul med symboler.
Grafikk og lyd
I Back in Time så finner du ingen frukt symboler i spillet, og heller ikke noen BAR symboler, men det klassiske 7 tallet kjenner man fort igjen her. Bortsett fra den klassiske 7 symbolet så er symbolene i ulike former, i blant annet formen av dinosaur egg. Navnet på spillet indikerer til at spillet har et tema som omhandler fortiden og slik er det faktisk også. Back in Time går mange millioner år tilbake i tid, da store firfirsler terroriserte på alle kontinentene på jorden. Men, var virkelig alle disse store firfirslene så skumle som man skulle ha dem til? Betsoft gir uttrykk for at de ikke sitter igjen med den oppfatningen, hvertfall ikke når det kommer til den rosa kledde lille søte dinosauren som står animert i 3D til høyre for hjulene, og som følger godt med mens man spiller.
Grafikken er kanskje ikke innenfor den helt tradisjonelle om man husker på at Back in Time faktisk er en spilleautomat. Lydene i spillet kan derimot sies å være så klassiske som det går an å få det. Back in Time stiller også opp med bakgrunnsmusikk, noe som ikke akkurat er vanlig når det kommer til spilleautomater.
Innsatser
Back in Time har tre hjul og tre rader med symboler. Sammenlagt i spillet så finnes det 8 innsatslinjer, tre vannrette, tre loddrette og to diagonale. I Back in Time så kan man ikke velge hvor mange innsatslinjer som skal være aktive, her spilles det med alle aktive i hver rund. Derimot så kan man som spiller velge myntverdien man ønsker å spille med, og også hvor mye man ønsker å satse på hver av innsatslinjene. Det laveste man kan satse per spill er 0,16 euro og det høyeste man kan satse per spill er 40 euro.
Effekter og spesialsymboler
Back in Time spillet har tre spesialfunksjoner. Det ene er wild symbolet, det andre er et bonusspill og den tredje er en funksjon som gir spilleren muligheten til å låse fast en eller flere posisjoner på hjulene.
Wild symbolet i Back in Time fungerer slik som de aller fleste andre wild symboler. Symbolet kan erstatte alle andre typer symboler, og med dette så er wild symbolet med på å øke vinnersjansene. Wild symbolet i Back in Time er symbolet av en dinosaur egg som har teksten wild over seg, og også 2 spørsmålstegn som stikker opp av egget.
Bonusspillet i Back in Time har en ganske merkelig historie men selve aktiveringen av spillet har ingen stor komplisert historie bak seg. Hver gang det dukker opp et bonussymbol så kommer den søte dinosauren til høyre for hjulene å plukke opp symbolet. Når dinosauren har fått plukket opp tre slike symboler så får spilleren muligheten til å bruke disse symbolene for å forstørre hjulene og gjennom det prøve å få tre like symboler. Hvis spilleren lykkes med dette så kan det bli delt ut hele 200 mynter i gevinst. Hvis man ikke har så flaks og kun får to like symboler, så vinner man likevel 25 mynter. Bonussymbolet i spillet er symbolet av tre røde steiner.
Hold funksjonen i spillet er rett og slett genialt. Det å kunne låse symboler fast på hjulene er vel ikke akkurat en nyhet men i akkurat dette spillet så er det jo faktisk kun 9 posisjoner, og mange av innsatslinjene går jo i hverandre, så sjansen for å vinne en god gevinst på en re spinn er ganske så stor. Hvis man under en runde får to eller flere wild symboler på hjulene så bør man virkelig vurdere å låse dem fast og snurre en gang til.