Grafikk og Lyd
Her har vi gleden av å presentere en videoslot som kommer ifra Betsoft, hvor det sorte gullet, nemlig oljen, er i fokus i spillet. Det er derimot ikke den moderne oljeindustrien det er snakk om her, det er nemlig det gamle «olje-rushet» som er blitt valgt til å være historien bak dette utrolig underholdende spillet. Oljekongen som går rundt med en Stetsonhatt vel plassert på hodet er mannen som har fått hovedrollen i denne video sloten, man kan se ham med en gang i spillet for han sitter trygt oppå sin hest til venstre for spillets hjul. Han er også såklart blitt animert i 3D, for det er jo tross alt Betsoft som står bak dette spillet, og de er etterhvert blitt kjent for sin flotte grafikk og sine fine animasjoner. Når det gjelder de ulike symbolene som er blitt valgt ut til å pryde hjulene så kan en blant annet se oljetønner, penger og «forbudt»-skilt i tillegg til et par andre ting. Absolutt alt av grafikken gjennom hele videosloten er i 3D, og når en ser på alle detaljene som viser at det er blitt lagt utrolig mye arbeid bak spillet, så imponerer også dette stort. I tillegg til dette så har også hvert eneste symbol på hjulene fått sin helt egen animasjon som vises eller spilles av når en har klart å snurre til seg en gevinst. Så kommer vi til lyden i Black Gold, og Betsoft har virkelig ikke skuffet her heller, og en kan ikke annet enn å bli imponert. Her så har de altså tatt i bruk opptil flere ulike bakgrunnssanger med Westerninspirert musikk, og i tillegg så har de et forbløffende antall varierende lydeffekter som også jevnlig dukker opp utover i spillet. Alt dette er selvfølgelig med på å gi hele spillfølelsen det lille ekstra som ethvert videoslot bør ha.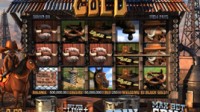 Innsatser og Alternativ
Selve hovedspillet i Black Gold består av 30 ulike spillelinjer, og om en har spilt på noen av Betsoft sine slots før så ser en kanskje at dette er et antall som går igjen hos dem. Som spiller så kan man selv velge helt fritt hvor mange av disse spillelinjene som en ønsker å spille med eller aktivere, og en kan i tillegg velge helt fritt når det gjelder myntverdien. Myntverdien i denne sloten går helt fra 0, 02 og opp til 1 i kreditt, og når en kan velge fritt blant dette og også velge hvor mange mynter en ønsker å satse på spillet per linje, så gir dette en store muligheter. Da har en nemlig mulighet til å ha en maksimums innsats på 150 euro eller tilsvarende i annen valuta, mens det aller laveste av innsats en kan ha er 0, 60 euro – med andre ord så er det mange muligheter her for lommebøker av alle størrelser. Den unike respin-funksjonen starter når en treffer en kombinasjon og deretter begynner det midterste hjulet å snurre for å gi deg enda en sjanse på å vinne en gevinst.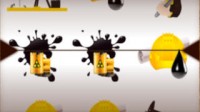 Spesialsymboler og Effekter
En vil raskt oppdage i denne videosloten at den byr på en rekke ulike spesialfunksjoner, blant annet free spins modus, to ulike og underholdende bonus spill, og også en helt unik funksjon hvor det midterste hjulet snurrer en ekstra gang samtidig som en multiplikator blir aktivert. Det er kanskje noen som vil tenke her at det eneste Black Gold sloten faktisk mangler er Wild symboler, men dersom en setter igang å spiller på denne sloten vil en raskt oppdage at dette absolutt ikke utgjør noe savn i det hele tatt. Som sagt så har altså Black Gold to ulike bonus funksjoner, free spins modus og også en re-spin funksjon som er litt utenom det vanlige – dersom en sammenligner med mange andre videoslots så har dette et utmerket utvalg av ulike spesialfunksjoner og effekter. Det ene av de to bonusfunksjonene blir aktivert når minimum tre av «borr-symbolene» dukker opp spredt rundt på hjulene, da får en trykke på en av disse symbolene for å avdekke en gevinst. Det er en ganske enkel bonusfunksjon, men likevel en underholdende og potensielt veldig givende funksjon. Det andre av de to bonus spillene går under navnet «Higher or Lower», det er en versjon av det klassiske kasinospillet en kanskje har hørt om – nemlig Hi/Lo. Denne dukker opp på i et eget vindu, og deretter så skal en gjette om neste tall blir høyere eller lavere enn tallet som blir vist på skjermen. Dersom en klarer fire rette eller fire feil så avsluttes bonusspillet, og så blir selvfølgelig dine gevinster lagt til i kassen.