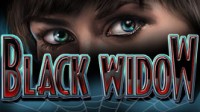 Tema og grafikk
Denne gangen så har utviklerne hos IGT kommer med en videoslot hvor temaet handler om den verdenskjente sorte enke, en av de aller giftigste edderkoppene på jorden. For de aller fleste edderkoppene som finnes er jo helt ufarlige, men Black Widow er absolutt ikke det, dersom en blir bitt så behøver ikke det nødvendigvis å bety at en kommer til å dø – men en kommer til å bli veldig, veldig dårlig. I denne videosloten så er derimot den sorte enken i form av en mystisk dame, så dette er enkelt og greit sagt en utrolig original og unik videoslot med et annerledes tema. Denne kvinnen som har fått hovedrollen i Black Widow har heller ikke bare noe mystisk og ondsinnet i blikket, i tillegg til det er hun nemlig utstyrt med en flaske med gift i hendene. I tillegg til det vil en se at alle de høye pokerkort symbolene, fra 10eren til esset, er utstyrt med potensielle mordvåpen som ulike tabletter, lysestaker og også jernrør. Heldigvis så har også IGT bestemt seg for å sørge for at lyden, bakgrunnsmusikken og lydeffektene i hele spillet er like bra gjennomført og selvfølgelig også like originalt som selve temaet. Det spesielle er at bakgrunnsmusikken kan minne ganske mye om den innledende musikken til kultserien Twin Peaks, som da også er med på å gi den ganske så mystiske følelsen rundt det hele.
Innsatser og alternativer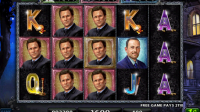 Denne videosloten fra IGT er bygd opp av fem ulike hjul som har til sammen 40 ulike spillelinjer og tre rader, og i denne sloten så er linjene faste, og de er generelt ikke trykket inn på sidene av hjulene. Dessverre så kan en heller ikke velge myntverdien her separat for innsatsnivået, bortsett fra det at en kan velge innsatsen en skal foreta per linje før en i det hele tatt setter hjulene igang for å spinne. En kan gå helt ifra lave 0, 10 euro som innsats og opp til 5 euro, noe som gir det aller laveste innsatsen på 0, 40 euro og det aller høyeste 200 euro. IGT har også utstyrt denne videosloten med den populære funksjonen «autospin», så med denne funksjonen kan en altså spille opp til 50 spins helt automatiskt og bare lene seg behagelig tilbake mens spillet gjør jobben for deg.
Spesialsymboler og effekter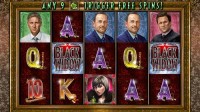 I dette fantastiske og unike videosloten så er det heller ikke mangel på ulike bonusfunksjoner, effekter og spesialsymboler for å holde interessen igang. På samme måte som temaet til hele spillet er også effektene og bonusfunksjonene her også ganske så unike, en kan blant annet finne stablede symboler – og også en funksjon hvor en ved å samle på ulike symboler kan stikke av med en gevinst på hele 1000 ganger innsatsen en hadde! I tillegg til alt dette har også Black Widow to ulike spesialsymboler som en må holde utkikk etter; et wild symbol og også et scatter symbol. Dette wild symbolet viser spillets «logo», og det som er litt spesielt og, nok en gang, unikt med dette symbolet er at symbolet erstatter de lavt betalende pokersymbolene – og det er jo absolutt ikke noe man kan klage over. Så har vi scatter symbolet som er i form av en giftflaske, og dersom en spinner igang hjulene og dette symbolet dukker opp på alle posisjonene på både hjul 2, hjul 3 og også hjul 4 så aktiveres syv free spins. Selvføgelig så er det også mulig å reaktivere free spin-modus, og dersom en i tillegg har flaksen med seg, kan en faktisk ende opp med å få spille opp til 98 free spins etter hverandre. Når en holder på å spille i dette free spin-moduset, får en dessverre ingen multiplikatorer på sine gevinster, men en har derimot muligheten til å stikke av med noen fine bonus gevinster istedet. Dersom en av herre- eller dame- symbolene skulle dukke opp på midterste posisjonene på det midterste hjulet så kommer en både til å stikke av med en gevinst og samtidig øke sjansene for å stikke av med en enda større gevinst i løpet av neste spin. En kan faktisk vinne opp til 1000 ganger i løpet av denne free spin moduset. En tenker kanskje her at det skal godt gjøres å få hele ni scatter symboler på hjulene samtidig, men tvert imot – med Black Widow sin fantastiske funksjon som IGT faktisk også har patent på, nemlig Super Stacks, så gjør dette at minimum to av hjulene alltid kommer til å dekkes av stablede symboler.