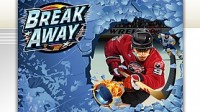 Grafikk og tema
Her så har Microgaming bestemt seg for å gå for en sesongbasert videoslot, disse finnes det jo som de fleste spillerne vet ikke så mange av, men her har de gjort et unntak med videosloten Break Away. Denne slotmaskinen har fått et tema som handler om ishockey, og det er nettopp dette som menes med en sesongbasert videoslot. En kan jo selvfølgelig spille på denne videosloten hele året, men det er kanskje ikke en videoslot med ishockey som tema som frister mest midt på sommeren – den frister derimot nok ganske så mye når en er inne i sesongen for kamper mellom ulike klubber. Dersom en har spilt ishockey før eller ihvertfall sett på en kamp, enten det har vært live eller på tv, så vet en at ishockey er en utrolig fartsfylt sport med massevis av action, og akkurat dette har Microgaming virkelig lyktes i å gjenskape i Break Away. En finner den samme intense følelsen i denne videosloten som en finner når man er tilstede på en ekte ishockey kamp. Men om man ser på grafikken som er blitt brukt til hjulene og symbolene i hovedelen av spillet, så er det derimot ikke helt på topp og kan kanskje bli sett på som litt uferdig.
Når en derimot spiller videre og får se de ulike animasjonene i spillet så er det absolutt ingenting å klage over der, og samtidig så må en virkelig hylle Microgaming for at de ikke har valgt å gå den enkleste veien når det kommer til spillets symboler. Absolutt alle symbolene som er blitt valgt ut til sloten er enten i form av ulike hockeyspillere eller av ulike ting som en forbinder med sporten. Det finnes altså ingen av de standard kortsymbolene i denne videosloten, noe de aller fleste vil si seg enige i er en bra ting. Lydbildet i denne videosloten er det heller ingenting å klage over, verken når det kommer til lydnivået, bakgrunnsmusikken eller lydeffektene som dukker opp her og der. Når en spiller kan en høre i bakgrunnen en sang i høyt tempo med ulike innslag av lyd fra en hockeykamp, og når en setter igang hjulene kan en høre lyden av en puck som blir slått av en spiller.
Innsatser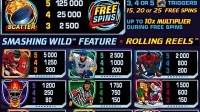 Denne videosloten har blitt bygd opp av fem hjul og har tre rader med symboler, altså en ganske så standard og helt vanlig oppbyggingsmodell for en videoslot. Men når en da tar en titt på antall spillelinjer så har Microgaming valgt å gå litt utenom det som er vanlig: En videoslot pleier som regel å ha et sted mellom 20 og 40 spillelinjer. Her har Microgaming istedet benyttet en ny funksjon som gjør at Break Away har hele 243 ulike måter å vinne på, og med denne funksjonen så behøver en altså ikke å bry seg om spillelinjene i det hele tatt. Dersom en får opp tre eller flere av det samme symbolet på hjul inntil hverandre og om det starter fra venstre og går mot høyre så betyr det at en har fått en gevinst, enkelt og greit. Det at det er 243 ulike måter å vinne på betyr heller heldigvis ikke at en behøver å satse 243 mynter. I stedet er innsatsen allerede forhåndsbestemt til å være på 50 linjer, med en myntverdi som kan varieres mellom 0, 01 og 0, 10 euro, sammen med innsatsnivåer som er mellom 1 – 10 euro, så kan en satse alt mellom 0, 50 og oppover til 50 euro.
Spesialsymboler og effekter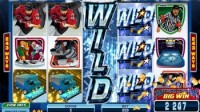 Microgaming skuffer ikke i denne sloten når det gjelder spesialeffekter, symboler og funksjoner – de har nemlig satt inn fem ulike spesialfunksjoner i Break Away. Her finner en altså to ulike wild-symboler, scatter symboler, free spins og også «collapsing wilds». Det ene av de to wild-symbolene er i form av logoen for hele spillet, og det som er unikt med dette symbolet er at den alltid dukker opp stablet på hjulene. Dersom man en dag virkelig har hellet med seg, så får en to eller kanskje tre hjul som blir helt dekket av wild-symboler, disse kan altså dukke opp på hjulene 3, 4 og 5. Det andre av de to wild-symbolene aktiveres derimot helt tilfeldig, når en hockeyspiller bestemmer seg for å gå til angrep på et hjul. Når dette skjer så blir et helt hjul dekket av wild-symboler, dette kan altså skje på hjul 2, 3 og 4. Med denne funksjonen er en faktisk også garantert en gevinst. Scatter-symbolet i dette spillet er en brennende puck, og dersom en får tre eller flere av disse så får en utbetalt en ganske så stor gevinst i tillegg til free spins.