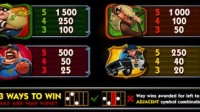 Mange videoautomater handler faktisk om bankran, der mer eller mindre vellykkede skurker prøver seg på det store kuppet. I den virkelige verden blir forbrytelser straffet, og det lønner seg å holde seg på den smale sti. Forbrytelser lønner seg aldri, så sant man da ikke spiller på en bankranerslot. Det aller beste med å holde seg til oppdiktede ran i spilleautomatverdenen, er vel at man ikke risikerer at politiet banker på døra.
Bust the Bank er laget av spillutviklerne Microgaming, og tilbyr en fartsfylt spilleopplevelse og mange spesialinnslag. Historien i spillet handler om de to bankranerne Larry og Bob, som prøver å sprenge bankhvelvet, og komme seg vekk med pengene før politiet kommer. Microgaming er en renommert spillutvikler med lang erfaring. De vet hva spillerne liker, og har laget mange gode spill gjennom årene.
Grafikk og lydeffekter
Microgamings spillutviklere har virkelig lekt seg da de laget dette spillet. Symbolene er morsomt tegnet, og er en slags karikaturtegninger av de to ranerne og to politifolk som er på jakt etter dem. Animasjonene er kjempefine og morsomme. Når du får en vinnerkombinasjon med en av ranerne, kommer du sikkert til å le av animasjonene som dukker opp.
Bakgrunnsmusikken er sprudlende og underholdende. Den kan minne deg litt om musikken i Olsenbanden eller lignende filmer. Lydeffektene er like morsomme som animasjonene. Når du vinner, kommer du til å merke det. Lydeffektene er jo alltid viktige for stemningen i en spilleautomat, og her er de godt laget, og tilpasset spillet.
Innsatser og utbetalinger
Bust the Bank har fem hjul med tre rader. Den har ingen innsatslinjer, men har i stedet 243 måter å vinne på. For å vinne, må du ha minst tre like symboler på tre etterfølgende hjul, fra venstre mot høyre. Myntverdien kan stilles fra 0,01 til 1, og du velger antall mynter per linje (som ganges med 30). Minsteinnsatsen er 0,30 euro, og maksimumsinnsatsen er 300 euro. Dette er altså en automat for enhver lommebok.
Den lubne raneren gir de høyeste utbetalingene. Fem like av dette symbolet gir deg 1500 mynter. Fire like gir 250 mynter, og tre like gir 100 mynter. Den tynne raneren gir deg 1000 mynter for fem like, 100 mynter for fire like og 50 mynter for tre like. Den lubne konstabelen som står og skriker, gir deg 500 mynter for fem like, 50 mynter for fire like og 25 mynter for tre like. Konstabelen i bilen gir 250 mynter for fem like, 40 mynter for fire like og 20 mynter for tre like.
Andre symboler som dukker opp er penger, en pengetransportbil, en klokke og en politihund. For å se hvilke vinnerkombinasjoner som finnes, og hva de er verdt, kan du lese spillets utbetalingstabell. Der finner du en komplett oversikt.
Spesialinnslag og bonuser
Det er mange spesialinnslag i Bust the Bank, og alle er gode. Spesialinnslagene er basert på spillets tema, og gevinstene man kan vinne, er veldig store.
De to bonusspillene heter Safe Bonus og Piggy Bank Bonus. Bonusspillene blir aktivert helt tilfeldig, og gevinstene man kan få er også tilfeldige. I tillegg kan man vinne gratisspinn ved å få tre eller flere spredere. Man vinner åtte gratisspinn. Når man spiller med gratisspinn, er hjul 1 og 5 wildhjul. Det gir deg ekstra gode vinnermuligheter. Hvis man får spredere mens man spiller med gratisspinn, vinner man et nytt gratisspinn for hver spreder.
Sprederne danner også egne vinnerkombinasjoner. Fem spredere på rad gir deg 1500 mynter, fire gir deg 300 mynter, og tre spredere på rad gir deg 60 mynter. Spillets wildsymboler dukker opp ofte, og fullfører vinnerkombinasjoner for deg.
Oppsummering
Bust the Bank handler om kriminalitet og lovbrudd, men det er lett å bli glad i Larry og Bob. De ser verken slemme eller ondskapsfulle ut, heller sympatiske. De deler også byttet med deg, gjennom å gi deg fine gevinster, så kanskje du kommer til å like dem. Jevnlige utbetalinger og en maksimumsgevinst på 15 000 euro er også fristende, og gjør denne automaten til en sikker vinner.
Spillet har ingen progressiv jackpot, og utbetalingsprosenten er ikke oppgitt. Bust the Bank har et fint tema, og de fargerike og morsomme symbolene er fengende. Man blir i godt humør av å spille dette spillet. Underholdningsverdien er høy, og det er jo nettopp underholdningen som er det viktigste når man spiller videoautomater. Du vil like dette spillet, enten du spiller med store beløp, eller bare koser deg med spill for småpenger. Hvorfor ikke se om Larry og Bob har noen penger å gi deg?