Tema og grafikk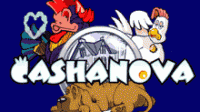 Spillutviklerne på Microgaming var i en periode veldig opptatt av å lage morsomme spilleautomater med kule funksjoner og en positivt ladet atmosfære. Cashanova er et fabelaktig eksempel på et vellagd, morsomt spill formet som en tegneserie. Vi får følge den evig single hanen Roger som lever livet fri og frank fra hverdagslige problemer. Han tjener penger, nyter den single tilværelsen og er kongen på farmen. Spilleautomater er full av kule animasjoner, og har to flotte bonusrunder som garantert vil få deg til å trekke på smilebåndet. Symbolene består av utvalgte scener fra ungkaren Rogers liv – her vil du se blant annet både sexy høner og storslåtte hønsehus, fontener, champagneglass og en tobakkpipe med Rogers initialer på. Microgaming har gjort seg store på å gjøre spilleautomaene sine perfekt tilpasset det temaet de velger, og her har de igjen gjort en meget god jobb. Fargene er sterke og fine, men samtidig ikke skjærende for øynene. Bakgrunnsmusikken setter stemningen mens de små animasjonene får det til å virke som at spilleautomaten lever sitt eget liv uavhengig av oss spillere. Cashanova er en morsom maskin med godt humør og grafikk som lever opp til nivået man forventer av giganten Microgaming. Kanskje ikke underlig at denne automaten har hatt braksuksess! Den smarte miksen av ordene Cash og Casanova gir deg et raskt innblikk i hva Cashanova handler om. Hanen Roger er alltid på utkikk etter raske penger som han kan bruke på å sjarmere hønene i senk. Han deler gjerne inntektene sine med deg om du hjelper ham på veien – dermed er det i din interesse å holde Roger fri og frank!
Gevinster og bonuser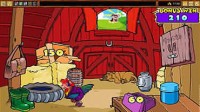 Cashanova er en kul maskin å teste. Her får man sette hellet på prøve samtidig som man har det moro og kommer i godt humør. Cashanova har alt av hva vi spillere er vant til når det gjelder funksjoner og bonuser. Her finner du både wild-symboler, scattere og to morsomme bonusspill som kan gi store gevinster. Wild-symbolet er selve hovedpersonen i tegneserien – Roger Rooster, den evig single hanen. Han forvandler seg til alle andre symboler og hjelper deg med å få inn de riktige kombinasjonene – er du heldig nok til å få frem 5 symboler med ungkaren, får du 15.000 mynter rett inn på spillkontoen – og så høye gevinster skal man lete lenge etter! Cashanova deler også ut gratisspinn rimelig hyppig. Treffer du minst 3 symboler med teksten "Free Range", får du 15 gratisspinn. Da kan man lene seg tilbake og se hjulene spinne uten noen anstrengelse – vinner du, ganges gevinsten med fem, noe som kan gi veldig store utbetalinger med de riktige symbolene på rett sted. Deretter har man Barn Bonus, altså låvebonus, som aktiveres når man får frem tre nøkkelsymboler. Hanen Roger glemmer nemlig stadig vekk nøkkelen til hønsehuset sitt, så det blir opp til deg å hjelpe ham med letingen. Hver gang du velger et nytt sted å lete på, får du en gevinst. Finner du nøkkelen, startes det andre bonusspillet – her kan du ta hjem heftige premier! Nøkkelen leder til et rom der den sexy høna Henrietta ligger og slæfer på sofaen – dryss henne ned med gaver og vinn hennes hjerte, så vil du bli godt belønnet.
Alt i alt

Cashanova er enda en morsom spilleautomat fra Microgaming med tegneserietema. Den har fine farger, morsomme symboler, passende bakgrunnsmusikk og hyppige gevinster. Med to kule bonusspill, gratisspinn og Wild-symbolet som generer stadige utbetalinger, er Cashanova virkelig verdt å bruke litt tid på. Siden det er gigantene Microgaming som har utviklet spillet, er man garantert mange timers moro – og samtidig er spilleautomaten å finne på alle nettkasinoer med selvrespekt. Hvem vil vel ikke inkludere slike kule spill fra Microgaming i utvalget sitt? Det savnes en progressiv jackpot, men den maksimale gevinsten man kan få ut av ett eneste spinn er 750.000 mynter – det betyr at man kan bli millionær på to-tre spinn. Ikke dårlig for en tegneserie, eller hva? Det er kun 30 gevinstlinjer på Cashanova, noe som gjør det enkelt å følge med på symbolene og de ulike kombinasjonene. Grafikken er fin og temaet er veldig godt lagd gjennom hele spillet, noe Microgaming er veldig bra på. Noen vil mene at Cashanova er barnslig, men er det ikke deilig å komme i kontakt med barnet dypt i deg fra tid til annen? Noen timer foran Cashanova vil løfte på humøret, dermed er det en flott maskin som passer fint for både unge og eldre spillere. Alt i alt er det ingen grunn til å ikke teste ut Cashanova, ihvertfall om du har fått en fin innskuddsbonus fra nettkasinoet du velger.