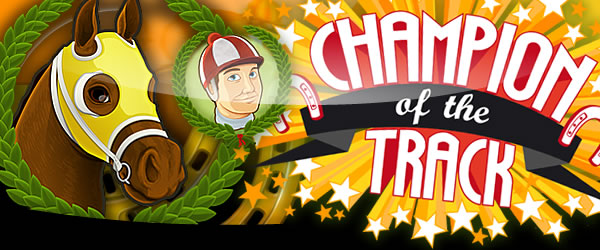 Champion of the Track er en 5-hjuls spilleautomat med 30 innsatslinjer, utviklet av Net Entertainment, en av de ledende leverandørene innen casinospill. Spillet har en wild-funksjon, en scatter-funksjon, og bonusfunksjoner som gratissnurr, en multiplikator, et bonusspill med hesteløp, og en unik karriere-funksjon. Spillet har hesteløp som tema. Symboler som forekommer er en avis (wild-symbolet), en hest (scatter-symbolet), et trofé (bonussymbolet), en andreplassmedalje, en hestesko, en stoppeklokke, en kikkert, og jockeyer i forskjellige farger (gul, rød, blå og grønn). Rundt hjulene kan du se en rad med ruter, og du har en spillbrikke som forflytter seg på denne raden etter hvert som du vinner andre bonuser.
Spillets detaljer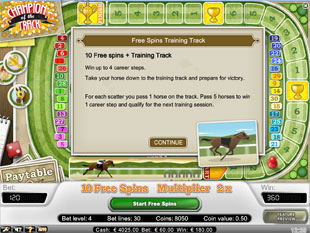 Myntverdien på Champion of the Track kan justeres, og du kan velge forskjellige verdier mellom $0,01 cent og $0,50 (eller tilsvarende). Du kan aktivere mellom 1 og 30 innsatslinjer, og du kan satse 1-4 mynter per linje. Du kan altså satse hva som helst mellom én eneste cent og opp til 60 dollar på hver snurr (tilsvarende rundt 360 kroner). Spillet har en nokså lav innsatsrekkevidde som passer for low rollers. Det finnes en max bet-knapp som lar deg automatisk satse den høyest mulige innsatsen. Du kan stoppe hjulene manuelt ved å trykke på spin-knappen mens hjulene snurrer. Dermed har du muligheten til å prøve å få de symbolene du vil ha på rett plass, men det kan være veldig utfordrende og vanskelig å få til. Spillet har også en autospinn-knapp som lar deg automatisk snurre et visst antall ganger. Du kan velge forskjellige antall autosnurr, mellom 10 og 1.000. Du kan også velge å la autosnurrene fortsette helt til du får en vinnende kombinasjon av symboler, eller til en gevinst overstiger et beløp som du definerer. Du kan også la autospinnene stoppe når du vinner gratissnurr eller jackpot. Autosnurrene kan stoppes til enhver tid ved å trykke på spinnknappen. Det mest utbetalende symbolet på Champion of the Track er wild-symbolet, som er i form av en avis. Får du fem av disse på en aktiv innsatslinje, så vinner du en jackpot på 10 000 mynter! Avisen fungerer som wild-symbol og kan erstatte alle andre symboler, med unntak av scatter-symboler og bonussymboler. Det nest mest utbetalende symbolet er andreplassmedaljen, som kan gi deg opp til 1 000 mynter.
Bonusfunksjoner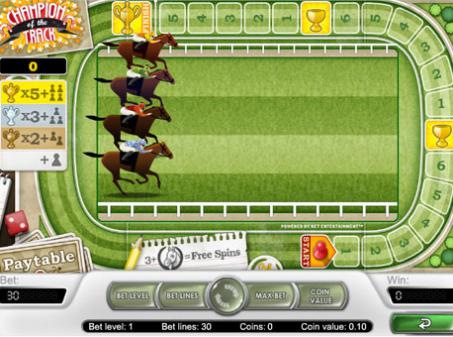 Hesten fungerer som scatter-symbol. Du kan vinne en premie hvis du får minst to av disse symbolene hvor som helst på hjulene. Du får gevinst uansett om innsatslinjene de dukker opp på er aktive eller ikke. Denne premien kan være på opp til hundre ganger innsatsen. Får du tre eller flere scatter-symboler, så får du 10 gratissnurr med en 2x multiplikator som fordobler gevinstene dine. Når dette skjer aktiverer du også karrierefunksjonen. For hvert scatter-symbol du får med gratissnurrene dine, passerer du en hest i et hesteløp. Klarer du å passere fem hester før du er tom for gratissnurr, så flytter spillbrikken på siden av hjulene seg ett steg framover på karriere-veien. Skjer dette, så mister du resten av gratissnurrene, men blir kompensert med en pengegevinst tilsvarende antall gratissnurr du hadde igjen.
Spillets gang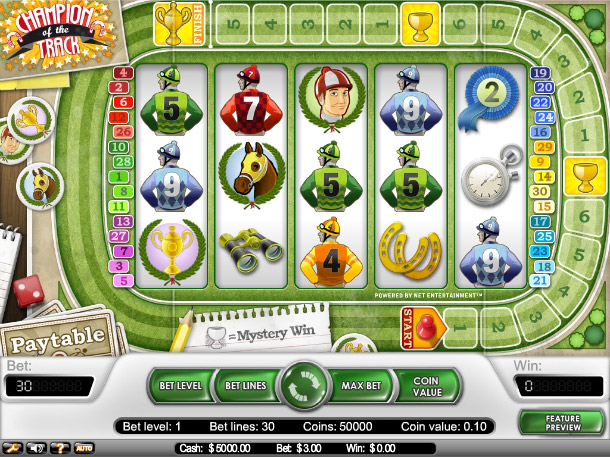 Hvis du får tre eller flere trofeer på rad på en aktiv innsatslinje, så aktiveres bonusspillet. Her må du velge en av fire jockeyer. Jockeyen du velger må løpe mot de andre tre. Hvem som vinner er helt tilfeldig. Kommer jockeyen du valgte på førsteplass, så vinner du 4 karrieresteg, og i tillegg blir pengegevinsten multiplisert med 5. Kommer du på andreplass blir du belønnet med 3 karrieresteg og en tredoblet pengegevinst. En bronsemedalje gir deg 2 karrieresteg og fordobler pengevinsten din. Kommer du på sisteplass så får du en trøstepremie på ett karrieresteg. Spillbrikken forflytter seg altså "oppover på karrierestigen" etter hvert som du vinner bonuser i gratissnurrene eller i bonusspillet. Lander du på en av de gylne trofeene, vinner du en premie. Jo mer høyere innsats, jo større gevinst. Hvis du kommer helt til slutten av veien, som består av totalt 20 steg, så vinner du en saftig premie på opp til 97.000 mynter! Posisjonen til spillbrikken lagres, og du kan fortsette senere. Posisjonen blir lagret i 2 dager, så for å fortsette må du komme tilbake innen 48 timer.
Konklusjon
Helt til slutt kan man trygt si at Champion of the Track er en unik og spennende spilleautomat. Karrierefunksjonen er helt unik og gjør spillet til noe helt for seg selv. Du blir motivert til å komme tilbake for å fortsette "karrieren". For øvrig er Champion of the Track en utmerket spilleautomat med klassiske funksjoner og spennende bonusfunksjoner. En verdig Net Entertainment spilleautomat!