Om spillet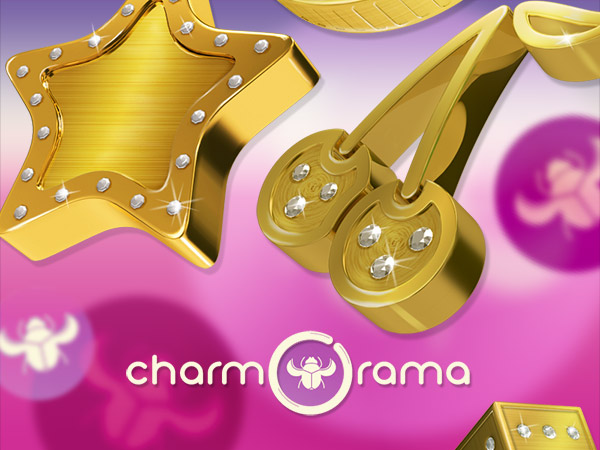 CharmOrama er en spilleautomat som ikke har fått mye oppmerksomhet, muligens på grunn av mangel på markedsføring. Spilleautomaten er produsert av Relax Gaming, en leverandør som kanskje er mindre kjent enn de store leverandørene, men som likevel er ambisiøs produsent av casinospill – og spillene deres er veldig interessante. Det som gjør CharmOrama til en helt unik spilleautomat er at du får selv velge hvilket symbol som skal være scatter-symbolet. Før du begynner å spille kan du velge mellom 12 forskjellige symboler. Forskjellige symboler har forskjellige sjanser for å dukke opp på skjermen, og du kan tenke deg til at sjeldnere symboler gir deg større bonus. Symbolene representerer hell og lykke, og kan deles inn i tre grupper. Du har blå symboler, som er verdt minst men forekommer oftere, gylne symboler som er verdt mer, men som forekommer sjeldnere, og grønne symboler som er en mellomting.
Detaljer og innsatsmuligheter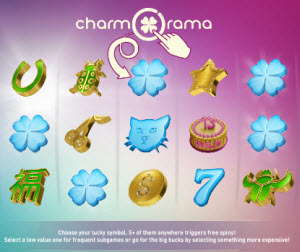 CharmOrama er en spilleautomat med fem hjul og tre rader. Det finnes 15 innsatslinjer, og du kan justere hvor mange du vil bruke. Du kan satse mellom 0,01 euro og 10 euro, hvilket gjør at den minst mulige innsatsen med alle linjer aktivert er 0,15 euro eller tilsvarende, mens den høyst mulige innsatsen er 150 euro (tilsvarende over 1.200 kroner). Spillet har ganske simpel grafikk i forhold til andre moderne spilleautomater. Bortsett fra dette har spillet et greit oppsett med logisk plassering av knapper og funksjonsvalg. Du har også muligheten til å slå av lyden hvis du skulle ønske det. Spillet har en autosnurr-funksjon som lar deg snurre opp til 30 ganger automatisk, uten å behøve å trykke på snurreknappen manuelt. Vanligvis kan man stoppe autosnurret ved å trykke på stopp eller noe sånt, men her på CharmOrama har du ikke mulighet til det, husk på dette når du skal bruke denne funksjonen. Spillet har 13 symboler totalt. Kun ett av disse symbolene er et spesialsymbol på tradisjonelt vis. Dette er kaken, som fungerer som et wild-symbol. Resten av symbolene er vanlige, og gir deg forskjellige gevinster hvis du får minst tre av dem på en aktiv innsatslinje. Det som gjør CharmOrama unikt er at du får valgt et av disse normale symbolene som scatter-symbol.
Bonusfunksjoner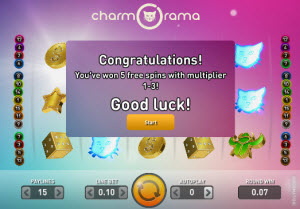 Den unike scatter-funksjonen er spillets hovedfunksjon. For å vinne scatter-bonusen må du ha flaks og få fem av ditt selvvalgte symbol til å dukke opp på hjulene. Dette kan være hvor som helst, de trenger ikke å være på rad. Når dette skjer får du et visst antall gratissnurr, avhengig av hvilket symbol du har valgt, samt blir gevinstene du får i denne bonusrunden multiplisert med en viss faktor som også avhenger av valget av symbol. Du kan enkelt forandre symbolet ved å logge deg ut og inn igjen, for så å velge ditt nye symbol. Som sagt kan du velge mellom tre grupper av symboler.
Den første gruppen er de blå symbolene. Disse symbolene forekommer oftere enn de andre, men gir deg en mindre bonus. Bonusen varierer også avhengig av hvilket symbol du velger, selv om de er i samme gruppe. Aller nederst på stigen har du et kattefjes, som gir deg fem gratisspinn og en multiplikator på 1-3x. Neste symbol er en firkløver, som også har fem gratissnurr, med en høyere multiplikator på 2-5x. En regnbue gir deg den samme multiplikatoren, men sju gratisspinn. Det samme gjelder for 7-tallet, bare at denne gir 10 gratissnurr. 7-tallet burde ha gitt 7 gratissnurr, synes du ikke?
Mellomgruppen består av grønne symboler. Disse symbolene forekommer sjeldnere enn blå symboler, men oftere enn gylne symboler. De to minst verdifulle grønne symbolene er en hestesko og et japansk tegn. Disse gir deg en multiplikator på 3-7x. Hesteskoen gir deg 10 gratissnurr, mens det japanske tegnet gir deg 12. De to mest verdifulle grønne symbolene er en bille, og en annen, større bille med vinger. Begge gir deg en multiplikator på 3-10x. Den lille billen gir deg 15 gratissnurr, mens storbillen gir deg 20.

Den siste gruppen er de gylne symbolene. Disse symbolene forekommer sjeldnere enn resten av dem, men gir deg større bonuser. Du får en multiplikator på 4-12x fra en mynt eller en terning. Mynten gir deg 25 gratissnurr, og terningen gir deg 30. En stjerne gir deg 35 gratissnurr og en multiplikator på 5-15x. Spillets mest verdifulle symbol er kirsebærene, som gir deg 40 gratissnurr og en multiplikator på 5-20x. Dette er også spillets sjeldneste symbol.
Oppsummering

Bortsett fra den kule scatter-funksjonen har CharmOrama også en wild-funksjon. Fargene og grafikken er behagelige og klare på samme tid. Selve spillet har intet bonusspill å snakke om, og heller ingen jackpot. Uansett er den unike scatter-funksjonen kombinert med et vel utført spilldesign være mer enn grunn god nok til å prøve ut CharmOrama!