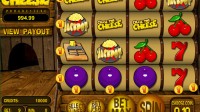 Er det en videoslot? En spilleautomat? Noe midt i mellom? Det er litt usikkert. Utformingen av spillet minner mer om en spilleautomat enn en videoslot men samtidig så har spillet flere funksjoner som man normalt bare finner i videoslot spill. Dessuten så finnes det også en progressiv jackpot å vinne.
Uansett hvordan man vil klassifisere Chase the Cheese så er dette et spill som virkelig har det lille ekstra. Actionfylt, fullt av funksjoner og mye sjenerøsitet, det er i hvert fall tre punkter man kan tildele dette spillet. Her finnes det også wild symboler og to ulike bonusfunksjoner. Dessuten så kan man også ta hjem riktig gode gevinster i det ordinære spillet.
Grafikk og lyd
Navnet Chase the Cheese kommer av at spillet handler om en mus. Bak hjulene så kan man så vidt skimte en trevegg med et lite hull lengst nede i hjørnet. Her bor spillets hovedperson, en nysgjerrig liten mus. Når man plukker med seg en gevinst i løpet av spillet så kommer han til å dukke opp og si hei. Når man tar hjem en skikkelig stor gevinst så kommer han til å komme løpende ut for å gratulere. Dette er en skikkelig kul detalj i spillet.
Når det kommer til grafikken i spillet så er den full av liv og full av farger. Det finnes ikke noe 3D grafikk her men alle symbolene i spillet er knivskarpe. Det samme gjelder også alle animasjonene i spillet.
Lydene i spillet er ganske typisk for en spilleautomat. Det finnes ikke noe bakgrunnsmusikk og lydeffektene i spillet er vel helt ærlig ikke noe særlig avanserte. Uansett så blir det bare spilt av lydeffekter når man tar hjem gevinster, så da spiller det egentlig ikke så stor rolle at lydene ikke akkurat er godis for ørene.
Innsatser
Spilleskjermen i spillet Chase the Cheese omfatter 16 symboler som er utplassert i et rutenett på 4 ganger 4 posisjoner. Sammenlagt så finnes det 9 innsatslinjer, fire vertikale, fire horisontale og en diagonal. Som spiller så velger man selv hvor mange man ønsker å spille på. En ting som er verdt å notere er at hvis du ønsker å ha en sjanse til å vinne den progressive jackpoten så må man spille med alle linjene aktivert. Laveste mulige innsats i spillet er 0,02 euro og høyeste innsatsen er på 45 euro. Myntverdien ligger på mellom 0,02 og opp til 1 euro per mynt.
Effekter og spesialsymboler
Chase the Cheese har to spesialfunksjoner. En wild symbol og en helt unik bonusrunde. Dessuten så har spillet en progressiv jackpot som det går an å vinne.
Wild symbolet i spillet er teksten WILD i fargesprakende bokstaver. Dette symbolet erstatter alle andre symboler og er på en måte bonussymbolet også. Det kan man vel si er et ganske sjenerøst symbol.
Bonusspillet i Chase the Cheese er ganske så kult. Temaet i spillet er at man skal følge musen gjennom huset og hjelpe han med å plukke med seg så mye ost han bare kan innen det er tid for å hoppe inn i hullet i veggen igjen. På veggen gjennom huset så finnes det da mange farer som man skal prøve å unngå. Her er det katter, rottefeller, spindelvev og mye annet. I bonusspillet så har man tre liv og tiden i spillerunden er alltid begrenset. For å styre musen rundt i spillet så bruker man pil tastene på tastaturet på dataen. Det er litt utfordrende å klare å komme seg gjennom hele banen men med litt øving så er det store sjanser for at man skal lykkes gang på gang. Bonusspillet er mildt sagt unikt. Det er jo ekstremt få kasinospill hvor man har muligheten til å vinne penger ved å bruke sine egne ferdigheter. For å aktivere bonusspillet så må man få 4 symboler med logotypen for spillet. Disse 4 symbolene må dukke opp på en aktiv innsatslinje for at bonusspillet skal bli aktivert.
Den progressive jackpoten i spillet blir betalt ut til den spilleren som klarer å få 4 jackpot symboler på en aktiv innsatslinje under en spillerunde hvor man spiller med maksimal innsats. Jackpotten i spillet blir nå aldri like stor som den er i for eksempel Mega Fortune og Hall of Gods men man kan alltid plukke med seg 20 000kr hvis man har flaksen på sin side. Det er to grunner til at jackpoten ikke vokser seg så stor som på de andre spillene. Ene grunnen er at spillet ikke er like populært og den andre grunnen er fordi det er en veldig liten del av hver innsats som går til jackpoten.